The University of Rochester is home to more than 250 student organizations, including club sports teams, fraternities and sororities, performing arts ensembles, academic and professional societies, and community engagement organizations.
For a complete list of undergraduate student organizations, visit Campus Community Connection (CCC).
Academic and professional societies
We have a variety of academic and professional societies than span engineering, natural sciences, social sciences, and the humanities. Many of these organizations bring in professional speakers, sponsor networking events, and give students the opportunity to gain practical experience in their field of interest.
Students in these groups have:
Built clean water system in the Dominican Republic (Engineers without Borders)
Competed in combat robotics competitions (UR Robotics)
Sponsored linguistic reading groups and workshops (Linguistics Undergraduate Council)
Used the telescope and CCD camera/spectrograph at the Mees Observatory (Astronomy Club)
Created biodiesel from waste vegetable oil (Engineers for a Sustainable World)
Provided medical care to the Rochester community (University of Rochester River Campus Medical Emergency Response Team)
Run a student newspaper (Campus Times), radio station (WRUR The Sting), literary and arts journal (LOGOS), and research journal (Journal of Undergraduate Research)
Organized voter registration drives and debate watch parties (Committee for Political Engagement)
Hosted workshops on film pitching, lighting, and editing (Undergraduate Film Council)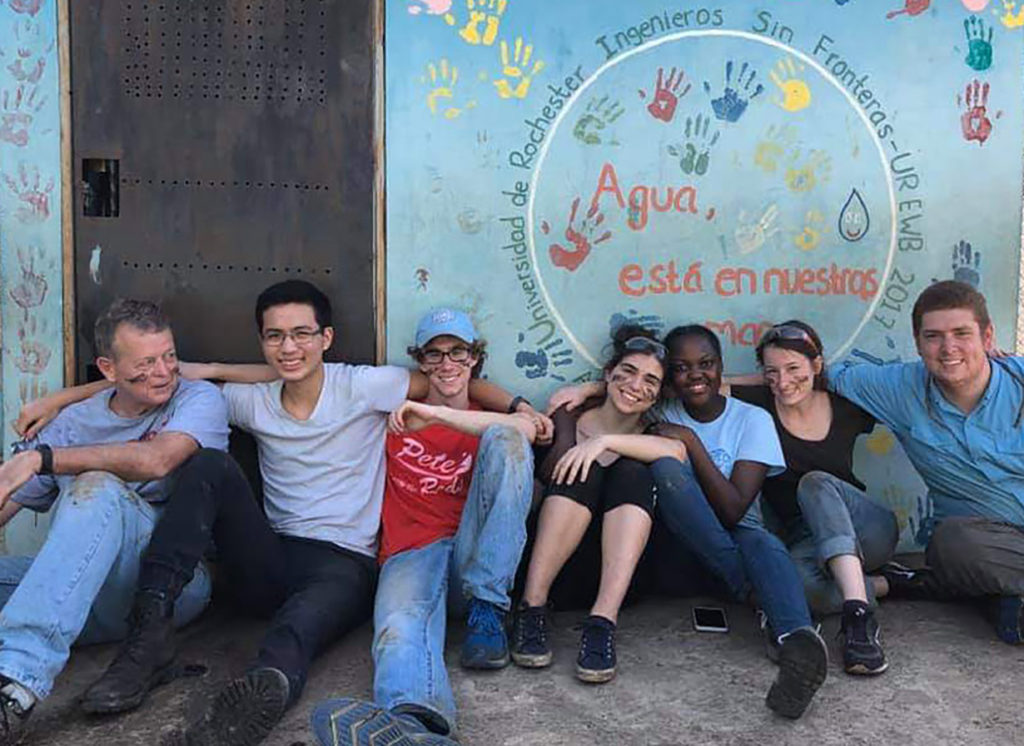 February 12, 2020
Engineers Without Borders: Dominican Republic
"All of our previous work would have gone to waste if we didn't address this."
Recently celebrating its tenth anniversary, the University of Rochester chapter of Engineers Without Borders is hard at work designing solutions for bringing clean water to schools in the Dominican Republic, and seeking out future projects.
Performing arts ensembles
We believe the creative, visual, and performing arts are integral to a well-rounded education and life. Rochester has a thriving arts and culture scene. From music and museums, to readings and productions, there's a lot to experience.
The University of Rochester offers a range of student performing arts organizations, including:
Male, female, and coed a cappella groups
Dancing
Juggling
Magic
Comedy
Acting
Improv
Percussion and instrumental groups
Musical theater
Community engagement organizations
There are more than 40 registered club sports here at Rochester, with each organization classified as either competitive or recreational based on its level of activity and scope.
Competitive clubs span a variety of sports, including baseball, quadball, rugby, soccer, and water polo. Recreational clubs include sports such as cycling, fencing, martial arts, ultimate frisbee, rock climbing, and table tennis.
See the club sports page for a complete list.
Trying something new at Rochester
Finding your crew
"College is the perfect time to try something unconventional, whether it takes place in a classroom, on the Genesee River, or anywhere else. The most 'random' activity you think of trying out might eventually end up giving you your family on campus, and you never know where any opportunity might take you unless you fearlessly jump in and give it your all."
-Rachel Markowitz, Admissions Blogger
Fraternities and sororities
Joining a fraternity or sorority and participating in Greek life at the University offers opportunities for:
Friendship
Professional and personal development
Leadership on campus and in the community
Fraternities and sororities can play a big role in campus life by sponsoring events, connecting with the Rochester community through local charities, and creating programs that enrich the social, philanthropic, intellectual, and cultural interests of the University.
Creating community
Douglass Leadership House
Named after Rochester icon Frederick Douglass, the mission of the Douglass Leadership House (DLH) is to establish an engaging intellectual community where students of all cultural backgrounds can come together and raise awareness of the many facets of the Black experience; including culture, politics, history, and Diasporic roots.