With more than 250 student-run clubs, an extensive athletic center, and nightly events, the University of Rochester's River Campus rarely slows down. Most students love it so much that they decide to live on campus all four years.
ASME's Annual Pumpkin Launch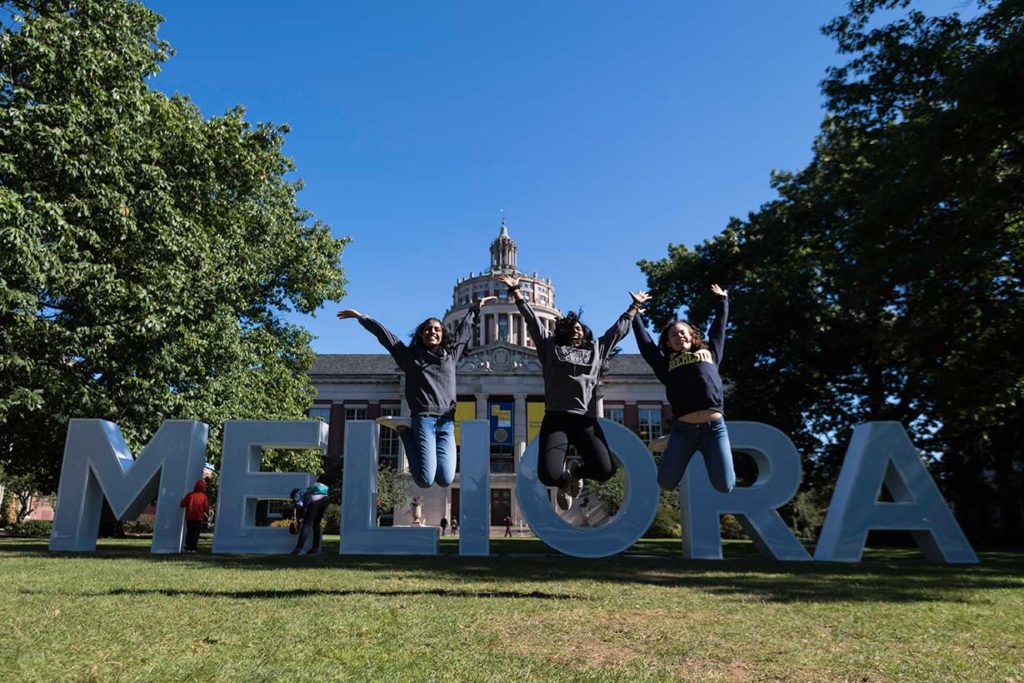 Part of what makes the Rochester experience so fun and memorable is the host of rich campus traditions.
The annual event combines homecoming, reunion, Family Weekend, and the Stonehurst Capital Regatta with activities that include top-notch entertainment, a festive atmosphere, and informational seminars by both University and outside experts speaking on a variety of topics.
Held at the end of spring classes, Dandelion Day is a day for students, faculty, and staff to bring their entire families to this on-campus carnival. In addition to rides, games, and food trucks, the Campus Activities Board schedules a performance from a major music group.
This annual event for seniors is modeled on a celebration held at Queen's College in Oxford. Costumed faculty, administrators, and student leaders as well as University-wide participants enjoy a medieval-style celebration and meal just before winter break.
A University-wide community service project, more than 900 first-years, staff, faculty, and alumni go into the Rochester area before classes start to perform community service projects. The day was named in memory of the late Joseph C. Wilson '31, the president of Xerox, a University graduate and trustee, and one of the University's greatest benefactors. This tradition was reimagined Wilson Days of Engagement for the 2020 incoming class, including both online and in-person activities that could be done safely during the COVID-19 pandemic.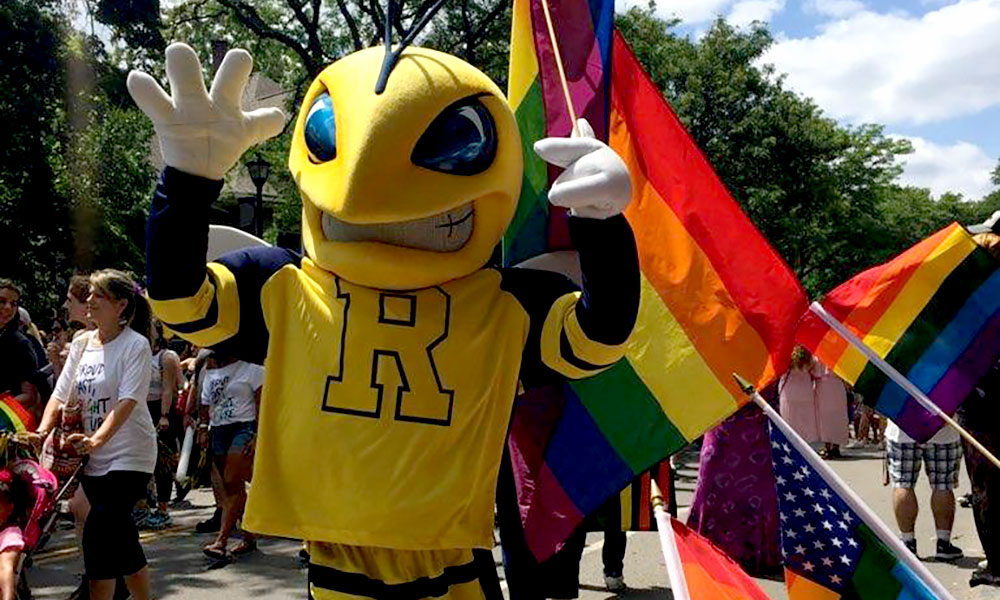 As a community, the University of Rochester is defined by a deep commitment to Meliora­—ever better. Embedded in that ideal are the values we share: equity, leadership, integrity, openness, respect, and accountability.
Together, we set the highest standards for how we treat each other to ensure our community is welcoming to all and is a place where all can thrive.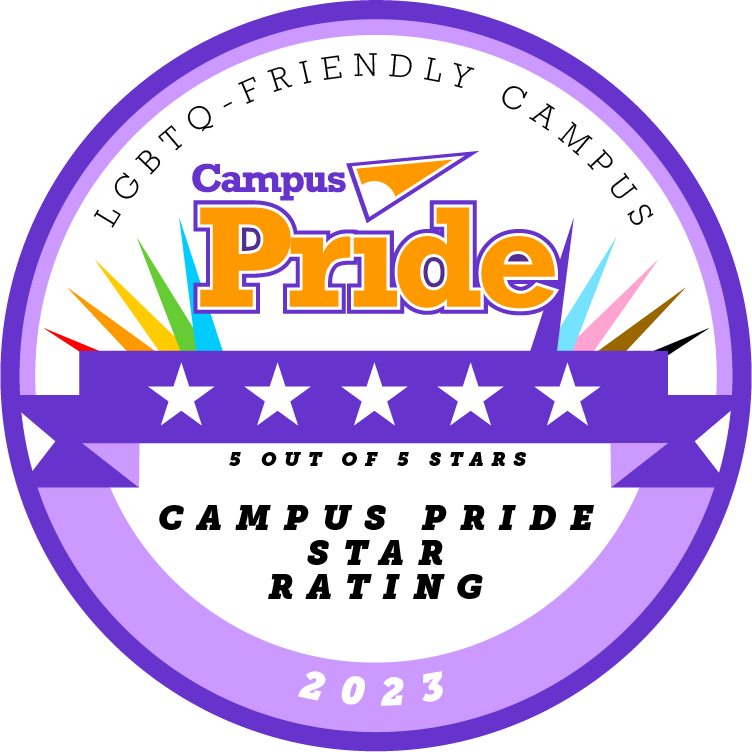 The Campus Pride Index ranked Rochester among the nation's best for making the educational experience welcoming and respectful for all.
Rochester scored five stars for the LGBTQ community in the areas of support and institutional commitment, academic life, housing and residence life, campus safety, and counseling and health.
Mental & physical health wellness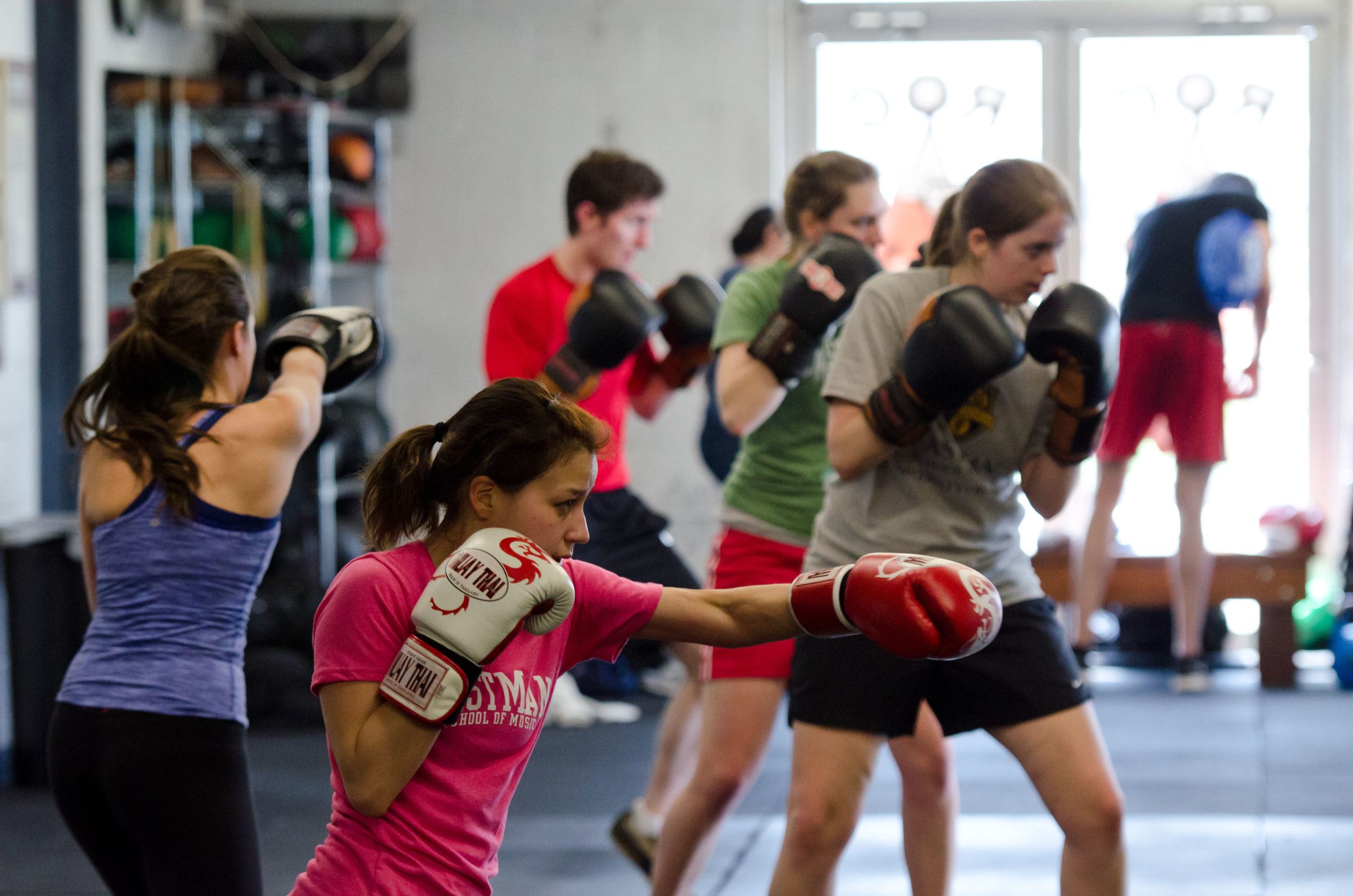 The health, wellness, and safety of our students is a top priority for the entire campus community. Whether students are taking advantage of our regularly scheduled mindfulness workshops, attending one-on-one or group counseling sessions through the Counseling Center, focusing on their physical wellbeing at the Bloch Fitness Center, or utilizing our interfaith spaces there are a many ways to renew the mind, body, and soul at Rochester.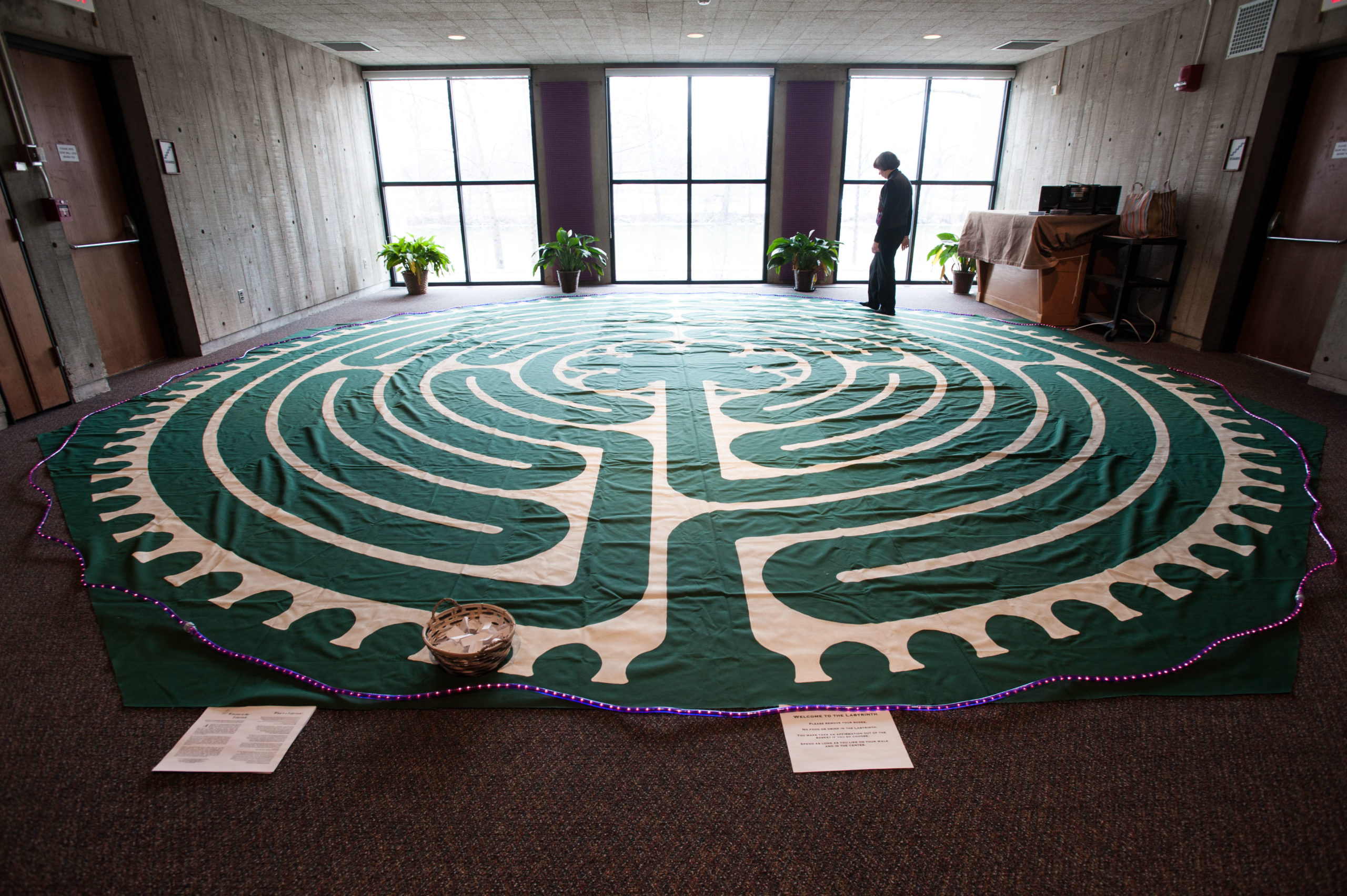 Through cooperative programs among the various religious communities affiliated with the Interfaith Chapel and through the activities of the Students' Association for Interfaith Cooperation (SAIC),  the spiritual growth, maturity and wellness of our students within their chosen religious or philosophical tradition is fostered.
The Interfaith Chapel is a place for people to worship in their particular faith and a place where people of different faiths, or no religious tradition at all, can share in dialogue, worship, and interfaith education.
The Mindful University Project is an interdisciplinary collaboration with a mission to empower the campus community to build a culture of mindful presence, patience and compassion.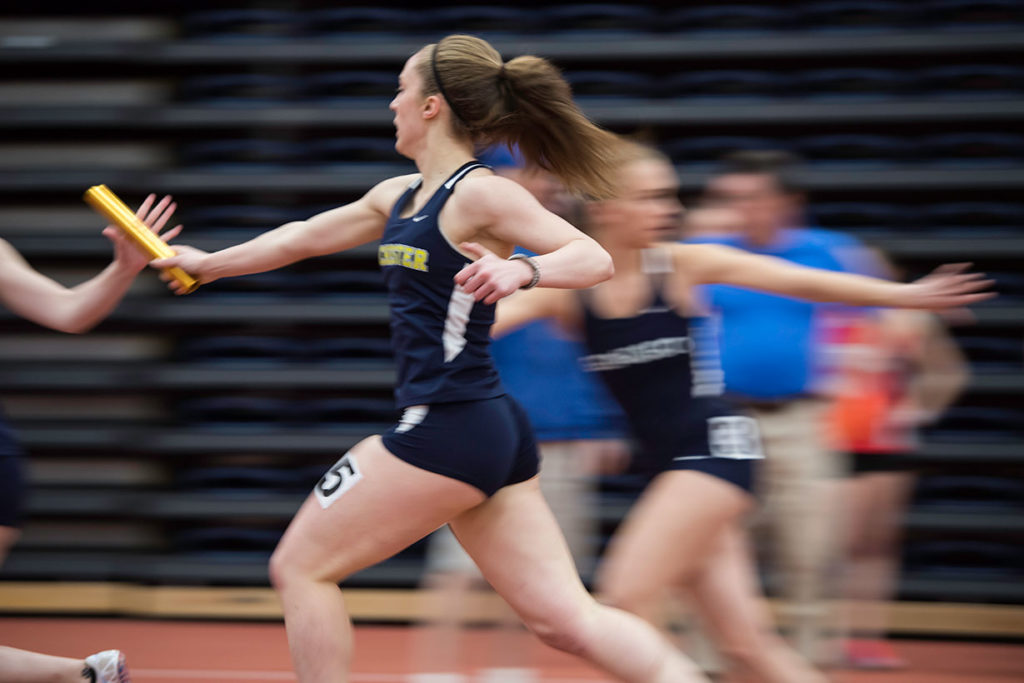 Rochester participates in Division III of the NCAA and is in the University Athletic Association and the Liberty League. The University has a variety of varsity, club, and intramural sports, giving students the opportunity to compete against other schools, improve their skills, and build lasting connections with other students. The main athletics facilities on campus are the Goergen Athletic Center and Fauver Stadium.
Club sports allow athletes to compete against other schools without the pressure of conference competition. Rochester has both competitive sports—like rugby, ultimate Frisbee, soccer, and quadball—as well as recreational sports, such as archery, cheerleading, dodgeball, and table tennis. See the Wilson Commons Student Activities website for a complete list of club sports.
The University of Rochester has more than 23 different varsity sports teams that compete in both the Liberty League and the University Athletic Association at the NCAA Division III level. See the Athletics website for a complete list of sports, as well as team schedules and scores.
For those athletes who want to play for the sheer love of the sport, intramurals provide a great opportunity to get exercise while competing in a more casual environment. Most of our intramural teams are coed. For more information, see the intramurals web page.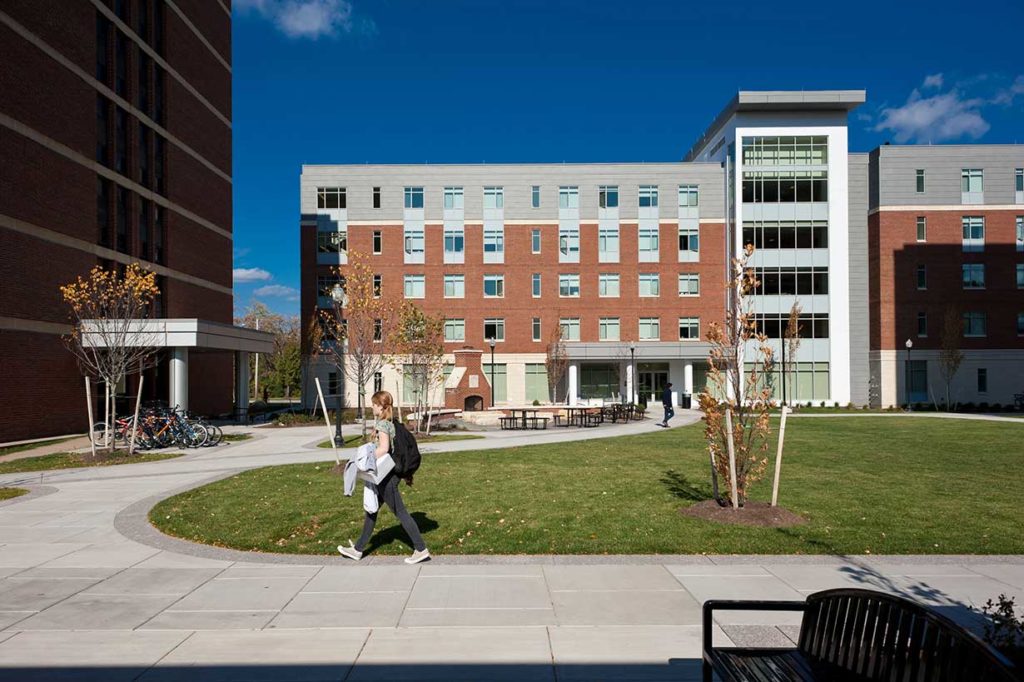 Aside from its proximity to classes, the library, and University events, on-campus housing gives you the chance to meet others and participate in school-sponsored activities. Learn more about campus housing.
Did you know 80 percent of Rochester undergraduate students live in campus housing?
Incoming first-year students are required to live on campus and will stay in either Susan B. Anthony Hall, Genesee Hall, or the Quad, which is comprised of Gilbert, Hoeing, Lovejoy, and Tiernan Halls. First-years are housed together and most will share a double room with another first-year student. However, there are a limited number of single rooms and some triple rooms for first-year students.
First-year students who wish to combine their living experiences with sustainability efforts and education on campus may decide to participate in the EcoReps Program to help educate their floormates on environmental issues through activities and events.
Affinity housing is a popular housing option at Rochester for first-year students. Affinity housing options center on lifestyle themes that participants agree to follow in order to remain in the living area. These themes include quiet-study, substance-free, co-ed by random room (male and female rooms on the same floor with separate bath facilities), etc.
Many upper-year students choose to live in suites or apartment-style housing on campus. Some also decide to become leaders in the first-year dorms as residence assistants, first-year fellows, or D'Lions (upper-year students who advise first-years). Returning upper-year students enter the housing selection lottery in March.
Upper-year students and incoming transfers can also choose to live off campus. See the off-campus housing section of the residential life website for more information.
The Office for Residential Life and Housing Services maintains a self-serve housing search engine where landlords list their available properties. The search engine also allows you to search for roommates.
The University of Rochester is home to more than 2,300 international students and scholars from around the globe. In fact, our incoming class is one-fourth international! More than 120 countries are represented in the University's global community, making our campuses dynamic and eclectic.
With such a diverse student population and numerous cultural events and activities, the University of Rochester prides itself on being a global village. The surrounding city also provides a welcoming environment for students from all over the world.
Special interest housing and academic living centers allow upper-year students to integrate their interests with their daily lives by living and learning in an environment with others who share common interests. Current interests include music, drama, anime, computers, film, community service, and sustainability. Over time, floors and interest communities can change to reflect student interests.
The University's campuses have been tobacco-free since 2017. All College housing is smoke-free. We still ask you to indicate your smoking status and preference for a smoking or nonsmoking pairing on the housing application.
Fraternity and sorority membership is a lifestyle option for undergraduate students. Approximately 14 percent of the students at the University of Rochester belong to Greek-letter organizations. They have the option of living in chapter houses or special interest residential areas on and off campus.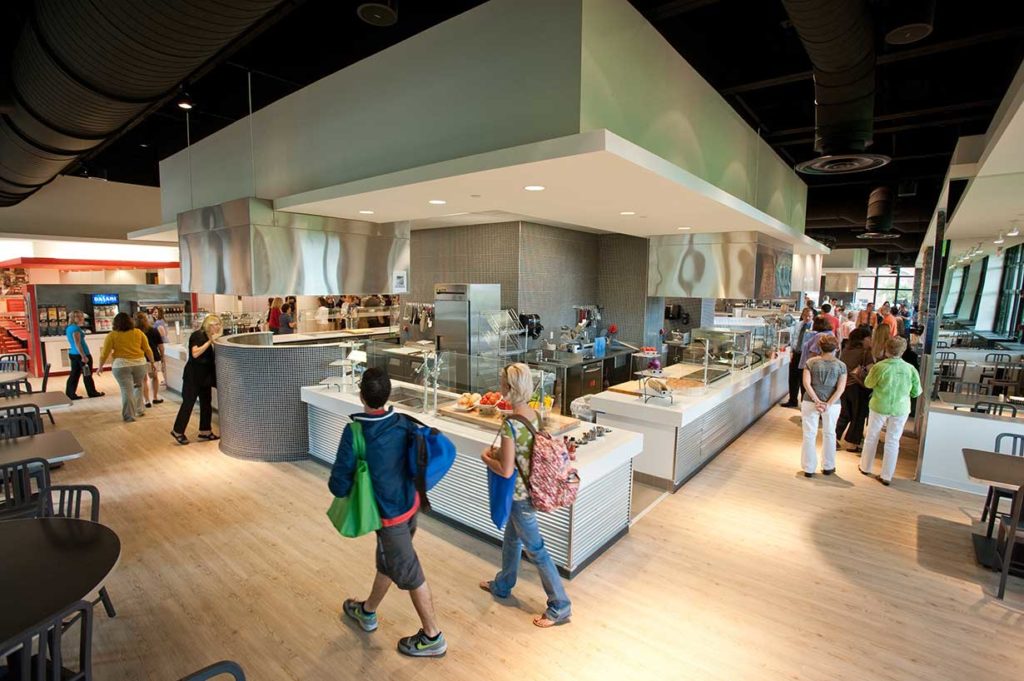 Whether you're grabbing a cup of coffee on the way to class, eating a slice of pizza after a late-night study session, or catching up with friends at Sunday brunch, Rochester has dining options to suit your needs. All of these different options are included in a comprehensive meal plan, which can be accessed with a swipe of your ID card.
Did you know the University of Rochester ranked among the top 15 "Best Colleges for Food?"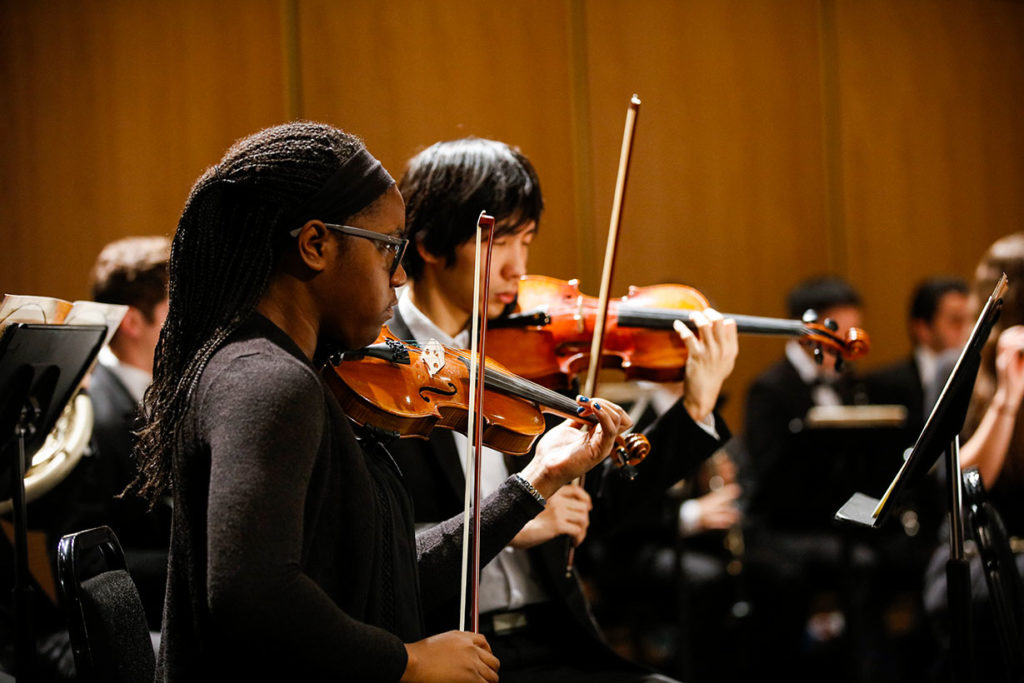 With music ranging from a cappella to orchestral, dance groups dedicated to ballet to hip-hop, and a variety of theatre and visual arts opportunities, the University of Rochester has an exciting arts and culture scene representing many countries around the world. Students have the opportunity to engage with the Institute of Performing Arts and leverage the resources from across campus to continue to pursue their gifts and talents.