We invite you—the curious, the capable, and the engaged—to apply to our diverse and talented community of doers and disrupters at the University of Rochester.
Our promise to you is a holistic, integrated review of your unique academic ability, extracurricular engagement, and ethical character. We strive to admit students who'll work to make each other, the University, and the world ever better.
Check your application status
Use MyROC, our online undergraduate admissions portal, to monitor your application status, see admissions decisions, get merit scholarship notifications, and more.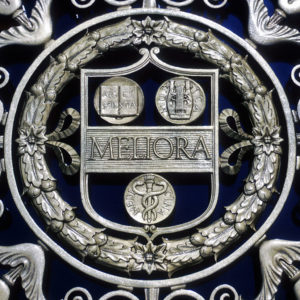 Legacy applicant opportunity
The Colony Club
Whether you're just starting to think about college or you're narrowing your choices, we hope you'll keep the University of Rochester in mind. Joining the Colony Club is an exclusive opportunity for the children and grandchildren, ages 15 and up, of Rochester alumni. The benefits of being a member include:
Eligibility to apply for the Meliora Alumni Scholarship
Legacy interviewing opportunities for high school seniors during Meliora Weekend in the fall
Application fee waiver
Note: Membership in the Colony Club neither implies nor guarantees admission to the University of Rochester.
The best time to enroll in the Colony Club is during the summer of your junior year. To begin building a legacy relationship with Rochester, please fill out this brief interest form.