What are UR students listening to?
If you're like me, your earbuds are your best friends. In 2022, I racked up over 44,000 minutes of listening on Spotify, ranging from late-night driving on 490 to morning walks along the Genesee River, without forgetting the studying. So much studying. But it's always better with music playing in the background!
When it comes to choosing the perfect study playlist, I need something that's going to energize me. The more drums and electric guitar, the faster I get through typing out discussion posts or brainstorming my next paper. However, I'm told this is an unusual take. Imagine my surprise upon learning that many of my friends prefer listening to classical tunes instead of the alt/indie genius tracklist that is "one must imagine sisyphus vibing"! Who would've thought?
In the spirit of scientific exploration, I teamed up with our iZone social media team to find out what students at Rochester are listening to. What's iZone, you may ask? What's with the lowercase first letter? Why does a 'zone' have a social media team?
iZone, found on the first and second floors of the Western part of Rush Rhees Library, is a "creative problem-solving space, program, and community designed to empower students to explore and imagine ideas for social, cultural, community, and economic impact." While all of our campus libraries host programs and projects designed to assist students, iZone takes it to the next level. They hire students to create content for other students (shoutout to my friend Oren!!), ranging from social media to full-scale events. The 'i' stands for Idea, and iZone truly is the place for your intellectual curiosity to flourish. And hey, if you just want to sit and study in a pretty room, that works too!
Back to the music part: as part of the first-ever Admissions Blog and iZone collab, I met with Kristen Lee and Oren Schwartz, two members of the iZone marketing team. I had an idea – to collect data on what students are listening to – and they made it happen! They designed a board where students could stick post-it notes with their latest song obsessions, allowing us to survey so many more people than me just asking around.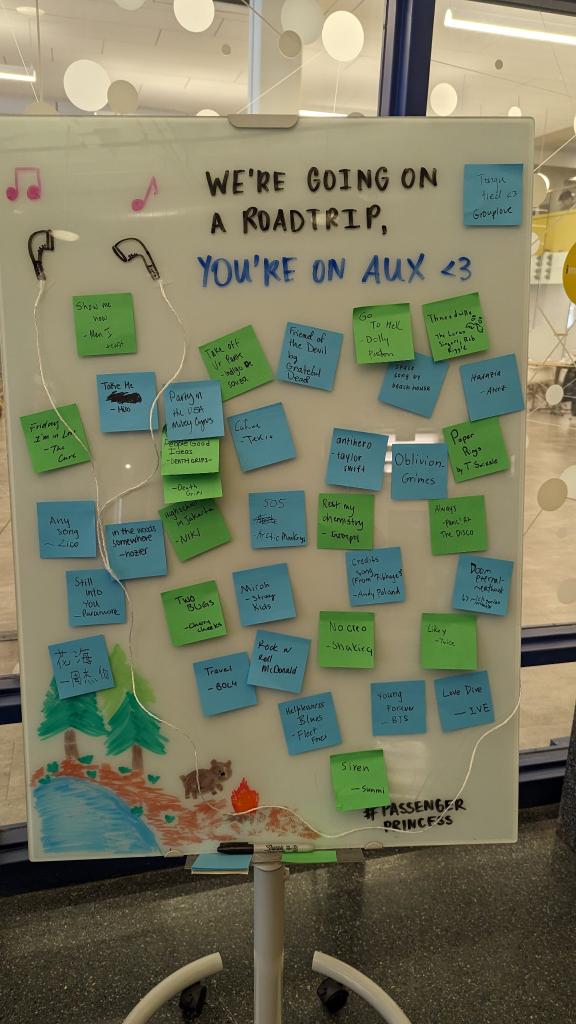 What are the findings, you might ask? Well, the board got covered pretty fast, but I'll tell you what I learned. There were the oldies and goodies, like "Don't Think Twice, It's Alright" by Bob Dylan, "MacArthur Park" by Donna Summer, "Dark Side of the Moon" by Pink Floyd, "Friend of the Devil" by the Grateful Dead, "Go to Hell" by Dolly Parton, and "Friday I'm in Love" by The Cure. 
There was a lot of pop, with tracks like "Spring Day," "Like," and "Young Forever" by BTS, "Dancing with the Devil" by Demi Lovato, "TCQ" by Shakira, "Oblivion" and "Genesis" by Grimes, and a few Taylor Swift songs including "Paper Rings" and "Anti-Hero." One student simply wrote "EVERYTHING BY TAYLOR SWIFT (anything else is just wrong)" and I do appreciate their enthusiasm. I recognized songs from a bunch of K-pop groups as well, with "LOVE DIVE" by IVE, "Likey" by Twice, "God's Menu" and "Miroh" by Stray Kids, "Siren" by Sunmi, and "Travel" by BOL4.
I was pleased to see a bunch of hits from the 2000s, like MIKA's "Happy Ending," "Snow" by the Red Hot Chili Peppers, "505" by the Arctic Monkeys, "Rest My Chemistry" by Interpol, "Always" by Panic! at the Disco, "Hotel Room Service" by Pitbull, Miley Cyrus' "Party in the USA," and the unforgettable, inescapable "Baby" by Justin Bieber.
There were also some funny answers: "Baby Shark," for one, would probably give me night terrors if I tried to do it while reading chemistry papers. "Thneedville" from the soundtrack of The Lorax as well as the Credits Song (from the Jackbox game "Fibbage 3") composed by Andy Poland were interesting choices, but if it's catchy, I won't judge you. Mostly.
Some of my favorites on the board included "The Adults Are Talking" by The Strokes, "About You" by The 1975, "I Don't Miss You at All" by FINNEAS, "In the Woods Somewhere" by Hozier, and Paramore's "Still Into You." I also got to discover a ton of new music through this quest, and I was particularly fond of "Lucidity" by Soen, "Golden" by Zella Day, "I'm Shipping Up to Boston" by the Dropkick Murphys, and "Space Song" by Beach House. 
A huge thanks to my collaborators at iZone and all the students who participated! If you're interested in seeing the rest of the songs that were submitted, check out the playlist we made!