My 14 Tips for Your First Year
After completing an eventful first year here at the University of Rochester, I have picked up on some tips around campus. I have also realized what has benefitted me the most throughout my year and even what I should have done. Therefore, I have a total of 14 tips for you to, hopefully, make your first year ever better!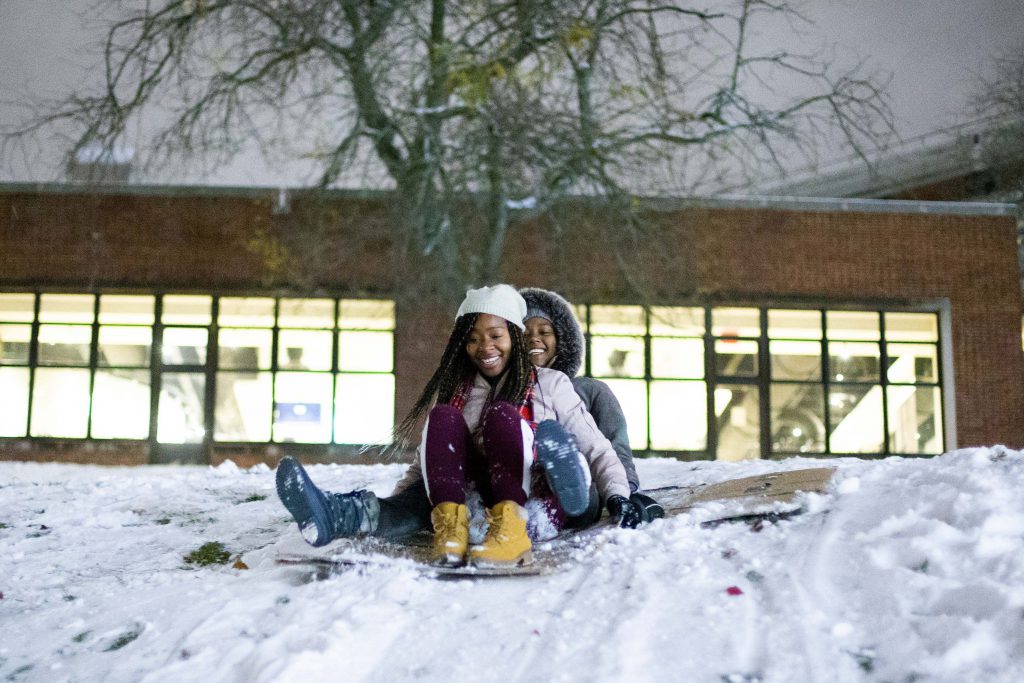 ---
1. Connect with other Rochester students, even before moving in.
Make sure to join the Class of 20XX Facebook page for the University of Rochester. It is a great way to not only introduce yourself to your peers but also to get updates and more information about upcoming events and deadlines.
Personally, I was able to connect with numerous people. I messaged people through Instagram and Facebook; some of our conversations went on daily from May of my senior year of high school all the way until move-in day! One of these conversations were with my current roommate (for two years now). We messaged each other on Instagram, continued talking for months, and quickly decided to request each other as roommates for the first year. For sophomore year, we wanted to stay roommates, so we both moved from Susan B. Anthony to Southside (both on-campus housing). Thus, from experience, I know that connecting with other students early on can definitely be advantageous.
I was also able to meet the other friends that I contacted online once I got to campus, and the various events and activities offered during Orientation week allowed me to strengthen our friendships and meet more new people.
2. Go to all of the events/activities during Orientation Week.
Free merchandise, free food, and a great way to meet new people—why wouldn't you go to these events? Orientation week is a time to meet so many different people while doing fun activities. You can also finally meet the people you may have been messaging online. Best part of all, you have essentially no work to do since you will have no classes yet, so this is the perfect time to enjoy new company with nothing to stress about (academically). I loved Orientation week. My favorite Orientation event was the Party on the Quad. There were loud music, bright lights, and free pizza: all the necessary ingredients to make this event a blast!
3. The cafeteria at the medical center makes hand rolled sushi (and they accept declining).
I actually learned about this during the summer after my first year. I stayed on campus for half of the summer and found out that the cafeteria at URMC (University of Rochester Medical Center) sells hand rolled sushi on Wednesdays. In my opinion, it is worth its cost. In fact, this cafeteria opens at 6 am, so you can even stop by for a breakfast, if you  like.
The medical center also has a coffee shops and a Deli with delicious sandwiches, salads, and more.
4. Check out the menus for Douglass/Danforth before deciding to use your declining/swipe.
This tip is more helpful if you do not have a meal plan with unlimited swipes. You have a limited number of swipes, so to make sure you are going to get your full money's worth, take a quick peek at the menu for Douglass dining or Danforth dining before going in. This can help you make the decision of whether you want to eat at the dining halls or at the Pit, instead.
If you have the meal plan with unlimited swipes, feel free to go to the dining halls as much as you want.
5. From Susan B. Anthony, walking around Meliora Hall to Hutchison Hall is a much faster walk than going to Hutchison Hall from across campus.
This discovery was a life-saver for me last year. Most of my classes were in Hutchison Hall, which is where most of the science classes and labs are held. Thus, especially when I slept in or was running late, this quick knack helped me not to be late for any of my classes.
6. Both Susan B. Anthony and Frederick Douglass are buried at the Mt. Hope Cemetery across from campus.
Both of these grave sites are pleasantly decorated, and it is always cool to find the grave sites of such historically significant figures, not to mention the people who gave the name for your first-year housing building and dining hall. There are also lots of other names that you would recognize such as Bausch, Lomb, and Strong.
7. To get to the first floor of Meliora Hall, either take the stairs in the East Stairwell or take the "hidden" elevator right across from the BCS department.
I have not had a class on the first floor until this semester. At first, I was a little confused because only one of the stairwells, the East Stairwell, leads to the first floor. The other one stops at the second floor. You can also take the "hidden" elevator located across from the Brain and Cognitive Sciences department (on the third floor).
8. When going to office hours, make sure to prepare. Have questions ready to ask.
Going to office hours is super helpful. You could always just go to discuss different ideas from the class with the professor and your peers. However, you will get the most out of office hours if you prepare some specific questions of your own beforehand. Some professors might reiterate certain topics that they recently went over in class in order to clear up any confusions, but most professors expect you to have questions for them to answer. Take notes during these office hours; not only will you get lots of information regarding your own questions, but you can also learn something new from everyone else's questions.
9. Registration for classes tends to open about five minutes earlier than the official time.
Class registration for the next semester is always a competition of who can navigate through the system the fastest. Popular classes tend to fill up very quickly, so you want to log in as soon as it opens, find the class that you want, and submit it to include it in your schedule shopping list.
The first tip about registration is that it tends to open about five minutes before the official time. That means, be on the registration website early so that you can quickly log in.
Second, make sure to complete any initial surveys or addition of information. There is usually a couple of questions regarding emergency contacts, so make sure to complete this before the actual registration date so that you are not slowed down by anything.
Last, make sure to register for your smaller classes first. For example, if you want to take general chemistry, biology, and a writing class, make sure to register for your writing class first. General chemistry and biology are big classes, so there will definitely be space for you, but the writing classes are taken quickly. (They are taken so quickly that you might not be able to complete this first-year writing requirement until the second semester of your first year or even the first semester of your sophomore year.) However, just because general chemistry and biology are big classes does not mean you should take all the time in the world; hurry to get the lab dates and times that you want.
10. There is an underground abandoned swimming pool in the basement of Susan B. Anthony Hall.
I have not been able to find the entrance to the abandoned swimming pool (although a couple of my friends have.). There is not much, to be honest, but seeing an abandoned pool right under one of the first-year housing options is always an interesting find.
11. Water is free.
This seems like a given, but you can even just go into the Pit or Rocky's at Wilson Commons for a free cup of water or to fill up your water bottle. This can be a life saver when running across campus from class to class. Wilson Commons is located right in the middle of campus, so it is very accessible. Additionally, warm water is 25 cents at Starbucks, but you can ask for an additional (free) cup of warm water when you order any other drink.
12. Look into research/academic/scholarship/social opportunities early.
One of the most important things when seeking any kind of opportunity is to start early. It's never too early to start looking; not only will you be able to start your application earlier or better prepare, but also you will have a better chance to prepare for the different deadlines. Don't forget to also look into the different students organizations so that you would be able to find them easier and quicker at the busy Activities Fair in September.
13. Make the most of your first year.
Seriously, go out and meet new people during your free time or weekends. Try new things as much as possible. Academics are, no doubt, important, but Rochester has many different events and activities throughout the year, so make sure to go to all that interests you. Have fun!
Learn all that you can. Talk to someone new in your classes. Embrace your classes; don't constantly groan about each of them. Choose the classes that you are interested in. You may be stressed about an assignment or exam, but remember to also enjoy yourself. Get the most out of your classes by not only learning as much as you can, but also by making new connections with peers, professors, and TAs. As you continue your journey in the University of Rochester, your workload and responsibilities will only increase, so take advantage of your first year. Although I'm a first-semester sophomore, I already longingly look back at my first year. Enjoy every moment of your first year!
14. Bonus: After 8 pm, one swipe is so much more valuable at the Pit.
Get a burrito bowl, and bowl at the Wok, two slices of pizza, or numerous other options just for one swipe. Especially if you have the meal plan with unlimited swipes, this deal is a gold mine! All of these swipe options were not available to me during my first year; some of them are new this year.