Mental Health Resources on Campus
Given that the pandemic has worsened many (most?) peoples' mental health, I thought it would be good to share the mental health resources available on campus. There are many options for students to get help and support, no matter the struggles they are facing.
University Counseling Center
The University Counseling Center (UCC) is above University Health Services, both conveniently located next to the Susan B. Anthony residence hall. Last year UR received a grant to invest in UCC, which has enabled them to expand and extend.
Individual or Couples Counseling
All full-time students get 10 free counseling sessions per year. After that, students have the option to continue seeing their UCC therapist or find one off-campus. I have several friends who have utilized this resource. Due to COVID-19, therapists are offering virtual sessions too.
Group Therapy
Group therapy sessions at UCC are facilitated by a therapist and allows students to gain support and learn from fellow students. This fall, there are groups for different approaches to therapy, stress and coping, LGBTQIA+ students, students struggling with eating issues, people of color, and much more.
UCC has compiled several online screening tools to help identify potential mental health problems, such as depression and substance abuse. They also offer Therapy Assistance Online (TAO), a free online behavioral health resource center that can help provide you with tools for dealing with anxiety, stress, and other common problems college students face. The UCC website also has many self-help articles for many things, ranging from resources for veterans to meditation.
Light Therapy
The Rochester weather can spur "winter blues", which may escalate to Seasonal Affective Disorder (SAD). There are many things you can do to combat this, including using therapy lamps. UCC has some that you can make an appointment to use, and as of this year, the Student Association is offering them for students to borrow for the semester. I bought one last year and find that it helps my energy level to have a source of bright light.
Crisis Services
If you are having a mental health crisis and need to talk to somebody immediately, a UCC representative is available over the phone 24/7.
The CARE Network
The CARE Network is a resource for communicating concerns you may have about a person (including yourself) or incident. After submitting a referral online, the person/people of concern are reached out to and connected with resources. For example, if you're worried about a hallmate's drinking or a friend is having academic trouble, you can submit a CARE referral for them. Then a CARE representative will follow up with them to check-in, offer a meeting for support, and/or resource recommendations. If there are no further concerns for people who have had a CARE referral, their case is closed.
UR Connected
UR Connected is a new resource that connects students with the resources they need via a peer-to-peer network. Trained UR Connected Coaches can support students with everything from homesickness to academic troubles.
Health Promotion Office
The Health Promotion Office (HPO) has a variety of programs designed to support students' mental health. The Mindful University Project (which I wrote about in a previous post) hosts meditation and yoga classes to give students a space to slow down and practice mindfulness. HPO also hosts programming such as De-Stress Fest during finals week and Paws for Stress Relief, which I always thoroughly enjoy.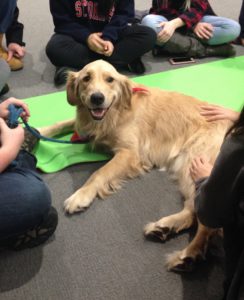 For those with sleep problems, HPO offers a 4-week course called Sleep Solutions, and the Zzzzs to As online sleep challenge. Both programs offer tips for better sleep hygiene and information on the science of sleep.
Student Groups
There are a few student organizations that do mental health work. Active Minds aims to raise awareness about mental health and fight the stigma around mental health. UR SEGway educates students about sexual violence and provides support for survivors. There are other groups too, so check out CCC to find them! Clubs also host on-campus events, such as National Suicide Prevention Week and the D'Lions' Mental Health Fair. There are also events for students to practice self-care, like late-night yoga, UR Late Night's recent DIY Self Care Kit event, student-led meditations, fitness classes, and study breaks.
Although being a college student, especially during a pandemic, presents a host of challenges that can make life difficult, UR has lots of resources available to help students. I definitely recommend taking advantage of these resources, even for problems that may seem small. Those seemingly insignificant issues can add up or become bigger, so it's better to deal with them sooner rather than later.