Chabad House: Finding a Jewish Community Away From Home
On a cold Friday night walking through the 19th Ward, you might spy upon a house alight with candles, full of laughing students, homemade dishes, and general cheer. A Christmas party? No, this is Chabad house, situated at 955 Genesee Street, and packed to the brim every Friday night with students eager to spend a good Shabbos together.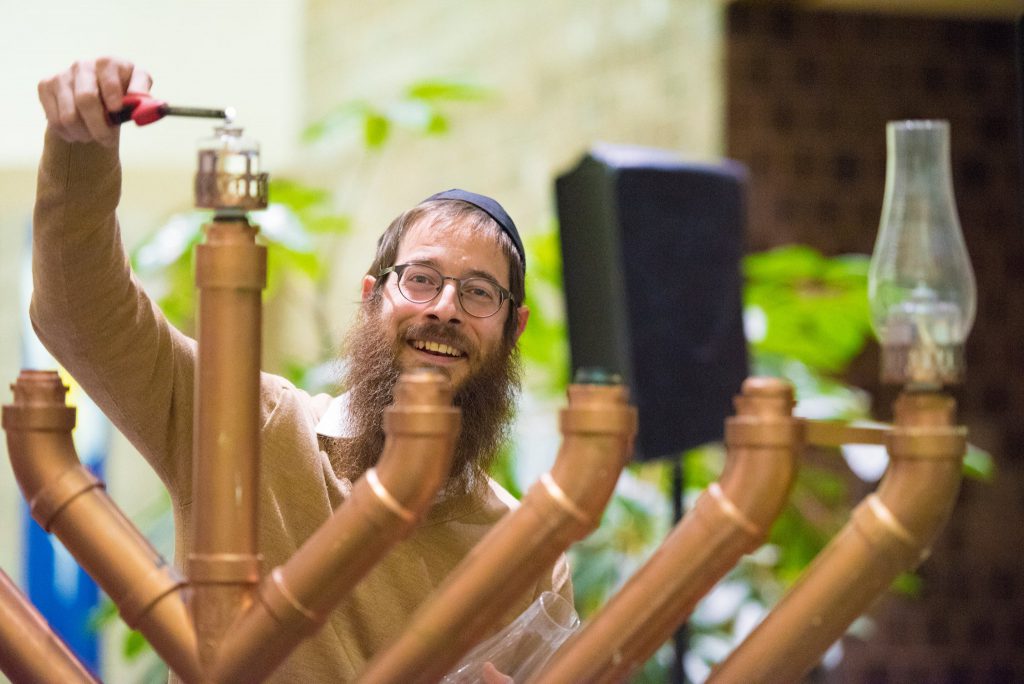 Chabad is a program that provides weekly dinners and other programs for the Jewish community on the University of Rochester campus. Chabad is hosted in the house of Rabbi Asher Yaras, his wife Devorah Leah, and their seven children. These weekly dinners are often punctuated with special themes, food, and décor. The year always kicks off with Sushi Shabbat, the first gathering of the semester, and one of the most popular. A few months in, Chabad hosts Shabbat 250, a gathering of over 250 Jews in the community. The Women's Shabbat—an all-female organized dinner—occurs later in the year. Of course, the Rosh Hashanah dinner and Passover Seder are massive celebrations, and although their yearly Hanukah event takes place on campus, in Wilson Commons, that doesn't stop Chabad from serving its purpose – bringing together Jews from all over.
This particular Chabad house has been is the Yaras' family for many years. Devorah's parents established this particular house in 1981, and she grew up surrounded by the college community and knew it was something she wanted to continue with her own husband and children. When she and Asher met, he swore he never wanted to run Chabad on a college campus. Famous last words. While only three people showed up to their first program, in the years since the community has expanded to include hundreds. Chabad provides multifaceted events that appeals to all kinds of students. They work with fraternities and a cappella groups on campus to provide collaborative experiences that are both educational and enjoyable. Students get the chance to give "dvar torah" (literally, "a word from the Torah") if they choose, and from the most observant to the least, everyone has a place at the table. First year student Jillian Breithaupt says, Chabad is "a place where I can hang out with all of my Jewish friends on a consistent weekly basis . . . and feel that my observance level isn't some crazy outlier among the rest of the student body."
But this isn't just a one-sided relationship. The Yaras family is also impacted significantly by the community, forming deep bonds with the students they meet each year. One of their sons, Mendel, used to trade knowledge with college students—teaching them Talmud in exchange for help with math. And when they have Shabbat with just family, their children can be found asking where all the students are.
Their weekly Shabbos dinners aren't the only thing that Chabad offers. They have mezuzzot and tzedakah boxes available for any student who wants to take one home. Parents can request for birthday cakes and Hanukah care packages to be sent to their children during the year. Students themselves can even request delicious matzo ball soup if they or their friends are feeling under the weather. Chabad also run groups like Sinai Scholars which analyzes Jewish ideas throughout the ages, or the Medical Ethics class that discusses Jewish perspectives on everyday medical dilemmas. Of course, if you want to meet with Asher or Devorah one on one, they're more than happy to do so—any topic, any time. They are always willing to "help people at [this] very formative time in their lives."
Chabad provides a real sense of family for the students, especially those who are learning to live away from home for the first time. "I come from a family that sits together and does Shabbat every Friday night . . . coming to college is [my] first time living outside the Jewish community," says sophomore Shira Hirsch. "Going to Chabad every week is something close to my heart, because for one night a week everyone is the same as me and I feel at home." So what's the hardest part about running such a wonderful organization like this one? "Having to say goodbye," says Asher. A college community is a transient one, with old friends moving on and new students arriving every year. But that doesn't mean that it can't be a meaningful experience (and a fun one!) while it lasts.
If you're interested in becoming part of this wonderful community, you can check out the Chabad House website or their Facebook page. If you do stop in, make sure you grab a slice of Devorah Leah's legendary squash pie. I promise, you will not be disappointed.