Applying As A First-Generation Student
A first-generation student is identified as someone whose parent(s) did not complete a 4-year college/university degree. Applying to college as a first-gen college student can be extremely stressful because your parents may not be able to assist you with the process. However, it is important to realize that there are resources to help you with the college application process. This blog post will highlight various ways you can seek support during the college application process.
College Preparation Programs
As a first-generation student myself, throughout high school, I researched and applied to college preparation programs. You can get started as early as freshman year and continue applying throughout your senior year. Being part of a cohort in a college prep program allows you to connect with other first-gen students. Applying to college as a first-gen student can make you feel lonely. Being able to connect with other students who share similar upbringings can help you feel less isolated.
College preparation programs are designed to support you based on your circumstance. If you attend a medium to large-sized high school, oftentimes your college counselor has multiple students who they need to work with. This can hinder your opportunity to get personalized help. For example, applying for financial aid can be very confusing and stressful. Being part of a college preparation program allows you to work closely with a college advisor who can help you with your specific needs.
Research local college preparation programs in your area and apply to them. Here is a list of programs that accept applications throughout the United States.
Alexander Hamilton Scholars
Leadership Enterprise for a Diverse America
MIT Online Science, Technology, and Engineering Community
Thrive Scholars Program
USC Bovard Scholars
Questbridge College Prep Scholars
Research First Gen Support Services in Colleges
The struggles of being a first-generation student do not end after applying to colleges. It is important to attend a college that provides a lot of resources for first-generation students. Research specific programs or student-led clubs/organizations that allow first-gen college students to connect and support each other. Being in college as a first-gen student can be very isolating. Joining programs and clubs can allow you to find a community that you can rely on.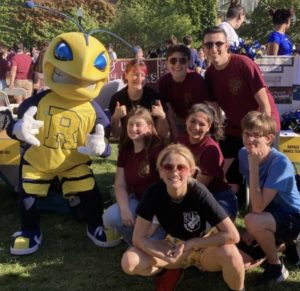 At the University of Rochester, there are multiple programs and student-led clubs that are designed to allow first-gen students to build a supportive community. The Office of Minority Student Affairs, Kearns Center Scholars, and Student Support Services are programs designed by the University to provide mentorship to first-gen students.
Learn about the First-Generation Network at Rochester
Give Yourself Reassurance
As you move through the process, you are likely to be faced with multiple obstacles. It is okay to not know the answer to everything and ask for help. The process of applying to college may be a very new concept for you and your family. But you are capable of completing it and getting accepted into a college. Give your self-reassurance so that you can move through the process with a stress-free mind and craft an application you are proud of. Good luck, you got this!