Rush Rhees Library at sunrise during Meliora Weekend, 2021
---
At any stage of life, taking care of your mental health is imperative. However, with all the responsibilities that come with being a college student, it can be easy to get swept up in your commitments and neglect your mental health.
To mitigate this issue, the University of Rochester offers a variety of resources dedicated to supporting students' mental health. Although the University is continually expanding its offerings as it works to better address students' needs, below is a broad overview of the mental health resources currently available on campus.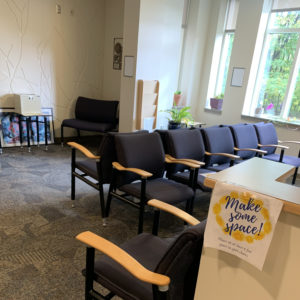 University Counseling Center (UCC)
If you're unsure about where to start with getting mental health support on campus, a great place to begin is at the University Counseling Center (UCC), which offers a broad range of services. Some of UCC's therapy services include individual psychotherapy, group therapy, and drop-in counseling groups.
Your first appointment at UCC is called an initial assessment, where a UCC clinician will develop a treatment plan based on your concerns and history. This plan could include short-term individual therapy, group therapy, medication management, or a referral to a different office on campus. UCC also assists students with finding long-term or specialized care off campus.
UCC's office spaces are located in River Campus, Eastman, and the UR Medical Center. However, after seeing positive results with teletherapy during the pandemic, remote therapy will also remain as an option post-pandemic.
UCC Director Dr. Brigid Cahill noted how teletherapy has "increased accessibility for people across the board." Due to the flexibility of virtual appointments, students with hectic schedules, or who are going through hard times, can attend appointments from wherever they feel comfortable.
Full instructions on how to schedule an initial assessment appointment are on the UCC website.
More info: List of UCC services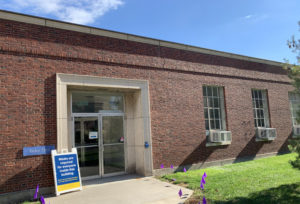 Office of Disability Resources
For students seeking accommodations for mental health conditions, the Office of Disability Resources has a number of options available.
"Mental health conditions can qualify as disabilities, so students would be eligible to follow the same accommodation process as any other student with a disability," Amy Wight, Director of the Office of Disability Resources, said. "All accommodations are individualized and based on the student's barriers they encounter in courses or other parts of University life."
Some of the most common accommodations include, but are not limited to:
Note-taking support

Options for audio recordings or other assistive technologies

Flexibility with certain course policies

Adjustments for deadlines or attendance policies

Testing modifications

Extended time or alternative testing environments

Housing accommodations

Permission to bring an emotional support animal or have a single room
A more comprehensive list of accommodations can be found here, and the instructions page to register for disability resources can be found here.
Additionally, the Office of Disability Resources offers one-on-one meetings on an as-needed basis to help students navigate the resources they qualify for.
More info: Office of Disability Resources home page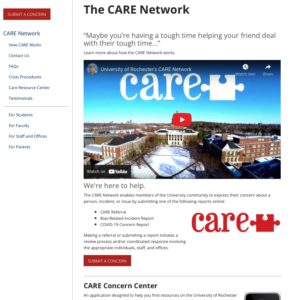 The CARE Network
Another support system at the University is CARE. Primarily, CARE's role is to interface with students and refer them to the appropriate resources to help with their situation. As described by Cahill, the network is like a "mental health triage center" that evaluates concern referrals and puts students in touch with whoever the CARE team believes can most assist them.
Examples of concerns listed by the CARE Concern Center include:
Lack of motivation, falling behind in classes, feeling overwhelmed
Seeking support for mental health and overall wellness
Conflict with friends or family
Financial strain, food insecurity, housing needs
Concerns with alcohol/substance use
Unsure of needs but could use someone to talk to
Something doesn't feel right
"Navigating life as a college student and finding the balance of responsibilities and overall wellness can come with its challenges. Asking for or needing help is nothing to be ashamed of or hesitant about!" Issha Travers, Assistant Director of the CARE Network, said. "Kaitlin [Legg] and I meet students where they're at and are happy to figure out the best ways to support their needs."
CARE referrals can be submitted online and will be reviewed within one business day.
More info: CARE home page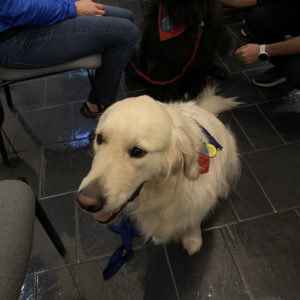 The University Health Service (UHS) Health Promotion Office (HPO)
The UHS Health Promotion Office encompasses a plethora of on-campus services, including programs such as UR Connected and the Mindful University Project. The HPO also organizes events like their DeStress Fests, meditation experiences, and the popular "PAWS for Stress Relief" series, where therapy dogs are brought on campus for students to pet.
In addition to in-person programs, HPO currently offers two online programs: EAT Mindfully and Zzzs to As Sleep Challenge.
A calendar of the Health Promotion Office's events can be accessed here.
More info: Health Promotion Office home page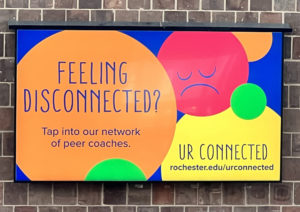 UR Connected
One unique resource from the Health Promotion Office is UR Connected, which is a peer-to-peer network great for students looking to manage stress. Training for UR Connected coaches first started in summer 2020, with the program being rolled out the following academic year.
UR Connected coaches are undergraduate or graduate students at UR who have received specialized training in the areas of active listening, helping students in distress, and suicide prevention. Coaches are also educated on what services UR has to offer and can help you find resources such as academic support, therapy, or programs to improve your sleeping habits.
"We recognize that sometimes students just need another peer to talk to, someone who can understand what they're going through because perhaps they've experienced a similar situation in the past. That's what UR Connected is all about!" Associate Director of UHS Health Promotion Amy McDonald said. "Students can visit the website, check out our coach bios, and schedule right online."
Unlike UCC, UR Connected provides coaching instead of therapy, but this is an excellent option for students looking for empowerment or advice on coping with stress. On the UR Connected webpage, you can read biographies of the current coaches and directly schedule an appointment.
More info: UHS website – UR Connected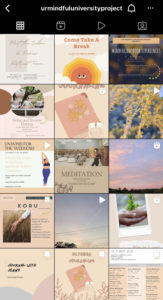 Mindful University Project
Another resource under the umbrella of the HPO's services is the Mindful University Project, whose mission is to offer inclusive programs that empower students and help improve mental well-being on campus.
As described by Health Educator Rebecca Block, who serves as the program director of Mindful University Project, "Our overall goal is to continue to expand our efforts in an evidence-informed way to increase students' mind-body connection and mental well-being to, in turn, improve students' academic flourishing and create a culture of mindfulness on campus."
In addition to more formal seated meditations—which are taught as part of the Koru learn-to-meditate classes—the Mindful University Project covers plenty of other mindfulness practices.
"Mindfulness can be practiced in many different ways, and one practice doesn't fit all!!" Block said. "In our Koru classes and Relax & Renew meditation retreats, we introduce various mindfulness practices such as mindful eating and active mindfulness practices such as walking and yoga."
General categories of the Mindful University Project's programs include workshops, yoga classes, meditation events, learn-to-meditate courses, workshops, and retreats. Meditation retreats are co-led by certified Koru Mindfulness teachers and accompanied by a UCC staff psychologist for therapeutic support.
Examples of activities from this semester include candlelight yoga, mindful outdoor tours, a sensory relaxation event, pop-up meditations in the library, and a silent meditation retreat. Program offerings in the spring will include outdoor yoga, mindful eating meditations, mindful outdoor experiences, tai chi, qi gong, and more.
All Mindful University Project events are beginner-friendly, and a selection of both in-person events and virtual events—held on Instagram, YouTube, or Zoom—are available. For those interested in exploring whether active mindfulness is for them, UR student Jenny Lee ('23) leads a mindful movement session every Sunday on Instagram Live at 10 a.m. ET.
Additionally, Block shared that the Mindful University Project has a student advisory committee, where students ambassadors can provide their input and assist with initiatives like marketing, delivering informational presentations, facilitating events, or leading practice groups. Ambassadors also have the opportunity to become trained as student mindfulness facilitators, allowing them to lead practice groups on campus and on Instagram Live. Training for new ambassadors begins in January 2022, and applications are currently open online.
More info: Mindful University Project home page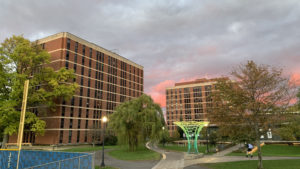 Counselor in Residence (CIR) Program
Another newly introduced program is the "Counselor in Residence Program," created jointly by UCC, Public Safety, and Residential Life. Through this program, Public Safety funds positions for trained graduate students who show up on scene to apply their expertise to mental health calls, in addition to uniformed officers responding.
Novera Khan, a second-year master's student studying mental health counseling, has worked at CIR since its launch in August 2021. Khan found that one of the main goals of the CIR program—which is having "someone more relatable to answer these calls," as opposed to an authority figure—has helped place students dealing with crises "in a more comfortable position."
With the program being newly launched, Khan said that the team is hoping "to branch out and make sure students do know about us and what we're able to offer." In addition to its on-call services, the CIR team holds drop-in office hours on Monday, Tuesday, and Wednesday nights in Hoeing and Wilder to offer supportive conversations or aid students with finding resources.
The CIR program primarily functions as a support system during hours when UCC is closed, though reaching out for help during CIR office hours is not limited to crises.
More info: UCC website – Counselor in Residence Program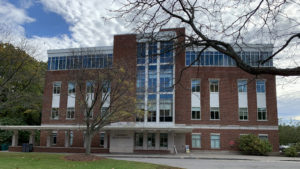 University Coalition on Student Mental Health and Wellness
Also involved with mental health on campus is the newly formed University Coalition on Student Mental Health and Wellness, started by UR President Sarah Mangelsdorf in collaboration with a group of 11 founding members. Although the coalition doesn't offer services directly to students right now, it helps students in a more behind-the-scenes way, working to assess mental health needs across all schools of the University and propose actionable solutions.
"UCC serves all six schools, but all the schools operate differently," Cahill, an inaugural member of the coalition, explained. "We're looking at what are the mental health needs of all of the students of the University, and how are they being met and not met."
Since the coalition's first meeting was in summer 2021, their goal is to provide recommendations sometime this academic year. So far, meetings have focused on analyzing the current landscape at UR, benchmarking against other schools, and determining best practices on how to develop mental health programs at UR. The coalition recently rolled out a survey to hear students' perspectives on mental health on campus and plans to continue taking students' feedback into account.
More info: Announcement on UR Mental Health Coalition forming
---
To learn more about UR's on-campus mental health resources, and to hear students' testimonies about these services, check out an article recently published on UR's Newscenter.
If you're looking for mental health support on campus, please don't hesitate to reach out. There are many people on campus who truly want to help, and hopefully these resources can guide you toward the right places for support.
If you're unsure where to get started, consider scheduling an initial assessment appointment with UCC to get a recommendation on what resources are right for you.