5 Things to Consider Before Choosing the University of Rochester
Rush Rhees Library (Aug. 2021)
---
During my senior year of high school, I was often unsure about how to evaluate colleges I was interested in. Although each person will have their own set of needs and priorities, as a current senior in college, I've noticed some areas that affected my college experience more than others.
Below are some of these areas that I found impactful during my time at the University of Rochester; hopefully this can help you explore whether UR may fit your criteria!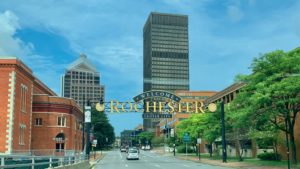 1. Location
If you've heard about Rochester, you're probably already aware of the legendary winters we have here. Aside from being prepared for the snow, though—which usually comes and goes between November and March—the atmosphere in the city itself may be an important factor to consider.
Rochester is closer to Canada than New York City, so if you're expecting an intense, fast-paced city life off campus, your experience may not match with how you envision New York. However, Rochester has a rich cultural and artistic scene, plenty of nature sites to visit, and—as a UR student—a broad range of opportunities available on campus (which is likely where you'll spend most of your time as an undergrad).
If you are looking for an environment like NYC, though, keep in mind that since UR is of the top-ranked schools in New York state, many of our alums end up there after graduation!
To read more about life in Rochester, this page outlines some of the exciting attractions in the area.
2. Features of a private research university
As a private university, Rochester's cost of tuition is admittedly costly compared to in-state public schools. However, many students receive scholarships and financial aid packages. As of 2020-21, 97% of need-based aid was fully met, so if financial aid is a concern for you, Rochester could still end up as an affordable option.
Additionally, since Rochester has a student-to-faculty ratio of 10:1, you may find that you'll not only have closer interactions with faculty and peers, but you won't have as much trouble getting into classes you need. This could translate to graduating sooner than at a school with heavily impacted classes.
As a research university, most students who are interested in doing research at Rochester—which offers opportunities in all academic departments—will be able to do so at some point. During the last academic year, 77% of students were involved in undergraduate research, though there are many other resources available through campus, including study abroad or industry trips, to build career experience.
3. Academic programs, by major
While each major has its own unique program, below are some general highlights from each academic division:
Natural sciences
Of the three academic divisions, natural science majors comprise the largest portion of Rochester undergrads—and with all the incredible opportunities in STEM here, this makes a lot of sense!
UR has a plethora of research positions, coursework that allows you to work in labs, and special programs—like the 3-2 BS/MS program "GEAR"—that can prepare you for your post-grad endeavors.
Depending on your major, you'll find that other unique aspects of the University—such as the nearby Medical Center or Rochester's annual involvement in iGEM—will give you a chance to gain real-world experience that caters to your field of study.
Social sciences
Although social science majors are slightly less common here than natural science majors, Rochester currently offers 25 social science majors and has a number of robust programs.
Of those majors, one of the larger departments is business, which offers six BS tracks and one BA track. The undergraduate program also has a partnership with its prestigious graduate school counterpart Simon Business School, which receives many positive student testimonials.
Also popular are psychology, where a variety of research assistantships are available, and economics, which has a unique major requirement that enables students to explore coursework in allied fields.
However, since each department has its own distinct benefits, I recommend using this page to browse through majors and see what interests you!
Humanities
As a research university, Rochester understandably has fewer humanities majors, but as an English major myself, I personally feel like the close-knit environment enriched my experience!
Despite representing a smaller pool of students, the diverse range of humanities subjects offered even include uncommon majors like bioethics, American Sign Language, digital media studies, and more.
I also appreciate how classes are still held even if "demand" is lower—I've taken four classes with less than 10 students and never had any classes cancelled—because it illustrates how niche majors are still valued by the University.
With a vibrant artistic scene in Rochester and a close-knit community on campus, there are plenty of options for humanities-inclined individuals to pursue their interests at Rochester.
Undeclared
Although "undeclared" is technically not its own division, I also think prospective students in this category may find many of Rochester's amenities useful.
First is the Rochester Curriculum, which eliminates general education classes and only requires one writing class, two clusters in the academic divisions outside your major, and your major requirements.
Another is the ability to create your own major by designing your desired curriculum; this article shares stories from students who chose this path and touches on the advantages that having this freedom provided them.
For more info about specific programs, this page has a full list of majors and minors currently offered at the University.
4. International student population
Whether you're an international student looking for a community to feel at home in, or a domestic student seeking enrichment from a diverse campus community, UR's international student population is undoubtedly a huge merit at the University.
International students represented nearly a third of my first-year cohort and came from 96 countries, and as a senior, I've noticed subsequent class years seemed to consistently have a sizable international population as well.
From chatting with my first-year roommate (a first-generation international student from Germany!), I learned about several ways our International Services Office (ISO) supports international students:
Guiding students through the visa process and acquiring an SSN
Providing software to file taxes
Helping with internship paperwork and job transfer visas
For more details on services offered to international students, check out the ISO website.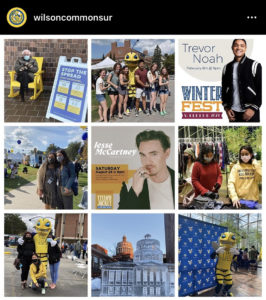 5. Student life
As covered in the sections above, the University of Rochester is a medium-sized school with a diverse population. However, some other aspects of campus life you may be wondering about are what the social scene is like and how students spend their time outside of classes.
Compared to many larger public schools, Greek life and athletics are less central to student life; as of last year, only 20% of students were involved in Greek life, and our athletics program was in Division III. If these areas interest you, though, there are plenty of people on campus that partake in them—especially if you broaden athletics to include clubs, since we have 42 club sports on campus.
As for other extracurriculars, 90% of students were involved in clubs or student organizations, and although students are often busy, I've found that busyness tends to be balanced with hobbies and commitments outside of class.
While academics are important here, there are often fun activities hosted through Wilson Commons Student Activities to help students enjoy campus life. To sum it up, I'd say that although UR students work hard, they are also supportive and down-to-earth, and our campus feels like a safe space to nurture and discover your interests.
---
To read more about special benefits available at the University of Rochester, this post has a list of attributes unique to our community. If you're deciding about which colleges to apply or commit to right now, good luck on finding your best fit!