Your guide to volunteering at UR
Pictured above: UR Habitat members in October 2022 at the build site for the home they cosponsored. Credit: Flower City Habitat
Do you enjoy volunteering in your community? And do you want to continue or start volunteering within the University of Rochester or out in the greater Rochester area? It's easy to get involved in volunteering at the University. In fact, you can't get through your first-year orientation without it. Keep on reading to learn more about the tradition of Wilson Day, University clubs and organizations that offer volunteer opportunities, and outside organizations in greater Rochester. 
What is Wilson Day?
For over 30 years, incoming first-year students have participated in Wilson Day during their orientation program. The entire incoming class is sent out to various organizations throughout the City of Rochester to provide volunteer services. It's part of a larger program called the Wilson Days of Engagement, which is a series of activities and workshops focused on Rochester and community engagement. 
Wilson Day Coordinator Megan Browne states, "Wilson Day is important especially now because so many community partners in the community have faced a lot of changes from COVID and are finally finding their footing again. Not only is this a great time for students to bond with their halls, but also learn about the vast history of Rochester and help tackle projects that are on a laundry list for these organizations."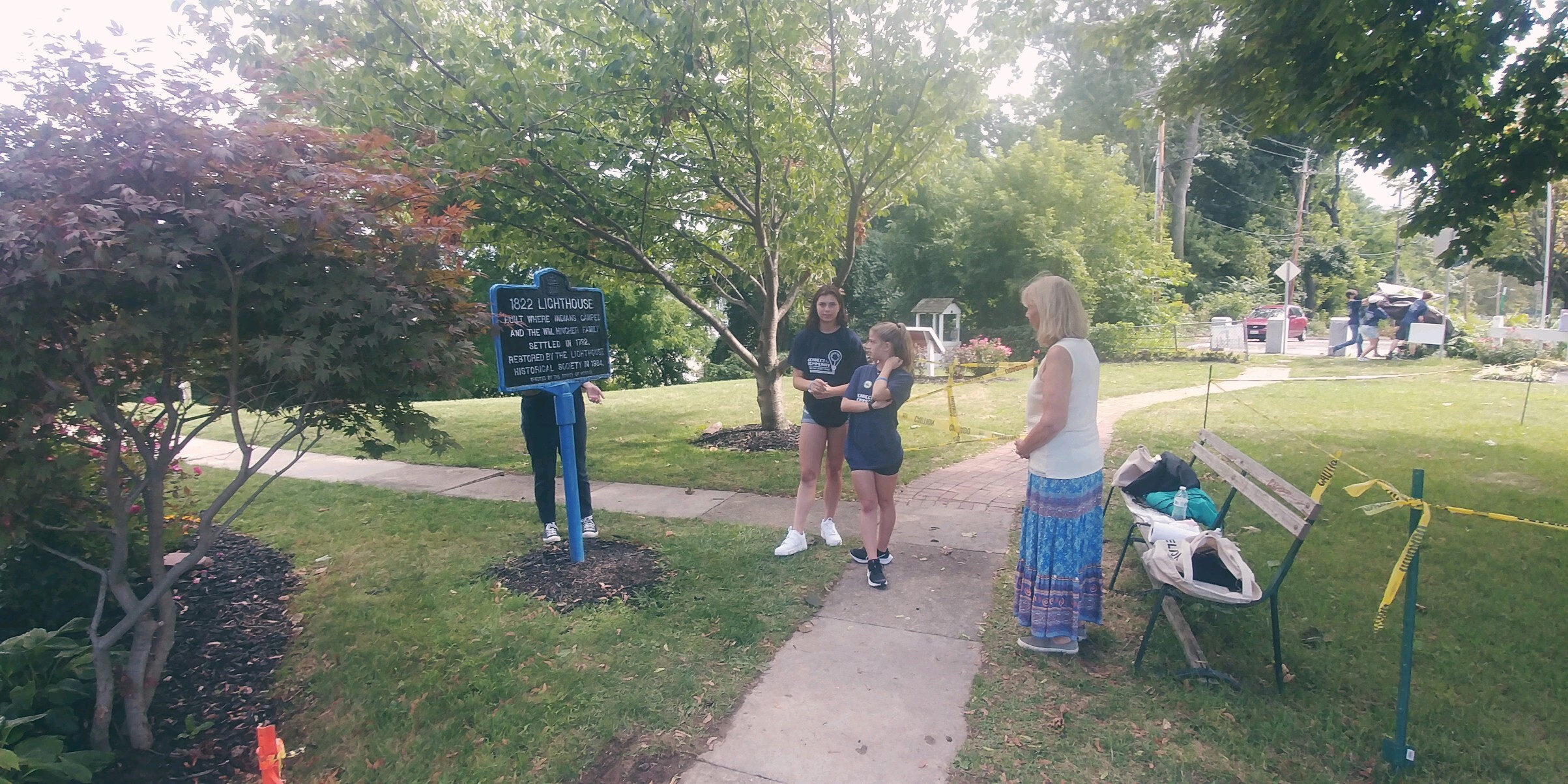 Student Clubs and Organizations
There are a wide variety of student-run clubs and organizations that are community-service oriented, allowing you to choose from the ones that most interest you.
Sororities and Fraternities
Every sorority and fraternity on campus is associated with a philanthropic organization. They usually host one large fundraising event each semester and may send their members out to volunteer.
Alpha Phi Omega is a national gender-inclusive service fraternity that is a great opportunity if you are looking for a community of people to volunteer across the city and on campus with. Their nearly 50 members volunteer for at least 30 hours each semester and APO organizes all the projects and provides transportation. They also host fundraisers on campus to support other organizations. Check out their "info!" highlight on their Instagram @apomulambda for more information. You can be a member of APO and a social sorority or fraternity as well!
Clubs
There are a lot of clubs on campus under the community engagement umbrella that provide volunteer opportunities to their members and/or host fundraisers to support their parent organization or another charity based in Rochester. Check out the list below for some clubs that regularly host volunteer opportunities. 
UR Habitat for Humanity (@urhabitat) 
UR Habitat is the campus chapter for the international organization Habitat for Humanity, an organization whose main focus is building affordable houses for people. UR Habitat regularly volunteers at build sites in the City of Rochester, where students get to help with various aspects of the construction process. They also host fundraisers throughout the year to grow their house fund. Just last summer in 2022, Flower City Habitat broke ground on the latest house to be co-sponsored by UR Habitat!
UR Engineers Without Borders (@urewb)
Are you interested in providing sustainable solutions to infrastructure and engineering problems in developing and disadvantaged areas? Join UR's chapter of Engineers Without Borders. They are currently working on projects in the Dominican Republic and Tanzania to provide potable water, along with a local project in Rochester. You do not need to be an engineering major to participate. You'll gain real-world experience by working on applied engineering problems and have an opportunity to travel to the project locations.
Environmental Activism Club (@esm.enviroclub) and UR Grassroots (@urgrassroots)
Environmental Activism Club is based out of the Eastman School of Music. They regularly volunteer in the Rochester community through helping out at urban gardens, picking up trash, and restocking free food stands.
UR Grassroots is based on River Campus with a similar mission. Their main events are their monthly clothing exchanges that their members volunteer to help run. Students can come and drop off old clothes and/or take new ones for free, decreasing clothing waste and providing affordable clothing options for students. They also host EarthFest, a yearly event in April featuring a variety of environmental-related events throughout the week. 
UR Food Recovery Network (@uofrfrn)
Did you know Rochester has some of the highest food insecurity rates in New York State? The UR Food Recovery Network volunteers to collect unused but still edible food from locations across campus to be donated to organizations that will distribute it to those who need it.
Partners in Reading (@ur.pir)
Partners in Reading pairs volunteer students with K-8 classrooms in the Rochester City School District, along with providing additional classroom support, and encouraging college readiness. Members volunteer for 2 hours at a weekly tutoring session in a school downtown. 
Off-Campus Organizations
There are so many organizations in the Rochester area that would appreciate student volunteers. It certainly helps to have a car, whether that's yours or a friend's, to get around Rochester, the bus system (known as RTS) can get you around town.
You can check the UR Campus-Community Bridge for opportunities in the Greater Rochester area and filter by type (ongoing or one time) and by your interests. This is by no means an exhaustive list, as it relies on organizations submitting their own opportunities. 
I spent most of the summer of 2022 working at Homesteads for Hope, a nonprofit community farm that hosts inclusive programs for people with and without disabilities. They have a high demand for volunteers during the summer and fall to help plant and harvest all of the produce they grow. 
I've also volunteered with Flower City Pickers at the Public Market where I helped sort food to determine what could be donated to those in need. The Public Market is accessible to students via the Green Line shuttle on Saturdays. As a member of UR Habitat, I've volunteered at Flower City Habitat build sites and at House of Mercy, a homeless shelter, where we made meals. 
Final Thoughts
Volunteering through student-run organizations and clubs that will provide transportation is the best way for new students to participate in volunteering post-Wilson Day. Not only will you help the Rochester community, but you will meet new people and potentially form friendships if you consistently volunteer with the same people. If the options on campus aren't too appealing to you, it's worth putting in the effort to choose your own volunteering opportunities.