What's It Like to Be Vegan at UR?
There are a lot of considerations that go into deciding which college to attend, and dietary restrictions can be one of them. If you're vegan and don't want to give up that lifestyle (or starve), UR can work!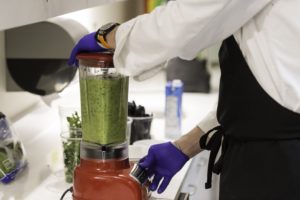 A Day in the Life
I've been vegan for a couple of years now, during which I have lived on campus. Here are examples of what I usually do for food in a day:
Breakfast: Sprouted grain bagel with avocado spread from Starbucks or cereal that I bought at Wegmans or Hillside
Lunch: Soup from Connections or something from the vegan station at Danforth
Dinner: A meal from either of the dining halls, usually Danforth
Snacks: Fruit from Hillside, sunflower seeds, carrots or pretzels and hummus
Danforth Dining Hall
Danforth is the best spot to get vegan food on campus because it has both a designated vegan station and a salad bar. The chefs are good about ensuring that the vegan station meals are complete, with enough bulk and protein, so you don't just get rabbit food. Other stations also sometimes have vegan offerings. UR tries to be "plant-forward", which emphasizes plant-based foods. Be careful though, plant-forward is not the same as plant-based, which I learned the hard way when I got some plant-forward spaghetti sauce that turned out to have beef in it.
Danforth is closed on the weekends, so admittedly, it can be more challenging to get food then. That's when I draw from my stock of microwavable meals from Hillside or go to the Pit, where I get a burrito bowl or veggie burger.
The Pit
The Pit has some vegan options, but they don't rotate so I try to not get them too regularly. There are veggie burgers, vegan chicken tenders, General Tso's tofu, burrito bowls, vegan pizza, smoothies, and some other things.
Hillside Market
Hillside is vegan-friendly, with a variety of microwavable meals, some fresh produce, plenty of snacks, and lots of substitutes (butter, cream cheese, tofu, ice cream, plant milk, etc.). I go there a lot, whether it's to restock my mini-fridge with kombucha or buy snacks.
It's Not Always Easy
There are definitely options for feeding yourself if you're plant-based, but it can be challenging sometimes. For example, I don't like mushrooms, and sometimes the only complete vegan dish at a dining hall has mushrooms, so I have to find something else. Sometimes I'll piece together a meal with components from different stations, like rice and mixed vegetables from Douglass' allergen-free station, soup, and roasted broccoli or something. If all else fails, there's always Hillside, instant ramen, or takeout.
Other Options
I don't utilize the kitchen in my hall because I don't have any cooking supplies, but making your own food is also an option. Last year I had friends who would make dinner with food from Abundance Coop most nights. I like to treat myself to takeout from a local restaurant from time to time.
A lot of my vegan friends have moved off campus, which they say is really nice in terms of food. However, if you want to (or have to) live on campus, I can assure you you'll be able to get adequate food. Plus, the dining team is super open to feedback, so if you have suggestions or grievances, they work fast to accommodate. For example, a survey went out to Student Association of Vegan and Vegetarian Youth members, in which a common issue was lack of breakfast options in the dining halls. The next day, a tofu scramble was offered in Douglass during brunch.