What's it Like Living on Your Own for the First Time?
The University of Rochester has several great housing options – Phase, O'Brien, Drama House, the Music Interest Floor, etc. – all offer their own pros and cons, and I've had people thrilled with pretty much all University owned housing in someway.
But, what if you want to live off campus?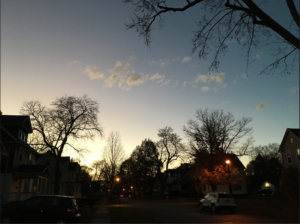 This is the first year I've chosen to live off-campus (see my house above), and it's come to my attention that not many of my friends know what they're looking for when it comes to off campus housing…or even how to start looking. So here's my little guide to living off campus – all the things I've figured out or think are important.

I'd say you should begin your housing search in December or January. Earlier or later is still fine, but landlords might not be yet looking for new tenants in September, and your choices will be more limited in March. But how do you find a place to live? Well you can always ask friends who already live off campus if their landlord is looking for new tenants, or know someone else who is. There's also a Rochester Housing Facebook page that has plenty of nearby houses for rent. If all else fails, you can use that wonderful miracle of technology, Google. But trust me, I think you'll find more than enough with those first two.

After living in a dorm for two, three, maybe four years, it can be hard to know what exactly you want to look for in your living space, and the list is different for everyone. Personally, I really wanted to have a lot of natural light – my freshman year I was in Sue B will a window the size of a blackboard. Sigh, those were the days. But here things everyone should check out:

1. Parking. If you have cars, this is important. Do you have a driveway? Is there street parking? Do you have to move your car everyday for snow? (This one is big in Rochester winters)
2. What's the set up of the kitchen? Living off campus probably means cooking more for yourself, and those tiny Phase kitchens with a microwave and hot plate aren't going to cut it anymore.
3. What type of heat do you have – gas or electric?
4. What utilities are included in rent, and what will you have to set up yourself? This includes things like snow removal, WIFI, electric, etc.
5. How is rent paid, and what are the fees if it's late? My landlord does rent through an online service and it's super easy.
6. Location – is your house on any of the bus stops that will get you to campus? Sometimes you just don't want to make that walk, especially in the winter.
7. Is subleasing available? Many Rochester students leave for the summer, and subleasing is a great way to save money on what would otherwise be you paying money for your house to sit empty.

You can also look up "questions to ask your landlord" if you'd like a more extensive list, but these are a few to get you started.

Now for the pros and cons of off campus living. I am a huge proponent of off-campus living. Being able to cook more often, having a bigger room, and being able to decorate more freely and without the risk of being charged at the end of the year (still ask first though). There's generally just more space in an off-campus house, so you're not in your roommates space as much, which is always a blessing. As for cons, well, there's the obvious ones. You live farther away from campus, so getting to classes or the library is more of a chore. When something breaks you have to call your landlord instead of facilities, and they might not be quite as fast.

Some things are very similar. You'll still have roommates to fight with, and your home is still your place to be yourself – to study, hang out, to cook, to do whatever you want. So go forth, do some research, and figure out the best place for you!