What is "The Opposite of People"?
The Opposite of People (TOOP) is a student-led theater troupe on the U of R campus. Both a social and a performing arts group, TOOP provides a place for students to learn and explore all aspects of theater production, as well as make friends who have similar interests and gain a wide network of arts-connected people. I've been a member of TOOP since my sophomore year, and in the past four years, the group has become like a large, boisterous family to me. Up until recently, TOOP was audition-only, with auditions held in the beginning of the fall and spring semesters. But a year ago, TOOP changed our constitution and our group so it is now open to all students, any time in the semester, regardless of skill or prior experience. It's one of the things I love most about the group. I was really lucky to be able to attend a performing arts high school that allowed me to take classes like Advanced Acting and Directing Workshop and Intro to Technical Theater, but I know plenty of schools don't even get the funding to have any kids of arts program at all. TOOP gives us all a place to develop and improve our skills, or even completely change the path we thought we were going to go on.

TOOP's e-board is a little different than most other e-boards I've known or been a part of. We don't have a President or a Vice-President, though we do have a secretary. Instead, we have an Artistic Director, a Production Manager, a Technical Director, Dramaturge, etc. These are people who don't just run a club, as in plan meetings or social events, but also who make sure we are able to put on staged readings and full plays each semester without fail – we were even able to make it happen in the Spring and Fall of 2020, in the worst restrictions of the pandemic.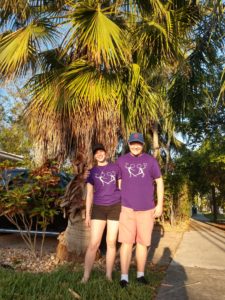 The photo above is of me and my roommate James in our TOOP t-shirts during a spring break trip to Miami.

I joined TOOP mainly to act, as that's both my major and my main interest in theater. Every show offers open auditions for the whole campus, and it's been one of the easiest and least stressful audition and callback processes I've ever had. Rehearsals are also fairly smooth sailing, and even tech is remarkably efficient. But of course, what we're really looking forward to as actors is the shows. We've performed in Drama House, the May Room, and even Todd Theater, and the shows we do always get great crowds – from the student body, from friends and family, and even from faculty. They're also always 100% free, which probably contributes to the high turnout, but that's something else that is really important to TOOP – providing accessible theater for everyone.

You can also do a variety of other jobs to help contribute to our productions. All of our shows are student-directed, so if that's where your passion lies this is a great place to explore what it's like to be in charge of the artistic vision of a show. We also allow co-directors and assistant directors if you've never directed before (although we also have had just plain directors who have no experience and absolutely killed it). If that's not your cup of tea, TOOP also recently introduced a stage management track into our group, where you can learn how to work with directors and actors to manage schedules and organization. Or you can write. We've put on student-written shows in the past, and it's always awe-inspiring to see the amount of talent we have bursting from students' fingertips – comparable to plays I've read from much older and more experienced writers.

We put on staged readings of student work every other semester or so, our most recent one happening just a few weeks ago, with eight different pieces by six different students being produced. The audience gave feedback, and it was a really fun, chill way to end the semester.

One of the other things I love most about TOOP is our designing and apprentice program. I love working with the International Theater Program, but there isn't an opportunity to work as a member of the design team if you're a student. Many students come to the U of R from high schools where they've had pivotal roles in working with their own tech crews, and at TOOP they have the ability to fully design and create a set, lights, costumes, or props for an entire show. And even if you have no experience, you can either join our apprentice program where you work with a designer to learn the ropes of their technical aspect, or just jump right in and become a designer yourself. I worked in design twice for TOOP, with no prior experience in either field. I was apprenticing for sound design the semester that we all were sent home because of the coronavirus, so I didn't end up finishing that job. However, I was the props designer for our show in the Spring of 2021, a collection of three of Harold Pinter's one-act plays. Doing tech is so very different from performing, and I'm glad TOOP gives students the opportunity to do both onstage and behind-the-scenes work.

TOOP has done some truly fantastic productions in the past, including during the pandemic. We did a masked, filmed version of Antigone, the combined works of Harold Pinter that I mentioned above, the darkly funny Black Comedy by Peter Shaffer, several student-written works, Shakespeare's A Midsummer Night's Dream, and are preparing for a production of Agatha Christie's Murder on the Orient Express in the Spring of 2022. We pick out shows through a voting process with the entire group. Possible directors pitch the shows they would want to do, and we collectively vote on which ones we want to do, 1-2 a semester.

Aside from the shows, we put on we also have social events like TOOP Fancy Brunch, and fundraising weeks where we sell stickers to raise money for our shows. You can find us on CCC, or pop into Ruth Merrill at 9pm on Monday nights to join our meetings. Our meetings are just a bunch of theater nerds talking about how the group is doing and sharing random tidbits about our lives. Hope to see you there!