Dandelion Day is a Rochester tradition that celebrates the last end of the full week of classes in the spring semester with food and fun. This year's Dandelion Day festivities covered the area between Dandelion Square and the fraternity quad with rides, inflatables, food trucks, and a stage for student groups to perform on.
To answer the question I'm sure some of you are asking ("Why is it called Dandelion Day?"): I'm not really sure. I know that our school flower is the dandelion, but other than calling this event by that symbol, there is no affiliation with the flower. It's not like everything is dandelion-themed or we plant dandelion seeds or anything like that. But it is the time of year when those flowers have bloomed!
I asked the Student Programming Board's Dandelion Day Chair, Lihui Guo, what she has to say about the event she planned, to which she replied: "I'm really proud of the range of activities I was able to bring . . . I think there was something that could appeal to everybody, like I saw a lot of people that opted to just sit in the grass and listen to the music from the Student Stage. It was really great to just see that so many students came out to enjoy the nice weather and festivities."
Food
This year, we had Macarollin', Nancy's Fried Dough, Abbott's Frozen Custard, Smoothies Plus, Marty's Meats, Le Petit Poutine, and Effortlessly Healthy food trucks. The food trucks were subsidized more than usual, so students could get food for half the typical price, which was great. Plus, there was free cotton candy in a variety of flavors, which of course I took advantage of. The Dandelion Day food trucks gave students with a lot of leftover declining a chance to spend it on themselves or their friends too.
There was also the Dandelion Lounge, which was a large tent with 90s-themed snacks and drinks, including Ring Pops and Bugles. It was a good option for people who wanted to relax out of the sun.
Rides and Inflatables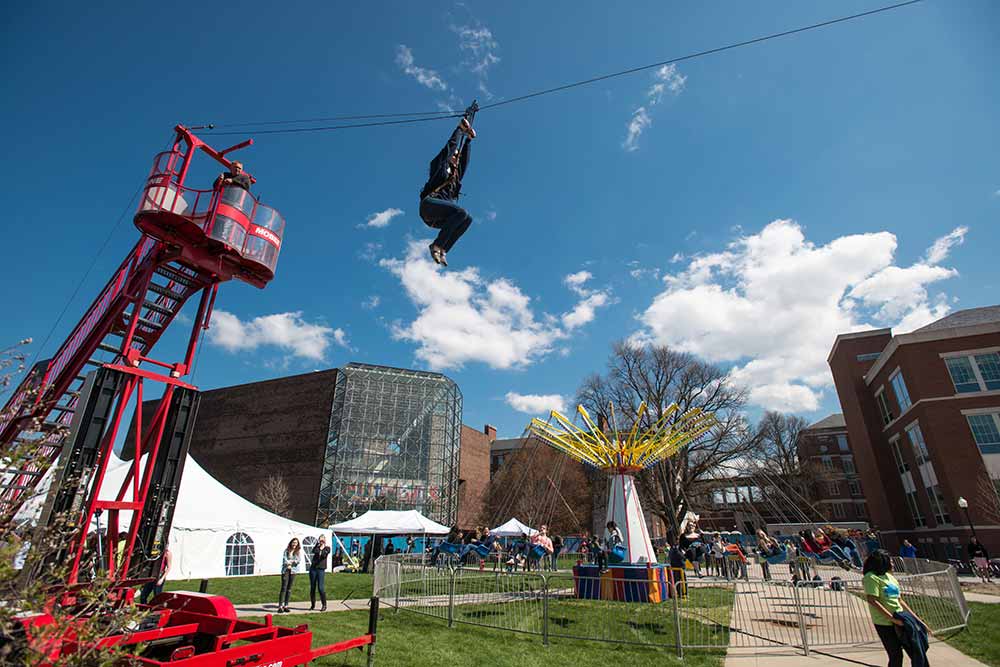 Every year there are some mechanical fair-type rides as well as inflatables. I was too scared to go on the "paratrooper" ride and the line for the Ferris wheel was too long, but I had fun going on the spinning swings twice. There was also a mechanical shark, which is the aquatic version of a mechanical bull. From what I observed, nobody stayed on for more than a couple seconds.
My favorite inflatable was Tiki Island, a big tiki head on which you're supposed to rock climb. I was first in line to try it out because it looked so cool. Truth be told, it was very difficult and I didn't make it far, but it was still fun. Other inflatables included an obstacle course called Adrenaline Rush, something called Launch Pad (which consisted of jumping on a trampoline then jumping off and seeing how far you can land), and "Rock n Joust" (basically try to hit your friends off a raised platform with pool noodles).
Other Fun Stuff
Other neat things were an airbrush tattoo stand, a photo booth that printed photo strips with a special Dandelion Day frame, oversized Connect 4 and Jenga, and one of those carnival games where you hit a plate with a foam hammer to see how strong you are.
Something that students look forward to every year is the giveaway. This year, it was a p(e/i)nnie. People started lining up well before the giveaway was scheduled to start and when that time came the line stretched well past the gym.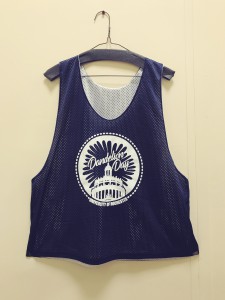 Concerts
During the carnival, student groups performed on a big stage at the head of Wilson Quad. This was one thing that was different from previous years, when the stage was smaller and in a less centralized location. If you're interested in student bands and want to check out their music, this year's lineup was: Big Old Pig, Hip Conspiracy, Siena, Root Seven, Candy Isle, NJR Rock Band, and NJR Acoustic Ensemble.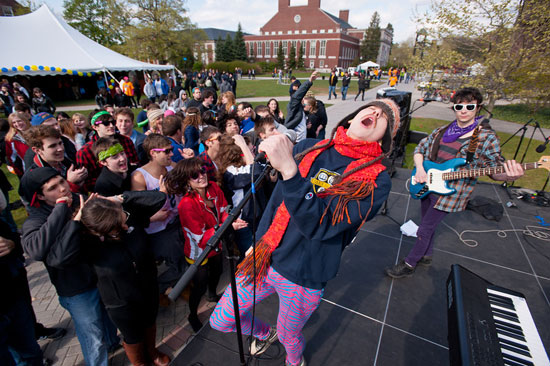 However, the thing students were most excited about was the headliner concert. Every year, the artist that visits is kept a secret by the Student Programming Board executive board. Rumors spread about who it will be, despite nobody having any idea. Last year, Big Sean (a rapper) came and this year, Tinashe (R&B and pop artist) came with Princess Nokia (a rapper) as the opener. I'm excited to see who comes next year!