You may be wondering what students are doing with their time now that college life has changed dramatically. What do we do when we can't go to our friend's dance performance or go to parties? Here are some examples of activities U of R students are keeping busy, active, and social while staying safe.
Apple and Pumpkin Picking

It seems like this fall every student on campus has gone apple picking. It's a fun opportunity to get off campus and do something in a small group outside. I've gone apple picking every year I've been at U of R, and this year was no different. I got a few friends together to go to Wickham Farms, where we got a healthy amount of apples.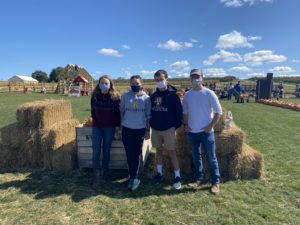 Once apple season ended, students turned to pumpkin patches for fall entertainment. There was even a pop-up pumpkin patch on the Wilson Quad right before Halloween for students who wanted the pumpkin patch experience, but couldn't find transportation or time to visit a real one.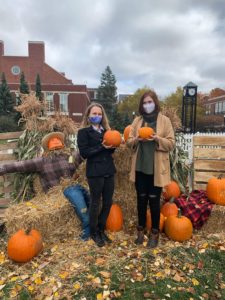 So Many Crafts
Wilson Commons Student Activities has been giving out a bunch of take-and-make crafts as well as some that are done in person. I've gone to DIY kokedama (plant in ball of dirt wrapped in moss), fall wreath, and spooky terrarium events with Rochester Brainery, which have added some lovely planty goodness to my dorm. I've also made (or tried to make, really) a hanging macrame planter and painted pumpkins.
Hanging Out with Friends
Although there is a slew of restrictions that make it harder to socialize, we're making it work. I've been enjoying plays games online with friends, including Settlers of Catan, Skribbl, and Dungeons and Dragons. Virtual watch parties or outdoor movies (of which several have been hosted) are an option too. Hanging out outside when the weather is nice, whether over coffee, games, or just conversation, is a good way to spend time with friends while staying safe.
Grabbing a meal together from a dining hall or going out to dinner off campus gives students the opportunity to connect over food. Although masks can't be worn while we're eating, we can still spread out and eat outside. Lots of new tables and seating have been put out to give us plenty of options for socializing outdoors.
Things You Would Expect
As you can imagine, UR students are also doing lots of independent activities that haven't really been changed by the pandemic. Some popular choices include watching Netflix, studying, walking along the Genesee, and single-person hobbies. As an introvert, this isn't much of a change for me.
Video Calls with Family and Friends
Between more free time and a desire for social interaction, many students have been spending more time on video calls with family and friends. One of my friends says she FaceTimes her friends who don't go to UR every week. I've noticed I've been FaceTiming/Skyping my loved ones more often than normal.
Ice Skating
Right off campus, there is a skating rink where admission is only $3 (plus $3 for skates if you need them). With the weather getting colder and spending time outside getting decreasingly appealing, groups of friends have been walking over to the rink to try ice skating. Part of the quidditch team went on Election Day, which was really fun until I sprained my ankle. Most of us were inexperienced skaters, but the few who were pretty good helped us out.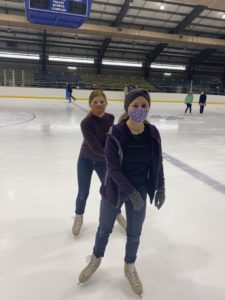 Although our schedules look very different because of COVID-19 due to how much student life has changed, UR students are still keeping busy and social!