By: Victoria Liverpool, Class of 2022

My name is Victoria Liverpool and I'm from Montclair, New Jersey. I'm a junior planning to double major in International Relations with a minor in Spanish. I am the Publicity Chair for the Committee for Political Engagement where I manage our social media platforms and promote our events. On campus, I'm president of the 2022 Class Council, Deputy Chair of the Administration and Review Committee of SA Government, and a senator.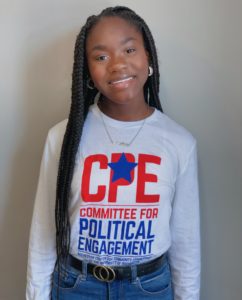 The Committee for Political Engagement (CPE) is an initiative under the Rochester Center for Community Leadership. We promote non-partisan engagement with domestic and international politics. CPE provides the campus community with opportunities for voter registration and issue education. We have sponsored many engagement events like Political SCIENCE, where we highlight the importance of the intersectionality of politics and STEM. We hold voter registration drives throughout the year to make voting accessible to college students and members of the River Campus community.
CPE recognizes the importance of the international student community and perspective in state, local, and federal elections. Although international students are not permitted to vote, they are still very much affected by the outcomes of political decisions made by their representatives. It's important to collect the international student opinion in order to help better represent their needs while abroad. For this reason, CPE plans to hold a mock election to evaluate how the international student community here at Rochester would vote in the upcoming presidential election.
Our goal is to make voter registration and voting easily accessible to Rochester students. As we all know, this year is incredibly important because of the upcoming Presidential Election on November 3.
There are a few steps that students can take to ensure that their votes will be counted in this upcoming election:
Register to vote or check to make sure that you are registered to vote before October 4!
You can do this by visiting turbovote.org and clicking "Get Started."
You can choose to register to vote in your hometown or in Rochester.
Remember, in New York you can register to vote if you are 18, or if you are 17 and will turn 18 by November 3rd. Find out if you can register early in your state.
Request an absentee ballot before October 13!
If you register to vote in your hometown, make sure to request an absentee ballot as soon as possible. You can visit vote.org and click on "Vote by Mail"
Don't forget to check your mailbox frequently for your ballot.
If you register to vote in Rochester, you can vote in person at a polling place near campus, or request an absentee ballot. You also have the option to vote in-person early, between October 24 – November 1 (times vary), as well as on November 3rd from (6 am- 9 pm).
Once you receive your absentee ballot, fill out the ballot and send it back before October 23!

You can go to Common Connections (Wilson Commons 201) to pick up and drop off your absentee request form, and your absentee ballot, and we will mail them for you.
Follow the Committee for Political Engagement on Facebook and Instagram for more updates regarding voter registration and absentee ballot request/return deadlines.