Unexpected Everyday Upsides of the Pandemic
With everything that has changed since March, it's easy to focus on how upset our day-to-day lives are due to COVID-19 measures. However, I have noticed several silver linings to these changes.
Masks
There are some unexpected upsides to not showing the bottom half of your face. Something stuck in your teeth? Who cares, nobody can see. Maskcne (mask-induced acne) is real, but fortunately, the mask also covers that up. Full faces of makeup are a thing of the past when only half your face is visible, giving you some savings in the cosmetics department.
Masks, but make it fashion. Maskion? I've been enjoying acquiring masks with fun patterns and coordinating them with my outfits.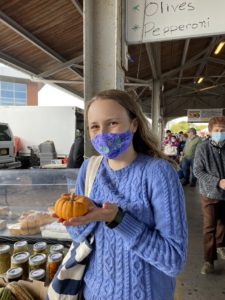 Connect With People Differently
With so many restrictions on socializing with people in person, I've found myself reaching out to people I don't usually talk to. I recently had a video call with a friend from high school who I haven't talked to in years. It was really nice to catch up with her, something I may not have thought to do if I had a vibrant social life right now. I also find myself calling my family more often. Friend groups have also found new ways to stay connected, from meals together outside to virtual game nights (Among Us, anybody?).
Top-Only View
When only your top half can be seen on Zoom, there's no longer a need to change out of your comfy sweatpants for a meeting. Dress shirt and PJ pants? Sure, why not?
No (or Shorter) Lines
With around 1,500 fewer people on campus and more time staying in our dorms, I've been enjoying the significantly shorter wait to pick up my breakfast from Starbucks. This semester, I haven't had to wait more than 10 minutes, whereas in previous semesters I've had to wait up to 40 minutes. I've also been able to get food from the Pit and dining halls without waiting at all, which has been nice. Also, the couple of times I've gone to the library, I had no problem finding a spot, even though there are also fewer tables and chairs to accommodate social distancing.