Top Four Tips for Off-Campus Interviews
When I interviewed for the University of Rochester, it was around this time of year, except I was in New York City. Because neither of my parents owns a car, I decided to schedule an off-campus interview with the University. Here are some tips and things you should expect when doing an off-campus interview.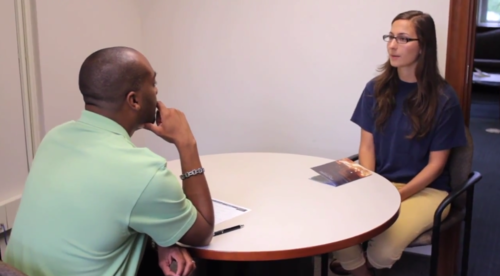 1. Make sure you know where you're going
My off-campus interview was held in a hotel lobby in Upper East Side Manhattan. (Hotel lobbies are a common place for these types of interviews, as are cafes and casual eateries like Panera.) Because I am from Brooklyn, I decided to have my mother accompany me to the location to make sure I got to the correct building. The issue with buildings in Manhattan is that it is not always obvious what number the building is or if you are in the correct building lobby or even on the right street.
If you know that the area where your interview is going to be is a tricky neighborhood that you are unfamiliar with, it is always a good idea to have someone come with you. Better yet, check out the interview location beforehand and plan to arrive at least 15 minutes early.
2. Wear business casual clothes
You should always put comfort first so that you feel confident, but it is also important to take this interview as a chance to show that you can dress maturely and represent yourself well. The University of Rochester doesn't require you to dress a specific way for the admissions interview, but business casual is a good rule of thumb. Some safe options are button-down shirts (tucked in) or blouses and straight-leg pants, trousers, or a skirt with dress shoes or flats.
Lay out your clothes the night before and make sure you're comfortable with what you're going to wear. And don't forget, the most important thing you can wear is a smile!
3. Bring yourself to the table!
I brought a copy of my resume to my interview (not required). But my interviewer preferred for me speak about my experiences instead of reading them off a piece of paper. (The admissions committee has your resume, anyway!) Find out if your interviewer wants you to bring anything, or if you want, bring something that is relevant to a topic you think you'll want to talk about. Portfolios are great if you are a writer, poet, photographer, or artist. If you participated in research or innovation, then a few photos would be sufficient.
Don't forget the things you need or like to have with you when traveling. For example, I always make sure I have my MetroCard (transportation fee), lip balm, water, and minty gum (but don't chew it during the interview). Pack your bag the night before!
4. Speak your honest truth
This one depends on what you and your interviewer discuss. It is impossible to predict what specific questions will be asked, but the most important thing to keep in mind is that it's usually best to be honest. My interviewer first asked me whether I would rather attempt to tell him a funny story or something more related to myself, and naturally I went for the seemingly easier option. He followed up with something along the lines of, "Tell me something about yourself that I cannot find on your resume, something non-academics related? What do you do outside of academics?"
One of the many worries students have is potentially saying something that makes them seem like a candidate the school wouldn't consider. It is very nerve-racking to step out of that silhouette of the perfect, studious individual. There is always the question of how much of yourself should you show and is that self good enough. It is fine to pause and think about a question, but overthinking and freezing will not be very helpful for you. Even if you think your answer is not stellar, it's still a part of you and that is what your interviewer wants to hear.
After realizing that I was taking too long to answer the non-academics question, I decided to just give my honest answer and what it means to me. That answer was, in my free time, I used to play a PC game called League of Legends and that ended up being the bulk of my interview. This may sound like a nightmare to some of you, but I really enjoyed the conversation, as did my interviewer. He was not familiar with the game and it gave me the chance to explain what it's about and what it means for me, which is the most important thing you can do in an interview at the end of the day.
---
Whether you decide to apply to the University of Rochester or somewhere else, I wish you the best of luck in your interviews and future endeavors!