The Theater Scene in the City of Rochester
When I was finding the university that would be the best fit for me, I was looking for a place that had a rich arts culture, on campus and off. In addition to having a strong connection to the arts on campus, the University of Rochester is in proximity to an amazing realm of performing arts, specifically with a variety of theatrical productions within a twenty minute drive from campus. Here is everything you need to know about the theater scene in the city of Rochester: 
Rochester Broadway Theatre League/Auditorium Theatre
The Auditorium Theatre, owned and operated by the Rochester Broadway Theatre League (RBTL), is only a fifteen-minute drive from campus and hosts full seasons of touring Broadway shows. In the most recent season, RBTL has brought shows like The Band's Visit, My Fair Lady, Mean Girls, Dear Evan Hansen and Hamilton to the Rochester community. Many of these touring shows run for a week or two at a time, giving you a chance of finding a show time that fits into your schedule.
Even better, the administrators of Wilson Common Student Activities, our on-campus programming masterminds, have partnered with RBTL in the past. For example, students in a theater group I am involved in on campus were able to purchase tickets to see The Book of Mormon at the Auditorium Theatre. With the help of WCSA, tickets were sold at our on campus ticket vendor called The Common Market for a discounted student price, and the price of the ticket also included transportation to and from the theater. This was a great way for on campus students to have access to professional theater in the Rochester community while making the cost and transportation needs more palatable.
In addition to touring Broadway shows, RBTL hosts concerts and dance performances at the Auditorium Theatre to make sure there is something for everyone. If you are familiar with the world of Broadway theater or want to get your first taste of it, catching a show at the Auditorium Theatre is a must. 
Geva Theatre Center
Currently celebrating its 49th season, Geva Theatre Center has built quite a reputation as the most attended regional theater in New York State. The space houses two stages that are dedicated to putting on singular theatre productions for the Rochester community. The center features established plays and musicals that have been taken under the wings of Rochester's best theater artists, as well as new works that find their starts on the stages of Geva. 
Geva is also committed to their educational programs and they typically offer what they call "student matinees." These are designated performances of their mainstage productions that are aimed to be accessible to students, mainly through discounted ticket prices and talkbacks with theatrical professionals following the performance. In this way, Geva goes above and beyond the performance and introduces a new generation to the world of the performing arts.
Whether you are looking to study theater more during your time at the U of R, see a reasonably priced show with fellow students, or bite the theater bug now and again, Geva is your place to go. Who knows: you may see the exciting beginnings of a future theatrical hit. 
Blackfriars Theatre
Blackfriars Theatre, currently in it's 70th season, is a mid-sized professional theater that utilizes the talent of local Rochesterians and renown theater artists. The theater typically puts on six productions per season, consisting mostly of previously written and established plays along with the occasional musical. The theater also holds talkbacks with many of their creatives following specific performances, which is a great opportunity to get a better look at how their shows work and to meet some of Rochester's best theatrical artists. 
Yet again, Blackfriars also has a commitment towards education and offers discounted ticket rates to students with a valid student ID. Tickets are typically around $20 for students, which is about a 40% discount from their normal ticket rates. If you are aiming to actively engage with Rochester's theater scene in an affordable way, a trip to Blackfriars is well worth your time, as the talent and freedom to learn more is easily accessible. 
On Campus and Local University Theater
In addition to the professional theater that surrounds the university, it is relieving to know that other local universities keep the theatrical arts alive on their campuses as well. Our neighbors down the street at the Rochester Institute of Technology have a performing arts department and put on a season of musicals and plays every year, showcasing the talent of their student body. The same goes for Nazareth College, which produces their own season of performances through their theater and dance department at the Callahan Theater, located only twenty minutes away from the River Campus.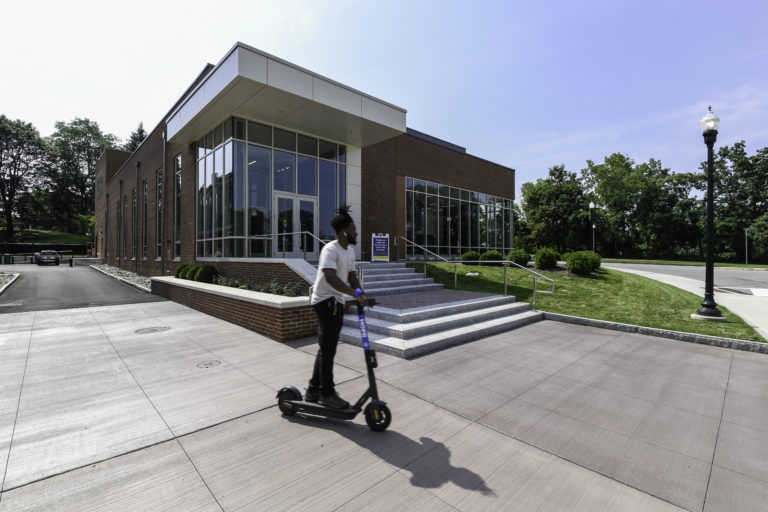 Additionally, the University of Rochester has a rich theater scene right on campus! The International Theatre Program puts on two productions a semester, typically consisting of established plays and occasionally musicals performed in the brand new Sloan Performing Arts Center. The program combines the talent of undergraduate students, Rochester creatives, and creatives from around the world to create theater for our community on campus and off. There are also many student theater groups that put on musicals, straight plays, revues and improv shows to keep the arts consistently alive.
Whether you decide to break into theater on campus or in the Rochester community, theater is a large aspect of the arts-rich culture of Rochester, and the options are plentiful and continuing to grow!