This year's winter break was different for Rochester students as we prepared to begin the spring semester later than usual. This gave us an additional two weeks or so of hanging out during a time where we can't go out to do much. What did Rochester students do with all this extra time before classes start?
Anna, Class of 2021
Anna started her break by finishing her graduate school applications and working on her Etsy page, sending out orders for the holidays. She celebrated Hannakuh with her family. Despite the winter weather, she learned how to roller skate in addition to baking, socializing virtually, and preparing for grad school interviews. Although she would have liked to get some traveling in, see her friends in person, and host her usual New Year's Eve party, she's pretty pleased with what she did instead, in light of COVID-19.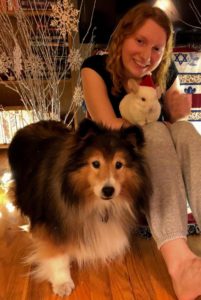 Anoutsa, Class of 2023
Anoutsa worked at her mom's Thai restaurant in Massachusetts. When she wasn't doing that, she played Animal Crossing on her Switch, crocheted gifts, watched Netflix (The Great British Baking Show being a favorite), and read. She enjoyed the much-needed relaxation, but admits that it felt odd to not be "scrambling around trying to complete assignments and studying for something."
Leilani, Class of 2024
Leilani finished up the first draft of one of her novels. She doesn't typically finish her drafts but used these two free months to complete one. In addition to being professionally beneficial (she wants to get an MFA in children's writing one day), this provided a creative outlet and occupied a lot of time that may otherwise have been spent in boredom.
Me, Class of 2021
Since I wasn't able to get a job, I tutored local students over Zoom. For a while, I was finishing up the last of my graduate school applications. Now I'm just waiting on interview requests and acceptances/rejections. I also scrapbooked, baked, read, burned through puzzles, and played Dungeons and Dragons with friends over Discord. One of the nice things about being home, during a pandemic or otherwise, is that I got to be around animals, which makes me happy. Although I would have liked to be more productive over break with some combination of work, exercise, and education, for now, I'm resting after a rough year.
Early Graduates
A couple of my fellow seniors graduated a semester early, so they spent time preparing for life after college. One friend is planning on taking a gap year to work in a lab before applying for grad school.
---
A handful of my friends worked while they were home. One of the nice things about the longer break is that it made it possible to hold a job for a couple of months and make some money.
Speaking with students for this post, I noticed that the long break gave many a chance to engage with hobbies they normally don't have time for, such as baking and knitting, crocheting and knitting, and writing. I'm curious to what extent we continue doing these things after classes begin. Personally, I would like to keep recreationally reading, though with all the reading I do for my classes, that may not be the best hobby for me right now.
I think that the extra length of winter break is important for Rochester students and staff. We needed that time to try to recuperate after two pandemic semesters and to prepare for another one. From what I can tell, we're glad to be back.