The Class of 2015 Gift Campaign
This year I've had the distinct privilege of co-directing the Class of 2015 Gift Campaign. The Gift Campaign is students' opportunity to give back to those areas of campus and student life that were most meaningful to them. Oftentimes, the Gift Campaign is perceived as the school trying to get students' money, but it's actually quite the contrary; students can donate back to whatever organization, scholarship, research fund, etc. they'd like. There is a no pressure, and every little bit, even $1, counts.
As Gift Campaign chair, I get to plan events for students, teaching students about the importance of philanthropy. In January, I co-organized and co-hosted a Happy Hour where students who donated were thanked with a complimentary beverage. In March, we had another Happy Hour and planned a "Donors Only" evening with none other than Ms. Gwen M. Greene in attendance. She likes to keep in touch with donors as she herself gives back to the University of Rochester, a place she is so very passionate about.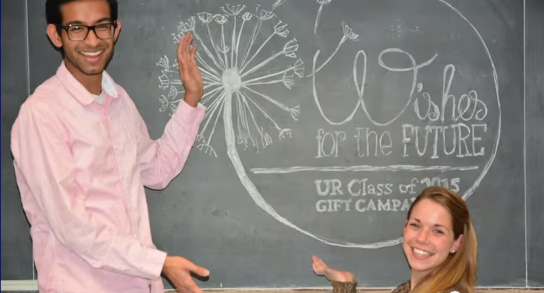 Personally, I gave back to my fraternity because the members and the organization itself really shaped me and my college experience. Without the fraternity, I would never have had the chance to join and eventually become President of the Order of Omega, the campus Fraternity and Sorority Affairs Honors Society. I've gotten to sit in on many meetings about various issues that affect campus life since about 25% of the undergraduate student body participate in Greek life.
This is not a ploy for me to encourage students to donate, but rather, this is my message on the importance of giving back to what you're passionate about. Never donate blindly to anything, but know that your contributions do matter. So much of we do and have at the University of Rochester would not be possible without the love and support of our students and alumni who do decide to give back to the University and the causes they're passionate about.