Team Meliora: Turning Trash Into Homes
A group of four recent Rochester graduates are truly making the world ever better.
Imagine you were forced to move away from your home and lose everything. Imagine you now have to live in poorly insulated tents, work underpaid jobs, and rely on international help to make ends meet. This is the situation in Syria, and the conflict continues to take people from their normal lives and displace them in Lebanon and other countries, empty-handed.
So four members of Rochester's Class of 2017 have formed a team and a business plan to build homes for refugees using LEGO-style bricks made from recycled plastic.
Reawakening Human Potential
Team Meliora, as they're called, is composed of Carlos (Yuki) Gonzalez, a financial economics graduate from Paraguay; Omar Soufan, a biomedical engineering graduate from Syria; Ibrahim Mohammad, a mechanical engineering graduate and a Palestinian refugee from Lebanon; and Edgar Alaniz, a biochemistry and clinical psychology graduate from Mexico.
Their business plan is for participation in the Hult Prize—one of the world's most prestigious social entrepreneurship competitions. This year's theme, "Refugees—Reawakening Human Potential," seeks projects to help restore the rights and dignity of people forced into motion due to political, economic, or environmental factors.
The team's efforts are focused in Lebanon, where 1.6 million Syrian and Palestinian refugees live, many in extreme poverty in makeshift camps and portable tents. Many refugees lose their lives in the harsh winter with little to no protection from the elements.
Rivers of Trash
Lebanon not only faces challenges dealing with refugees, but also with solving a national trash crisis. Earlier this year, the country exhausted two main landfills that served close to 50% of the population. Two tons of untreated solid waste, 15 percent of which is plastic, have formed rivers of trash across Beirut. The government does not have a viable solution to create an integrated solid waste management system.
According to Team Meliora, that plastic, turned into interlocking bricks, can be used to build durable, thermal, semi-permanent houses for refugees. The houses can be assembled in a few days by people with no construction experience. The houses provide protection from the elements and removes an enormous amount of trash from the streets.
Making History
The students in Team Meliora took a course called Urban Impact and Entrepreneurship, taught at Simon Business School by Michael Wohl, the University's associate director for social entrepreneurship. Wohl has served as Team Meliora's coach.
"This is the first time any Rochester team has come this close," Wohl says. "Out of 50,000 applicants from 150 countries, they were top eight in the world. It's history for the school."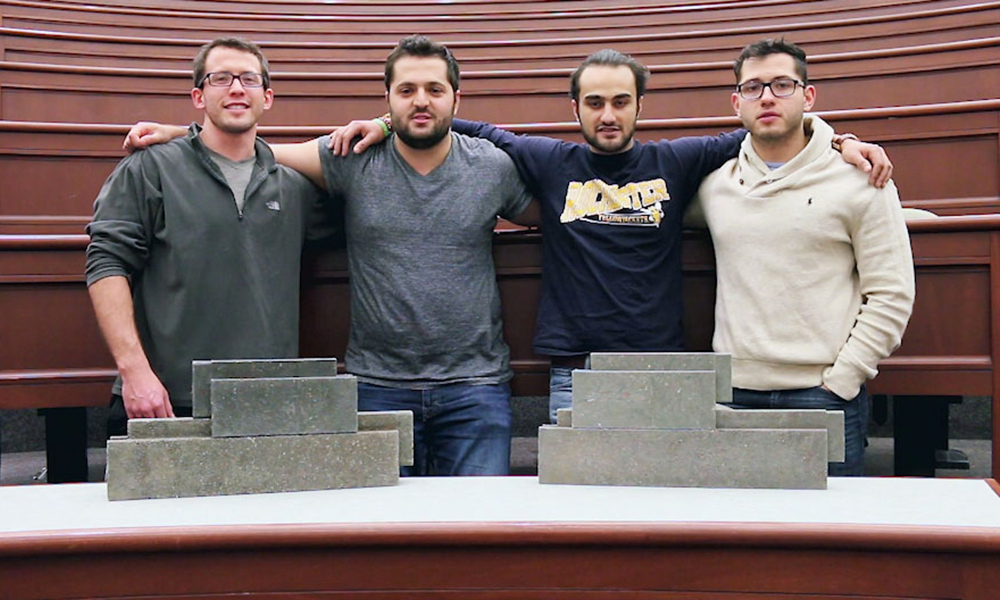 The Check
Yuki explains what they'll use their prize money for:
Materials
Edgar describes the materials used to construct the buildings:
Partnership
The group discusses a strategy for forming a strategic partnership with outside investors on their trip to Boston:
Model Assembly
Edgar describes the model assembly process:
NYBIZ
The group presents their plan at the New York Business Competition:
A Commitment to Giving Back
Omar has been helping Syrian refugees throughout his undergraduate career by setting up prosthetics clinics along the Lebanese border. Ibrahim grew up as a refugee in Lebanon and has worked with Omar to increase the impact of the clinics. Together they have already helped over 100 refugees.
Edgar and Yuki have both received generous scholarships to attend the University of Rochester and feel a deep sense of personal responsibility. They wish to utilize the skills, knowledge, and resources Rochester has given them to give back to the global community.
From diverse backgrounds, the team shares a commitment to giving back and providing genuine care for other people.
Check out their GoFundMe page.
---
Rochester students are committed to making the world ever better. Join the Rochester community and become the next Team Meliora.