So You Think You Can Dance… In College
You most definitely can at the University of Rochester. I started ballet at age three and continued until senior year of high school. I knew I would miss the amazing dancers with whom I grew up and my amazing instructor who became an incredible resource and friend. At the last recital, my instructor said, "Never stop dancing," and I'm going to stick with my promise! I bet many incoming freshmen have the same concern that they may have to give up the joy of dance because of the transition to college. Don't worry! The Program of Dance and Movement at the University of Rochester is incredible. It provides an opportunity for everyone, whether you are a trained performer or are just beginning to wet your feet in dance, there is a group or class or performance for you to be involved in!
Performances
My experience so far has included performances, workshops, and courses. There are tons of performances on or near campus. This last month was the annual inspireDANCE festival from January 27 to February 1. This celebration featured guest artists and our own faculty. One performance I especially enjoyed was Beauty, choreographed by award-winning artist Jane Comfort. Her choreography commented on global obsession with female beauty ideals. Her dancers perfectly mimicked the stiff, plastic movements of Barbie dolls. Last semester, I had the pleasure of viewing several performances choreographed by Kate Weare and her company. Can you imagine sitting in the very front row of a Kate Weare Company performance and then discussing the meaning and feeling behind each piece with Kate Weare and her performers themselves?!
Classes
As for my classes, I had such a great time taking jazz dance with Professor Anne Harris Wilcox. We had so much fun learning the social dances from America's past like the Charleston from the 1920s. This semester I am taking choreography and dance ensemble. I saw this poster while walking to class one time and knew it would be a good choice for spring.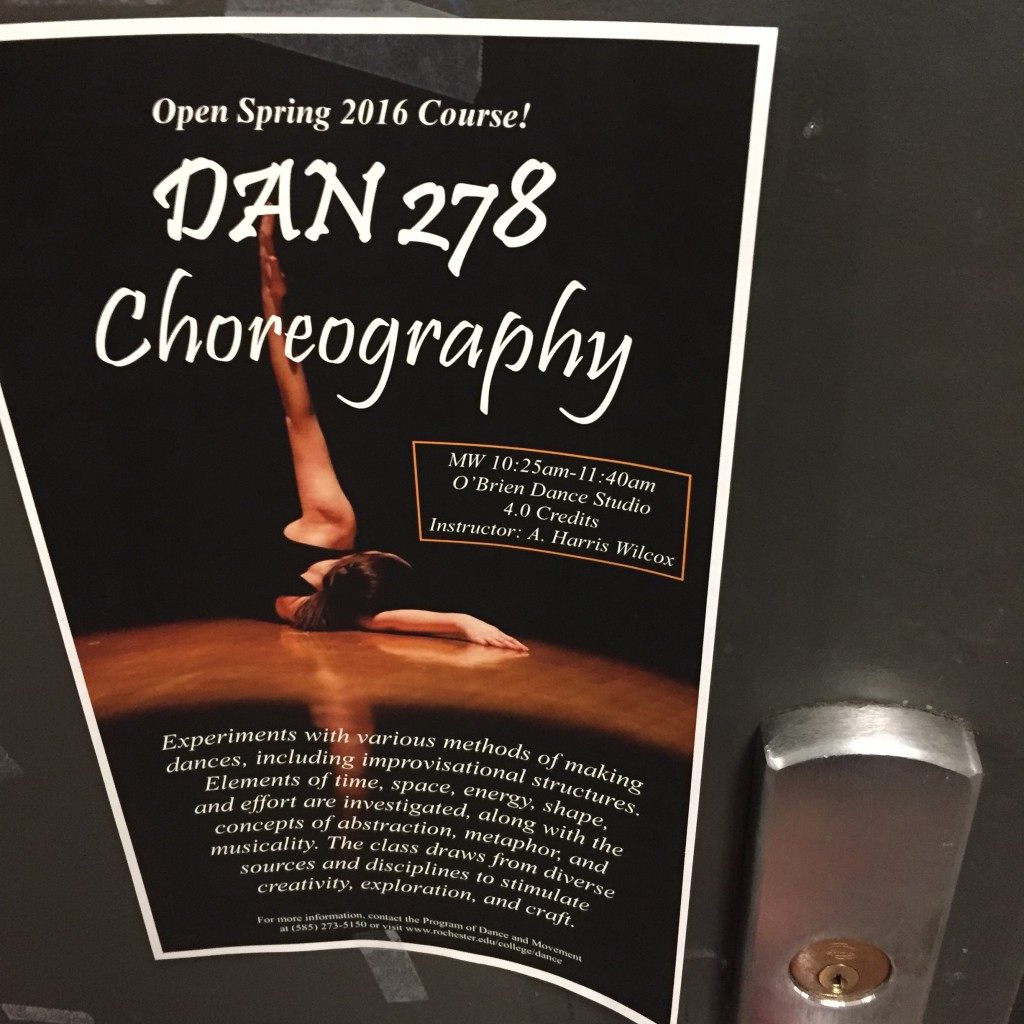 In dance ensemble, we are learning a piece to perform at the 2016 American College Dance Association Northeast Conference in Brockport, New York, over part of spring break. It's going to be quite an exciting semester for me! There are tons of choices when it comes to dance courses, including yoga, world dance, tap, t'ai chi, and contact improvisation. The choice is yours—if it fits in your schedule, of course. We are so lucky to be able to take dance courses for credit.
Organizations
That being said, you could also explore the extracurricular dance options. There are lots of performance groups on campus for every genre of dance imaginable. For example, I saw my roommate absolutely kill it on stage in a Ballet Performance Group recital. A few other groups include Louvre Performance Ensemble, Indulgence Dance Team, Ballroom Dance Club, Sihir Bellydance Ensemble, and Xclusive Step Team. You can learn more about our diverse performance groups on the University's Campus Community Connection. I also invite you to check out this performance by Louvre. These young women are incredible dancers!
---
Overall, I have found so many opportunities to get involved with dance, and now I am even choreographing my own pieces. If you are hoping to continue or start dance in college, Rochester has your back. If you aren't sure if dance is for you, just wait until Orientation. Everyone travels to Eastman Theatre to watch a myriad of song and dance performances by River Campus and Eastman students alike. It will most certainly get you into the spirit of music and movement.