College Town is the University of Rochester's and Medical Center's hub for all things social, shopping, and dining. It is located at the intersection of Mount Hope and Elmwood Avenue. Students and University affiliates can take the College Town Express or the Blue Line shuttles to get directly to the heart of College Town or any of the medical facilities in the area. If you get motion sickness like me and would rather skip the car ride, College Town is about a 10-15 minute walk away depending on your pace; There are various routes you can take, including a walk along the neighboring cemetery. Every student at the University of Rochester ends up visiting College Town at least once during their time at the University of Rochester.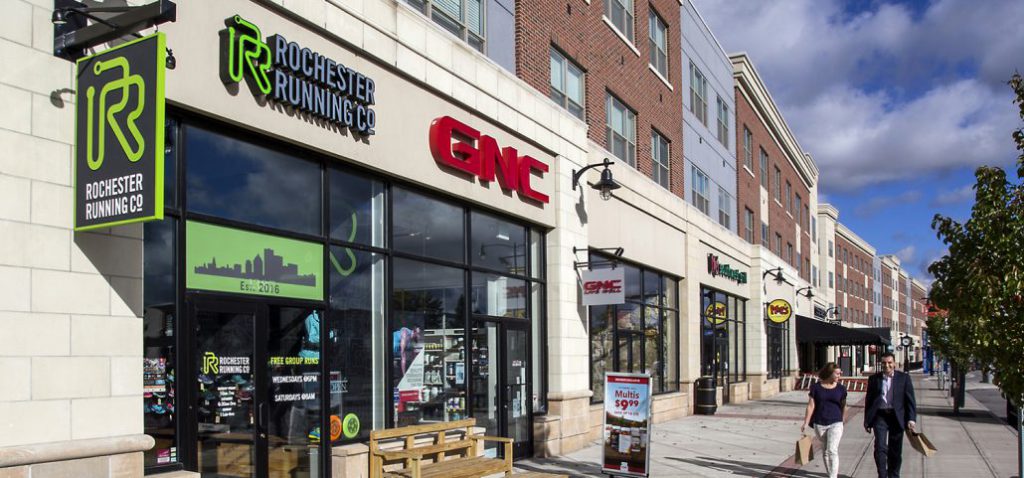 Here are some of the things/places you can partake in at College Town:
Barnes & Noble University Bookstore
One of the largest stores at College Town is the University of Rochester's bookstore, Barnes and Noble. Here, you will find the typical bookstore inventory and a lot of school-specific items like apparel, textbooks for classes, published work by University of Rochester professors, and school supplies specific to labs and classes on campus. If you are pre-med then you will find your lab coat at Barnes and Nobles or if you are looking to stock up on Rochester swag!
CVS/pharmacy 
This is the second largest store at College Town where students typically pick up their prescriptions, medicine, or any convenience items. This CVS is particularly great because it not only has an extensive pharmacy, but it also has a variety of beauty, cosmetics, snacks/groceries, and utility items. This makes CVS a great one-stop-shop! To top it all off, CVS also has a free rewards program so that frequent shoppers can apply discounts on top of already affordable items, which is ideal for college students.
Moe's Southwest Grill 
For those of you who have never heard of Moe's before, it is a fast-food, casual Americanized Mexican restaurant and salsa bar featuring fresh ingredients and made to order entrees. It is similar to Chipotle, also in College Town. Moe's offers both burrito bowls and burritos and they have a lot of vegetable and salsa/sauce options, which makes this an ideal spot for non-meat eaters. In addition, Moe's also offers the most bang for your buck by offering free freshly-made chips and salsa with every order.
Taichi Bubble Tea 
If you are looking for your bubble tea, sushi, and/or ramen fix, Taichi Bubble Tea is just the place you are looking for. Patrons can choose from a variety of different milk and fruit-based teas, as well as toppings ranging from tapioca to strawberry jellies. My personal favorite is rose black tea with lychee. If you are looking for an entree to complement your drink, Taichi has many options like the sushi bowl or the sushi burrito with various proteins and vegetables as well as a great pork-bone based ramen.
Texas de Brazil 
Texas de Brazil is a Brazilian and American inspired buffet-style location in College Town. For $50 per person, students have the opportunity to partake in a formal and collaborative dining experience with tons of options. Two highlights from Texas de Brazil are their extensive salad and meat options where customers can create various salad combinations inspired by different parts of Brazil and sample various meats, as much as they can handle. In addition to salad and meat, patrons are also offered an assortment of great cheeses to complement their meal.
Dollar Tree
This is by far my favorite place in College Town. This place is amazing for the college student on a budget because everything is a dollar! This is a great place to pick up anything from seasonal decorations, groceries/snacks, or even cleaning/dorm room supplies at an affordable price.
---
Whether you decide to attend the University of Rochester or any other institution, I wish you the best in your future endeavors!
Good luck!