Welcome back! We're so excited to have all the students back on campus for the start of another fall semester. With the beginning of fall comes crunchy leaves, cooler temperatures, pumpkin spice lattes, and . . . refund checks?! Let me walk you through that last one.
What is a refund?
If your total financial aid exceeds your total charges, you might be eligible for a refund. This means you're receiving more aid than all the direct costs that are billed to you. Read the Office of the Bursar's refund policy.
How can I tell if I'm getting a refund?
If you log in to UR e-Pay and see a negative number listed as your balance, that means you have a credit pending on your account. You can request this credit as a refund either in the form of a check or direct deposit. If you're interested in the direct deposit option, check out the Office of the Bursar's handy direct deposit guide.
Why am I getting a refund?
We calculate your financial aid eligibility based on your total cost of attendance. This includes direct costs like tuition, fees, and room and board, which appear on your bill. It also includes indirect costs like books, personal expenses, and transportation, which you're not billed for. Depending on your eligibility, you may be offered enough financial aid to cover your whole bill and more—which results in a credit balance, creating a refund.
What can I spend my refund on?
Your refund can be used for any educational expenses you encounter. You can put it toward textbooks, school supplies, shampoo, pizza, and coffee—really, any of your day-to-day expenses that are part of being a college student.
What if I don't want the refund?
You'll want to contact your financial aid counselor to reduce or decline your loans so you'll no longer have a credit balance and a subsequent refund available.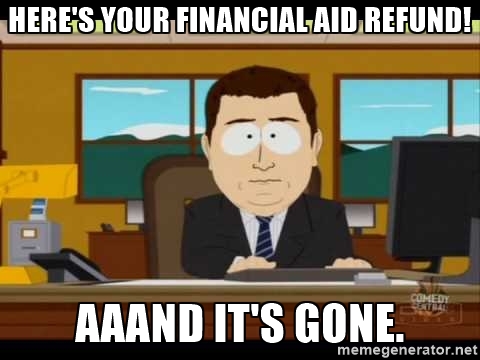 How do I make sure I don't spend it all right away?
So glad you asked! First things first: if you don't think you need the full amount of the refund, return it. You can return a portion of the funding (or all of it) and have your counselor reduce or decline your loans.
If you're keeping all or a portion of the refund, be sure to budget well. If you're receiving a $1,000 refund and your semester is 15 weeks long, then you have about $66 per week to spend. You don't want to spend $500 in the first month and then have to divide the remaining $500 across three whole months! Think about your expenses and plan accordingly.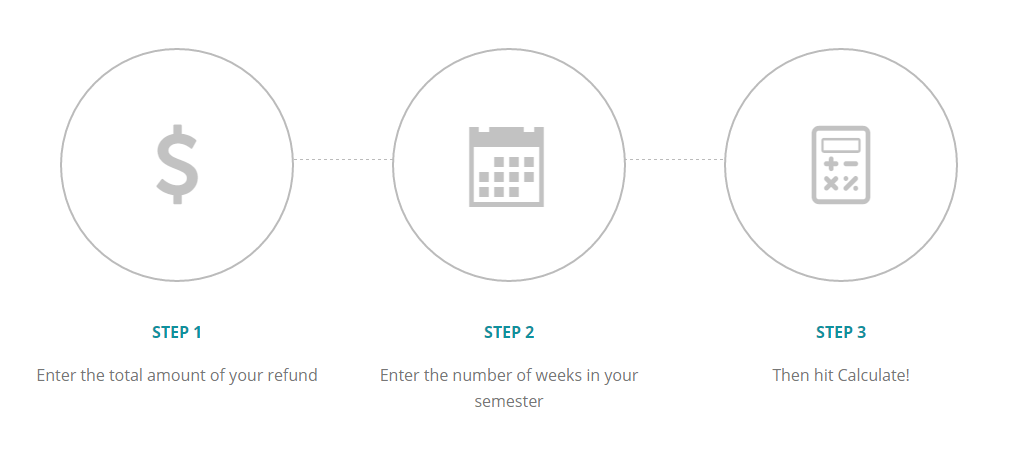 Check out this Make Your Refund Last calculator from Start with Change. It's a great, easy way to calculate how much you can spend each week based on the total refund received and the number of weeks you're spreading that funding across.
If you'll be working on campus consistently and can estimate your income from your job, that may give you a bit more flexibility with your refund budget.
As always, if you ever have any questions about budgeting, managing your money, personal finance, financial aid, or any other money-related topic that's on your mind, please don't hesitate to reach out to your counselor! We're also on Twitter and Tumblr if you're interested in keeping up with all things financial aid and financial literacy. 🙂