Professor Spotlight: David Hansen
As I sit down with David Hansen, who teaches Creative Writing: Fiction here at the University, one of the first things he tells me is that he never expected to end up here. Which is to say, he didn't expect to end up anywhere in particular at all. "I had absolutely no career path in mind," he tells me, talking about his young adulthood.
Hansen was born in Saint Paul, Minnesota, to a family he wouldn't describe as artistic, and grew up in its twin city of Minneapolis. He was a self-professed "terrible student," and nearly failed out of high school: "No one could motivate me or intimidate me into doing my homework." Writing, he says, was the only thing he was serious about from childhood on, and the only thread that would remain stable into adulthood. At the age of 23, he'd been writing fiction privately for years when an editor for the City Pages, a local Minneapolis newspaper, approached him to write a bio for a local artist. It was his first time writing something to be read by strangers.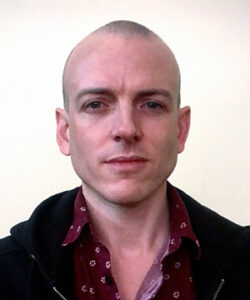 Hansen would freelance for the Pages for a few years before being hired as a staff writer, and then promptly fired. As a full-time employee, he had to write what the paper thought readers would want, rather than picking and choosing stories like he did as a freelancer. "I just failed spectacularly in that role," he tells me. The Pages rehired him as a freelancer immediately after his firing. (Years later, the Pages would cease publication due to financial problems caused by the COVID-19 pandemic.)
Life in his twenties, says Hansen, was "pretty bohemian"—freelancing or working construction during the day, and going out to see live music at night. He had already dropped out of college twice, and by the end of his twenties he realized he needed to "get [his] act together."
After going back to school and receiving his bachelor's degree at the age of thirty, Hansen attended graduate school at Washington University in St. Louis to get his master's in creative writing. As part of the master's program, he had to teach a creative writing intro course in his second year—his first experience teaching. Going into his first class, he says, he was "terrified," public speaking never having been his strong suit. "The idea of claiming to have expertise… was very intimidating to me—and still is!"
Still, when he walked into the classroom on the first day, he found himself suddenly, peculiarly, no longer frightened. He found he had a lot to say. He found his students had a lot to say. To this day, he says, he experiences a moment of terror before every class he teaches—but step into the classroom, and it's gone.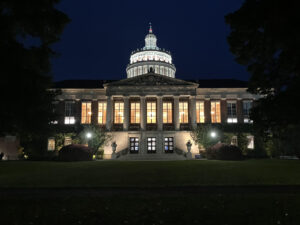 He didn't have any particular aspirations to teach, Hansen tells me. It just "felt like the only way." After moving to Rochester in 2017, he acquired a position teaching creative nonfiction at Eastman School of Music, and taught there for a semester before getting work on the River Campus teaching Creative Writing: Fiction, where he remains today.
It's been five years since Hansen was hired by the University, and the more he teaches, he says, the more he identifies his beliefs on what makes good fiction tick. He says he's more willing now to voice those ideas than he was when he started—he thinks it's important for younger writers to hear from someone who's been writing a long time. Still, he says, "I don't think there's such a thing as an expert… Every writer learns 95% of what they learn by doing it themselves."
For prospective students, Hansen has a few words of advice. "I think everyone who's made their mind up to go to college should take at least one creative writing course," whether it's in poetry, fiction, or creative nonfiction. The ability to eloquently put thoughts into words comes in handy in various places in life, from writing emails to colleagues to personal relationships, and the class might even unlock a new interest.
To English and creative writing majors in particular, Hansen advises branching out: "Try out a couple other subjects," he says. "The artist's life in the 21st century is a pretty hard and thankless one, and most of us end up having to do unrelated things for money to make a living." If, however, other interests do not take hold, then you might be like Hansen himself—writing may be the only path. "It would be silly to do anything else," he says.
For my part, I'm currently taking Hansen's Creative Writing: Fiction course and loving it. Whether you're new to writing fiction or have been doing it for years, there's something to be gained, both from reading the work of others and from receiving feedback from other writers on your own stories. And despite what you might think, it's not intimidating—Hansen brings a relaxed feel to his classes, and criticism is constructive. If you're looking for advice or direction on a story, Hansen is available to meet outside of class to discuss. There is no tearing down of writers in this classroom. The vibes are good and you'll learn a lot. In short, whether you plan on studying creative writing or simply want to explore new interests, the University of Rochester is a great place to do it.