Preparing For Adventures Abroad in Australia
As February begins, I write from the comfort of my living room in my family's Akron, Ohio home. I've been home for the majority of the six weeks or so since I moved out of my suite in Hill Court, though I've been fortunate to do some traveling to visit college and high school friends around New England and different parts of Ohio.
As much as I've enjoyed these travels, and as much as I've cherished the extended break and getting to relax with my family and friends after spending all of 2016 in Rochester, I must admit that I never thought I would spend so long at home again.
While I never envisioned starting February at home rather than on campus, the change of plans came about for a good reason. I'll be spending spring semester studying abroad as an exchange student at the Australian National University, located in Australia's capital, Canberra.
Choosing to study abroad in the southern hemisphere results in confronting a reversal of the seasons. Australian students, who are currently basking in the heat of summer, start their first semester of the year in February and complete it in June.
During the downtime that I've gained, I've had the chance to get organized for my upcoming five months in Australia, increase my excitement about the upcoming adventure, and overthink the logistics and work myself up into nervousness. The whirlwind of emotions causes me to reflect, though, on how this decision even came to be. How could it be that instead of spending my second semester as a University of Rochester junior living on the Phi Sigma Sigma floor in Hill Court and spending all my waking hours in Rush Rhees and Lattimore Hall, I'll be spending the semester 10,000 miles away in Canberra?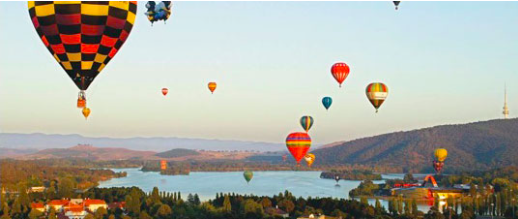 Choosing when to go abroad 
While I'd known since high school that I wanted to study abroad sometime during my undergraduate career, it wasn't until the second semester of my sophomore year that I decided exactly when. By that point, I had two options left—either the spring semester of my junior year, or the fall of my senior year, as second semester seniors aren't allowed to go abroad per school policy.
Choosing when to go abroad depends on several general factors, ranging from when it best fits into your academic trajectory to when you feel emotionally ready to take the step of temporarily moving to another country. For me, it was a combination of both of these factors—as well as, admittedly, when my friends were also going abroad. While it might seem like a cheesy reason, the fact that many of my good friends would also be abroad during the spring semester of our junior year contributed to my decision to also go abroad at this time. While I'm confident I would have been able to handle missing my friends if I had been in Rochester while they were abroad, or being abroad while they were all in Rochester, I had the ability to go abroad at this time and avoid spending a whole year away from my friends.
I wouldn't advise hinging a decision on when to study abroad on your friends' plans, but I'm fortunate that I was able to align my study abroad plans with so many of my friends' plans. Through speaking with my major advisers, as well as advisers in the Center for Education Abroad, I was able to conclude that studying abroad my junior year would be feasible. There are certainly pros and cons to any decision, but choosing to meet with advisers from different departments and taking advantage of the ample resources available to University of Rochester, students can yield the best results.
Choosing where to go abroad
Just like I knew that I wanted to go abroad, but didn't have a specific idea of when, I also didn't know exactly where in the world I wanted to go, or on which program. In general, as well as from my own experience, the decision of where to go can be made through a great deal of individual research and consulting academic advisers. A good starting place again comes from the Center for Education Abroad, which offers resources to examine different programs that best pertain to specific majors. Through perusing this website, I found that one of the recommended programs for anthropology majors is the exchange program at the Australian National University (ANU). I mentioned this to a friend and fellow anthropology major, who informed me that the ANU is one of the world's top-ranked research institutions and does boast a strong anthropology program. Intrigued, I did some more research of my own, which confirmed that ANU had a strong international reputation and would surely challenge me intellectually.
The prospect of doing an exchange program also boasted benefits—I'd step even further out of my comfort zone, as studying and living directly with Australian students would remove the buffer of surrounding myself with other Americans in a foreign country, an option I could have pursued on another one of Rochester's sponsored programs. Looking to fully immerse myself in another culture and to really challenge myself, yet retain some comforts such as speaking English, led me to begin to seriously consider doing the exchange program at ANU.
After speaking more to advisers (including an anthropology major adviser who had previously been a visiting professor at ANU and spoke highly of the department and the ethos of the university), consulting my parents, and speaking with students who had previously done the exchange program at ANU, I decided it was the best option for me. Though I'd never had a burning desire to travel to Australia, the prospect of experiencing its natural beauty, blend of outdoors and urban life, and vibrant culture excited and compelled me.
After going through various logistical processes—such as applying to the exchange program through both the University of Rochester and ANU, and then applying for an Australian visa—I was finally ready for and committed to my semester as an exchange student. Since I haven't gone yet, I have yet to fully embrace the adventures, challenges, and growth that will surely come from the experience. The process of choosing to study at the ANU has been an adventure in itself, and I can't wait to experience its reality. I'll be sure to post throughout the semester here about my experiences and the differences between ANU and Rochester, so stay tuned!