Pre-College Program: Understanding and Reducing Stress
Hi, students! My name is Jessica Keith and I am a PhD candidate in clinical psychology here at the University of Rochester. I started at Rochester as an undergraduate majoring in psychology with honors in research and minoring in brain and cognitive sciences. I enjoyed Rochester so much that I decided to stay here to pursue my PhD.
College is an important time to learn both in the classroom and through diverse experiences. Rochester is an ideal college environment because it promotes a broad range of quality experiences and taking a summer class here is an excellent way to get a taste of what college could look like for each of you.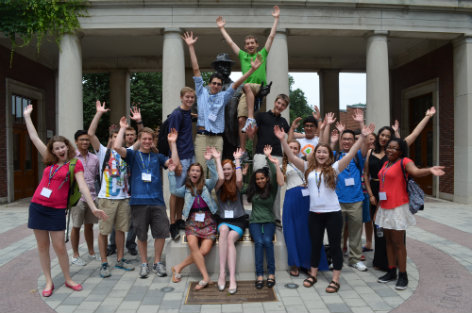 For these and many other reasons, I am excited to offer a pre-college course this coming summer, titled Understanding and Reducing Stress. I designed this course to be both relatable (unfortunately, we all have our fair share of experience with stress!) and scientifically grounded. I became interested in understanding more about the impact of stress and the processes that underlie the stress response through my clinical and research experiences. While working as a therapist at the University Counseling Center here, I worked with several clients on the impact of stress on their lives and their well-being, which gave me important insight into the ways in which college students experience stress.
I'm looking forward to sharing some of the same information I shared with those clients with the students in my summer course, including how to rethink stressful situations, be creative in coming up with coping strategies, and even how to use stress to your advantage! These ideas will translate to coursework that includes the major psychological theories on stress and the psychopathology that is impacted by stressors in our life, some of the basic tenants of psychotherapy that work to alter unhealthy responses to stress, how cultural factors can impact the types of stressors that different groups experience, and even fun, experiential work to de-stress (including a field trip to a yoga studio!).
We'll also dive deeper into understanding the stress response by learning about biological responses to environmental stressors. I became more interested in this aspect of stress through my master's research, which investigated children's autonomic response to sensory and academic stressors. Through this work, I gained experience in measuring the autonomic nervous system, which is responsible for the "fight or flight" and "rest and digest" reactions to the environment. To help students better understand this system, we'll be visiting a campus research lab, where we'll practice measuring the autonomic response to different stimuli. This will provide a hands-on research experience and will show students what it could be like to work in a research lab in college, something that is extremely common at Rochester.
Students taking this course can look forward to learning about stress through the lenses of psychology, biology, neuroscience, and the students' personal experiences. We'll spend near equal parts learning from scientific articles, popular press pieces, hands-on experiences, and group discussion. If this sounds like a lot, don't stress! The class will be appropriate for beginners and more advanced students. Start your college career off by tackling stress head on!