Objection Your Honor: A Spotlight on University of Rochester Mock Trial
Out of the over 200 student organizations that the University of Rochester offers, over 40 students have found a home within the University's Mock Trial Association. Founded 22 years ago, University of Rochester Mock Trial is one of the most competitive student organizations on campus, and the team is entirely student run. If you are not entirely sure about what mock trial entails, here's a brief overview:
Every year, the American Mock Trial Association (AMTA) releases a fictional case, consisting of a charge, case law, witness affidavits, and exhibits. It then becomes the job of mock trial teams across the country to dive right into the material. Mock trial teams usually consist of 10-14 people, and every team forms two sides, plaintiff and defense, and utilizes the content supplied by AMTA to craft their case. These teams then attend tournaments, in which one team's plaintiff goes up against another team's defense, and vice-versa, to run a completely simulated trial. These trials are then scored by a judge (usually someone that works in the legal field) based on the performances given by the attorneys and witnesses of a team. This year's case, for context, involves a defendant who potentially burned their bar down for insurance money due to a lack of business from the pandemic and renovation costs, resulting in the death of a firefighter.  
So how do teams create their cases? First, they decide who is doing what. In mock trial, you either take on the role of an attorney or a witness. Attorneys are in charge of delivering opening statements and closing arguments, direct examining and cross examining witnesses, and handling objection battles by knowing the case and the law as best as possible. Witnesses take on the roles of the people involved in the case. Every witness memorizes their witness's affidavit and creates a character. At tournaments, witnesses must face attorneys and answer questions that are in character while still being believable and true to the witness's affidavit. Both attorneys and witnesses are integral to mock trial, and there are excitements and challenges that come to both roles.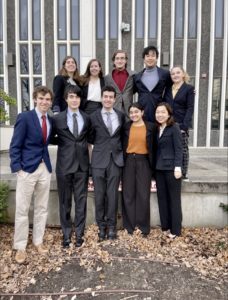 AMTA carefully crafts their cases to seem like they could "go either way." What this means is that there are strong and weak points for both the plaintiff and the defense, and mock trial teams must pour through the case to decide what is worth bringing to trial. While crafting cases, teams decide which witnesses to call to the stand, which charges to pursue, and most importantly what information to bring up to convince a jury. All of this work usually manifests at weekly practices for most teams in which you run through lines of questioning and statements while memorizing the AMTA case packet as best as you can.
University of Rochester Mock Trial (URMT) is no exception to the competitive and enthusiastic streak seen in mock trial teams across the country. URMT hits the ground running as soon as the school year starts to begin building their teams. During the first week or two of classes, URMT holds tryouts to prepare for our "unstacked" season. Attorney tryouts typically consist of developing a line of questioning for a witness and witness tryouts typically consist of performing as a witness in response to a line of questioning that is delivered to you. The beautiful thing about URMT tryouts? Everyone makes it! Tryouts are utilized to see where you are at, and URMT accepts everyone despite your major, previous experience with mock trial, or skill level. 
A year of URMT consists of two seasons: unstacked and stacked. Following tryouts, the URMT executive board, a group of student leaders who run the organization, create our unstacked teams. Since teams are usually only 10-14 people, the executive board creates multiple teams within the organization so everyone can be involved. Unstacked teams are intentionally created to combine newer, less experienced members with more seasoned members who have done mock trial in the past. The point of unstacked teams is to balance everyone's skill levels out, and to create an environment where new members can get a crash course into what collegiate mock trial is like. Unstacked season is the time to learn, so members meet early on to start working through the case in order to prepare for our first tournaments of the season. Every unstacked team attends a tournament usually halfway through the fall semester in order to test out their cases and give everyone a first chance at competing in a low stakes environment. 
Following our unstacked tournaments, we move into what is called our stacked season. Through a combination of team captain evaluations, past experience, and analysis of scores from the unstacked tournaments, the executive board "stacks" our teams, putting members of similar skill levels on the same teams. In doing this, the organization better prepares ourselves for the more competitive tournaments that come in the spring semester, such as regionals. Again, everyone is welcome to join a stacked team and be involved with URMT. 
Stacked teams consist of only 10 people per team, and the more competitive stacked teams have a higher time commitment, as these teams are likely to go to more competitive tournaments or move onto tournaments following regionals. The benefits of a stacked team is that you are placed on teams with people of your same skill level, and you can also opt to be on a less competitive team if you want to lower your mock trial time commitment. Stacked teams usually begin to meet and rebuild new cases towards the latter half of the fall semester to prepare for the busiest part of our tournament season. 
Finally, the spring semester for URMT usually consists of a few weekends of tournaments and eventually regionals. Regional tournaments are where eliminations begin happening, and depending on how our teams score, our teams could have the ability to move onto further tournaments, such as the Opening Round Championship Series (ORCS) and nationals. Another super impressive aspect of URMT: our teams have had appearances at nationals 7 times. 
Although this may sound overwhelming and mock trial definitely has a lot of moving parts, there are many benefits about being involved with URMT. First, despite your experience with legal knowledge or mock trial, being involved on a mock trial team helps you practice public speaking, acting, your ability to argue under pressure, and your ability to recall knowledge. Additionally for members of URMT, being on a team gives you the opportunity to travel multiple times a school year to compete at tournaments across the country. Our teams have traveled to Massachusetts, Pennsylvania, New Jersey, Ohio and more to compete. This provides the awesome experience of bonding with your team while also seeing schools and places you may have never been before (with little to no expense necessary).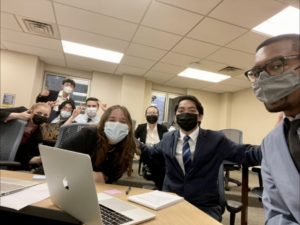 Also, as hard as members of URMT work, the organization is very social and accepting. Whether it's a Thanksgiving potluck dinner or a late-night hotel room tournament debrief with your team, the organization has a lot to offer in building relationships and helping students find a community on campus. 
Joining the University of Rochester Mock Trial team has been an integral part of my college experience, and I am always looking forward to what comes next. This year I have had the opportunity to participate in a Zoom tournament and next semester my team is traveling to compete at two tournaments in-person! From a current member of the organization, I could not recommend joining enough if you think you might be interested in mock trial at all. Trying out and giving it a shot never hurts!
If you are interested in learning more about University of Rochester Mock Trial, you can visit their website, like @URMockTrial on Facebook, or follow @urochmocktrial on Instagram.