My Top 5 Libraries (River Campus Edition)
Before coming to the University of Rochester, I was curious about everything it had to offer. I remember looking up dorm tours on youtube, dining halls along with their menus, and looking up some of the libraries on campus. Then again, staring at pictures on a computer screen is so much different than seeing things up close. Fast forward to today, I spend all-nighters at Gleason while binge-eating Hot Cheetos. College life is fun, yet demanding– you still have to study while juggling everything else going on in your life. On that note, I'll introduce you to some of my favorite libraries around here!
PRR (periodical reading room)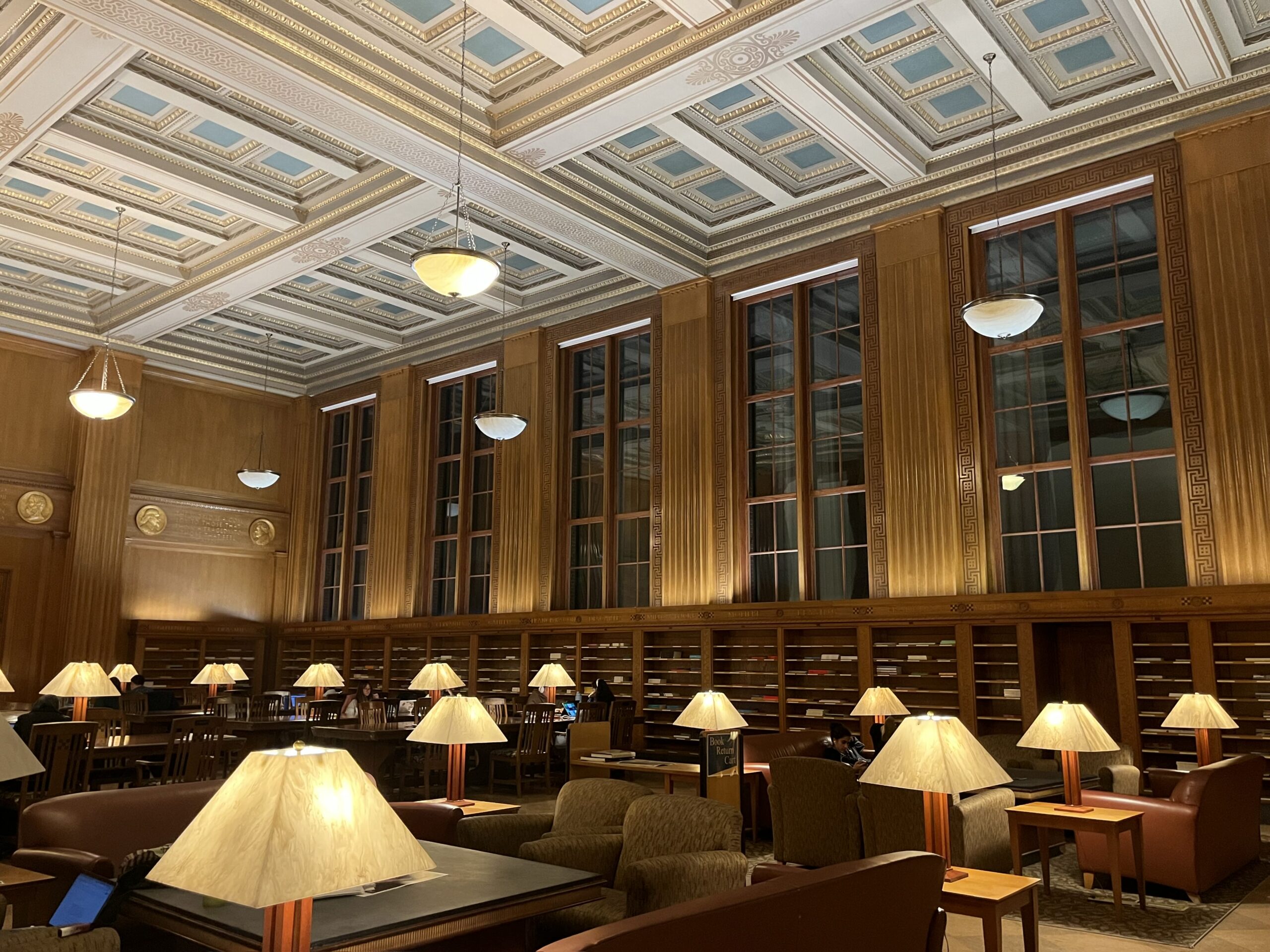 The Periodical Reading Room (PRR) is by far one of the most elegant spaces on campus–majestic ceilings with chandeliers hanging from it, wooden carvings on the walls, and shelves full of books. It also leads to the balcony of Rush Rhees, which is occasionally open to students. The PRR is a quiet zone with dimmer lights than the rest of the libraries– a good choice if you are light-sensitive like me!
Welles-Brown Room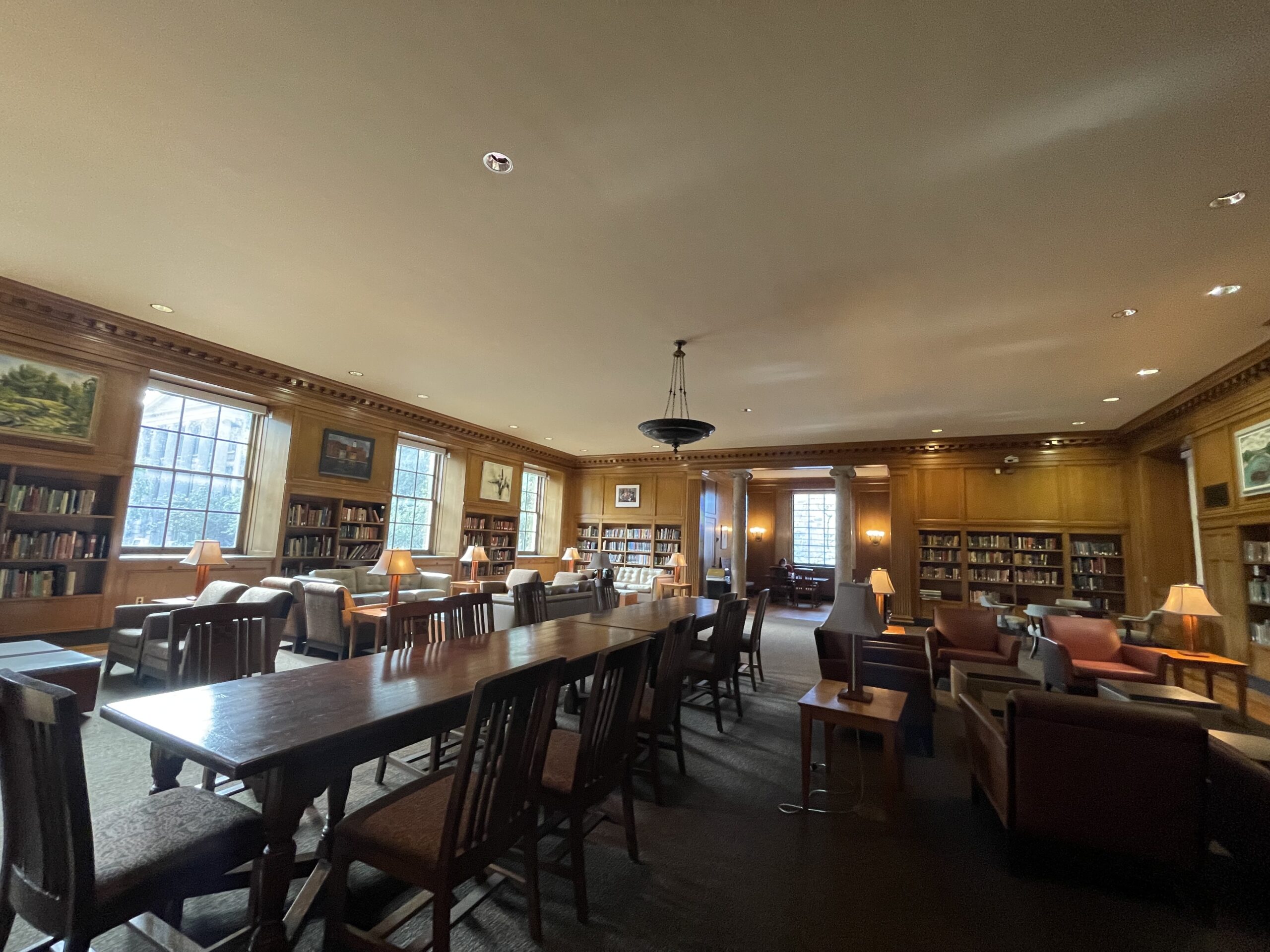 The Welles-Brown Room is truly a hidden treasure– you will come across this room after entering Rush Rhees and taking a left. It makes sense for the room to be carpeted nicely because it's a whisper zone. Imagine being inside a gingerbread house: comfortable sofas that you can sink in, walls decorated with beautiful paintings, a cozy fireplace to keep you warm, and a homey smell as the cherry on top. It's more than a study space, not only can you hyper-focus in this room, but you can also take a nice nap as a break! Location-wise, it's closer to classes so if you're someone like me who has a hard time choosing where to study, this place is for you! Other than that, this is the ideal place for social events such as therapy dog events, which help students destress after a tiresome day.
iZone
iZone is the hub of creativity on campus, known for embracing creative ideas no matter how bizarre or impossible they sound. It has a fun, colorful interior with artistic graffiti adorning the walls. iZone is also known for its sticky note culture, where anybody can jot down their ideas and stick them on the wall for others to see; there is also an entire wall dedicated to animal drawings on sticky notes (which I absolutely adore). Additionally, our lovely iZone team pushes you into exploring further and getting yourself out there through various events held monthly, offering free prizes and lots of laughs. Other than that, there are a few transparent cubicles where you can work on projects with your friends, and booths that you can reserve. All in all, this is the best place to amplify your creativity and productivity!
Gleason
When I said I pulled all-nighters in the library, I meant it– Gleason is open 24/7. Rush Rhees would fall apart if Gleason was ever shut down, it would seem rather apocalyptic, as Gleason really feels like the backbone of Rush Rhees. All other libraries close at 12 AM, which is why Gleason is a student favorite. My favorite spot at Gleason is by the windows because you get a scenic view of the parking lot and library road. This place held a lot of significance for me during my first year– it felt like a secure base to start exploring from because at the end of the day, we would always come back to Gleason and it would always welcome us. Other than being the most accessible library on campus, it offers 2 quiet zones, a few project rooms you can reserve, printers, and plenty of whiteboards you can use for studying, and sometimes doodling something funny to destress.
Carlson Library
Carlson Library is located in the Engineering Quad, comparatively further away from the heart of campus, Rush Rhees. Although it's a bit of a walk, the chairs on the 3rd floor are worth it. The entire library consists of 3 floors with an entire floor being a quiet zone– quiet zones are useful especially when you need to study without any distractions. There are single booths, each equipped with lamps, charging ports, adjustable desks, and cushions on which you can rest your legs after back-to-back classes (especially in between classes in the engineering quad). Carlson is also home to Studio X, which can be found on the first floor of the library. Studio X is the core of all things Virtual Reality, Augmented Reality, and Extended Reality– so you can explore and play games while you study!
I hope you end up finding your favorite library, and if at first you don't succeed, keep searching, because River Campus Libraries have something special for everybody– whether they are memories or some sticky notes on the wall. No matter where you end up studying, I'm sure seeing other people studying around you will also get you up and motivated. On that note, stay hydrated and focused– good luck with studying!
Meliora!