Meridians Share Their Favorite Spots on Campus
If you're entering the college admissions process, you know that one of the hardest parts is figuring out where you even want to apply. While websites, webinars, and interviews can give you a sense of what a school is about, sometimes it's just tough to know what that school is like. Touring colleges and universities as a prospective student is a fantastic way to way to see if you could really envision yourself on that campus. When deciding whether you'll be applying to the University of Rochester, highly consider scheduling a campus visit to get the inside scoop on our academic culture, unique Rochester experiences, and student life. That's where the Meridians come in!
The Meridian Society is our fun, fancy name for the collective of students who become tour guides for the University. We come in any and all combinations of majors, backgrounds, extracurriculars and interests, and we work as part of the Office of Admissions to provide personal connections for prospective students and their families as they learn more about UR and the college application process. Of course we give tours, but we also provide student perspectives in virtual info sessions, answer email queries, and connect with accepted students in the spring during admitted student days. Your admissions counselor at UR might give you one of our emails to reach out to if you have questions about a specific aspect of the student experience, like a major that you're interested in or asking about student clubs you'd like to join. I always love getting emails from people I've had on my tours, and I've even gotten a couple thank-you cards!
Something I really like about our tour system is that you choose your Meridian. For every offered tour, there will be 3-5 Meridians giving their own separate tour around campus. Although each of us will give you the most important details, we get to add our own spin and share our individual campus experiences. There's no official tour script: Meridians give you their honest perspective, in their own words. Additionally, you get to choose your Meridian: before the tour, we'll each introduce ourselves, sharing majors, interests, hometowns and clubs, giving you the freedom to meet a student who shares your passions and who can give you an accurate sense of what your life could look like here at Rochester.
I polled our Meridian team to find out everyone's favorite places to show on campus, so here are the most popular locations to keep an eye out for during your campus visit: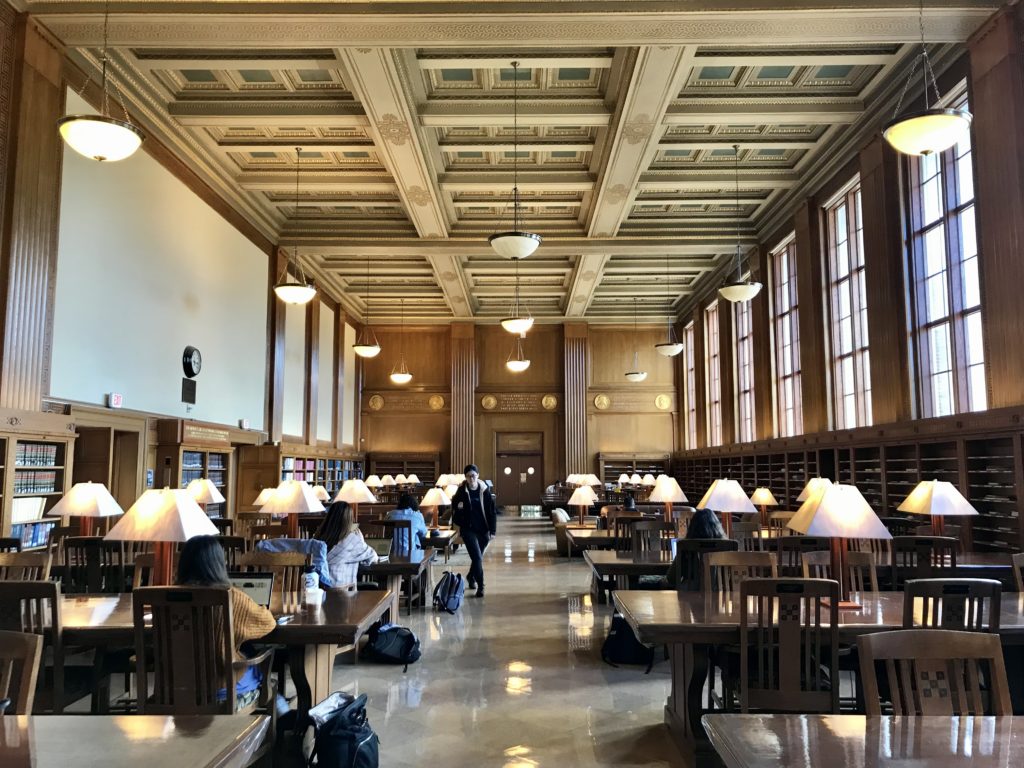 The Periodical Reading Room (PRR)
Sophie Stahl and Elizabeth Garijo-Garde both love showing off PRR, a quiet library space found on the second floor of the older part of Rush Rhees Library. "People are always wowed by it," Elizabeth told me, and I get why! PRR has beautifully ornate ceilings and a deliciously dark academia atmosphere, making it a favorite for studying and rendering it pretty difficult to get a table during finals week. There's also a balcony you can access through PRR looking out onto Eastman Quad, which Henry Litsky said was his favorite place to bring families. The balcony isn't on most people's routes, so make sure to ask to go there to see the view!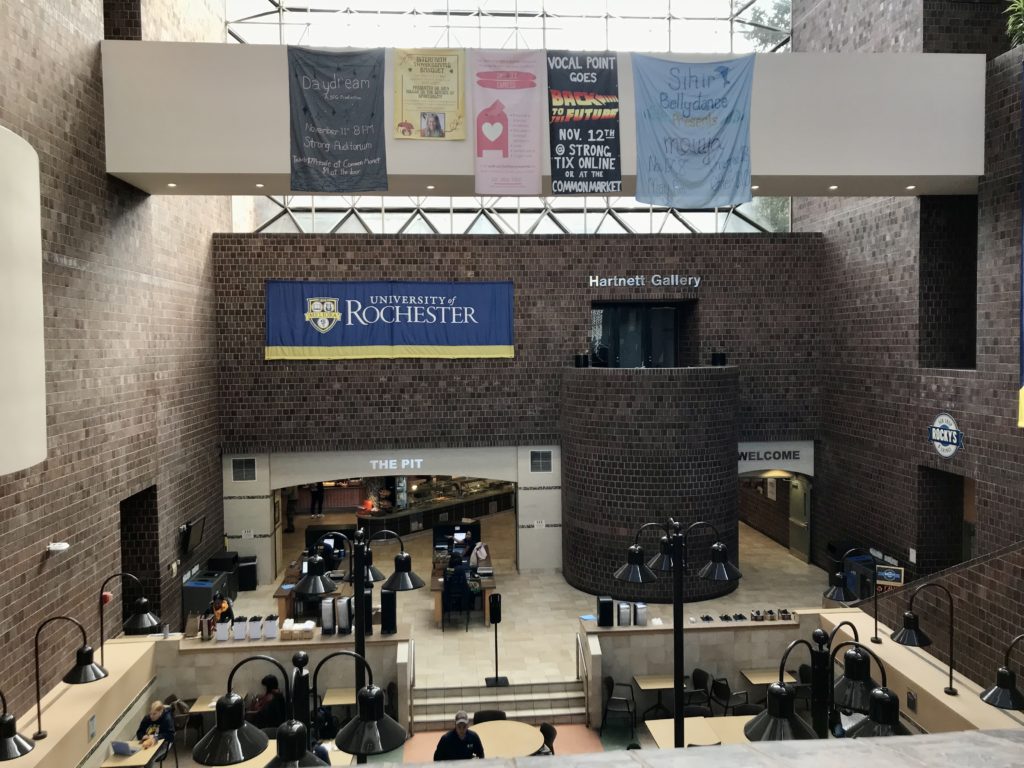 Danforth Dining and The Pit
Maddie Boehning, without a second hesitation, answered: "The dining halls. Families always like to see them." Of the basic human needs involving food, drink, and rest, it is indeed reassuring to know that your teenage child will be getting at least two (fixing your sleep schedule is really up to you). On a campus tour, you'll see two of our three dining halls: Danforth, located on the first floor of a first-year housing dorm building, does excellent brunch on the weekends and has the best sweet potato fries, and the Pit can be found in our student union and is open late into the night.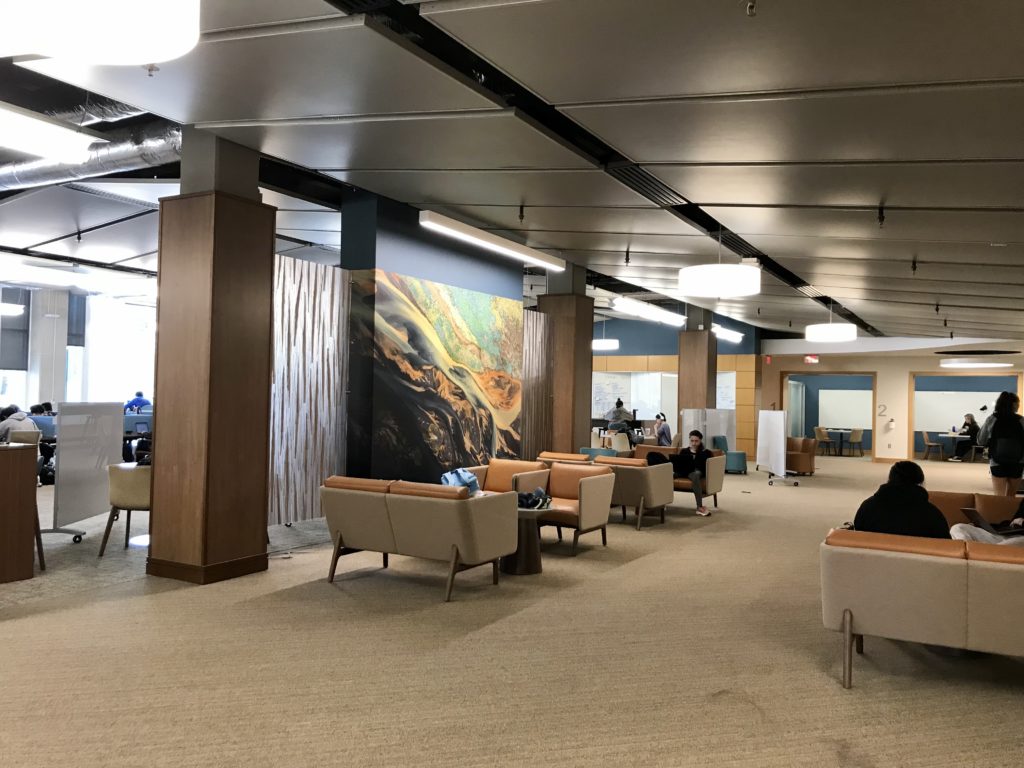 "There's just so much people do here," said Jacob Park. Gleason is our 24/7 library, so if you ever have a paper to finish at 3 a.m. (as I often find myself doing), you'll probably end up in Gleason. The space is awesome: it's regularly renovated every other year according to student input and has lots of natural light, whiteboards, reservable rooms for studying with your friends, and a Quiet Zone and Silent Zone for when the midnight oil burners get too noisy for comfort. There's also a large variety of chairs, ranging from couches to stools to booths. "I can do work here, or just hang out with friends," continued Jacob, who was in Gleason when I found him and who I have a sneaking suspicion was most certainly not being productive.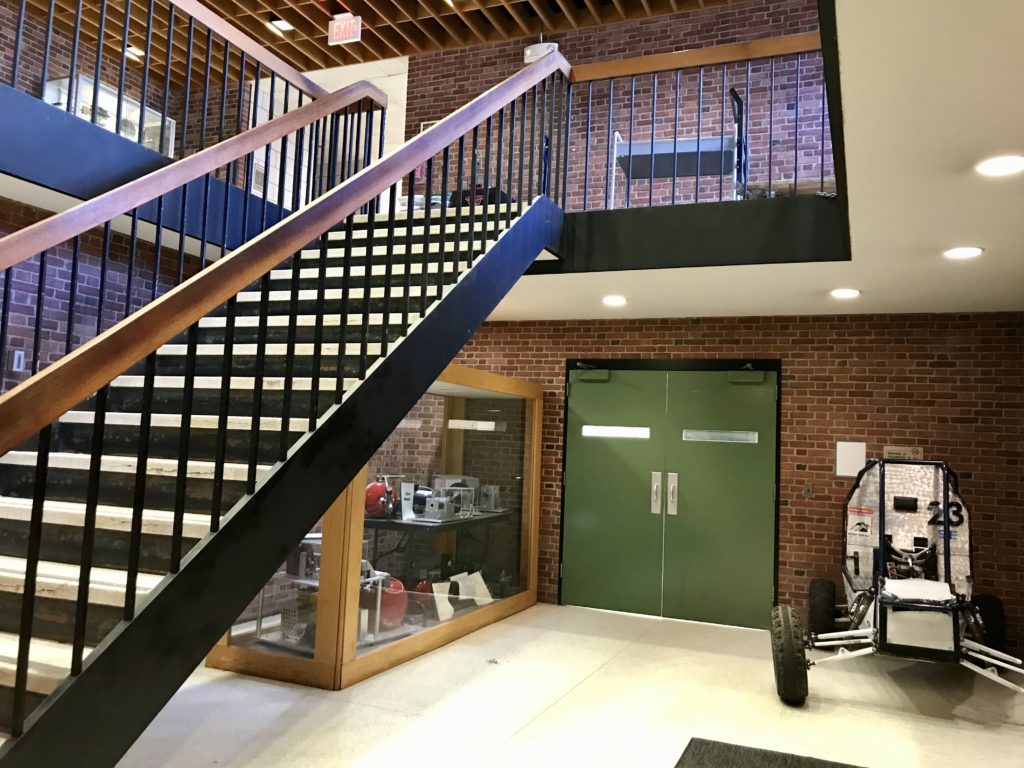 Mechanical Engineering Department Entrance and Rettner Hall
I was actually unfamiliar with these spaces myself, and headed over to take a look. Melanie Earle, a senior MechE major who you might find giving an engineering tour, loves showing prospective students the spaces where they'll be able to build their own projects in our maker spaces. The MechE entrance is decorated with various projects, including a full car, and Rettner contains a woodworking shop, recording studios for music production, a 3D printer, and much more.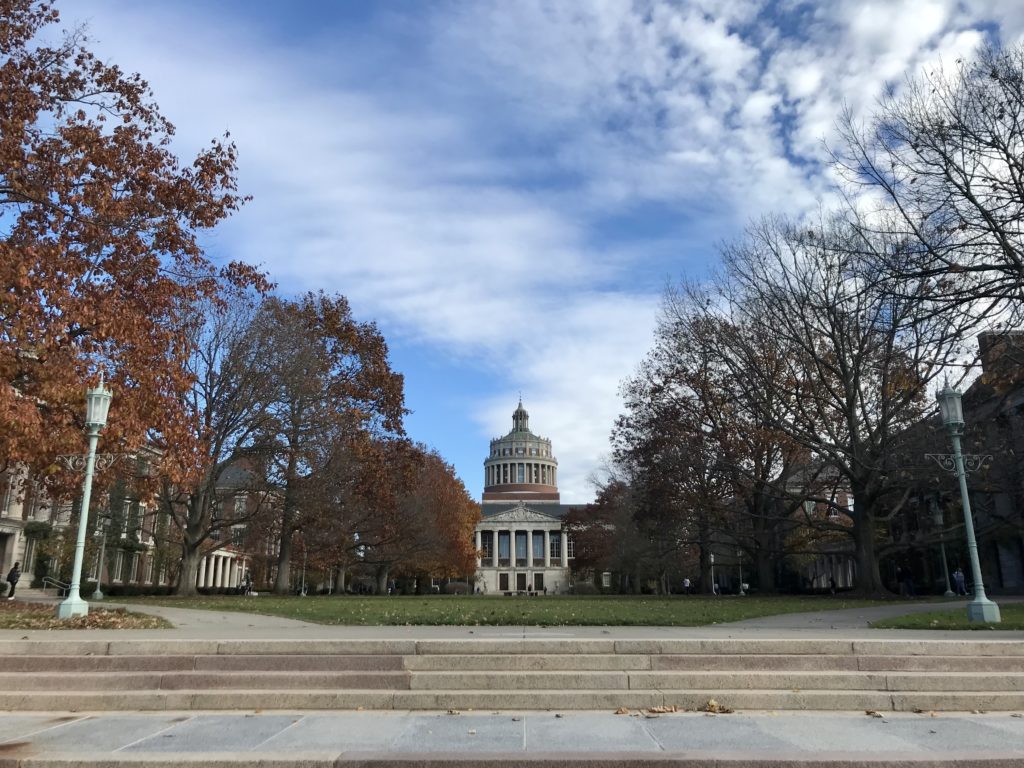 This is my personal favorite! Eastman is our main academic quad, and contains both various academic departments and offices like the Center for Education Abroad, the Office of Minority Student Affairs, and the Center for Advising Services. It has a bunch of different paths zig-zagging through the lawn, so I like to take a different path every time to add extra difficulty to the walking backwards part of my job. People also take their graduation pictures on the steps leading up to Eastman Quad, so I always pause here for a minute at the end of my tour and offer everyone to take a "before" picture for if they end up coming here, or just a selfie in front of the pretty fall colors we've got right now.
Of course, we cover many more places on tour, but you'll have to visit to find those out. The Meridian Society would love to meet you!