Meet the Animal Residents of UofR!
Groundbois
Groundhogs (aka "groundbois") are a fan favorite and unofficial mascot of Rochester. Although they hibernate for much of the time that students are on campus, they are beloved. I still get excited every time I see one and it's been 4 years. The groundboi is a quintessential symbol here, depicted on class council logos and pins that show which groundboi you are.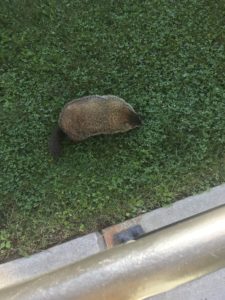 Quad Fox
I'm not sure if there is only one fox that hangs out around campus or a few, but all the same, if you see a fox, it's Quad Fox. They started being spotted a couple of years ago and has since then become a friend of the University. We've even had two 5Ks in the name of Quad Fox! If you're wondering how safe it is to share a space with a fox (or foxes), there have been no altercations between students and Quad Fox.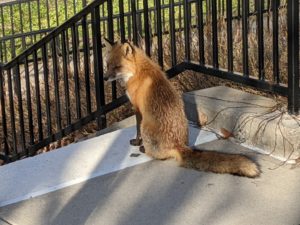 Skunks
Another cute resident of UofR, our skunks are fun to spot when you're out and about at night. Unfortunately, because they prefer the dark and nobody wants to get too close, I don't have any good pictures of the skunks that live on campus, but you can check out @urquadskunk on Instagram for pictures of these stinky bois. If you're concerned about sharing a space with skunks, I haven't heard of a skunk spraying a student, and it's very rare you smell skunk spray.
Albino squirrel
Squirrels love all the trees on campus, especially the oaks on Eastman Quad. Among them, one stands out: a very pale squirrel. He's just like any other squirrel, but much lighter in color. We think it's pretty cool.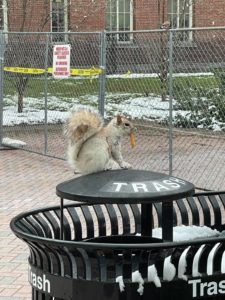 Spring Geese
You can't walk along the outskirts of campus near the Genesee without encountering geese this time of year. My friend and I always say hi as we pass them on our runs. And the fluffy little goslings are so cute! At one point the geese took over Wilson Quad for a little bit, but they've since migrated closer to the river.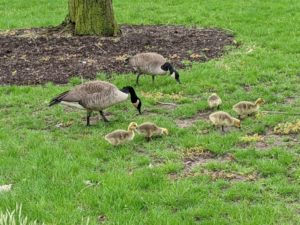 Honorable Mentions
I'd like to give a shoutout to the cardinal(s) that like to hang out outside Burton Hall, where I have lived for the past three years. It's nice to see their splash of bright red when I look out my window. I'd also like to mention the hawk or something (I'm no ornithologist) that I spotted on a tree on Eastman Quad freshman year, but have not seen since. It's almost like birds can travel pretty far and might not stay on campus.
---
The University of Rochester loves its animal residents, and we're sure you will too! For more cute pictures and some of the other animals spotted on campus, check out @uofr_animals on Instagram.