Meet a Handler Scholar!
Name: Jesse Campanelli (he/him)
Class of 2025
What are you studying at Rochester? International Relations and Chinese
From: Beacon, NY
Extracurricular Activities:
DandyHacks organization team and participant
Residential Life D'Lion
CLS program ambassador for Fellowships Office
Part-time job as Fitness Center Monitor in Goergen Athletic Center
Captain of intramural sports teams year-round
How has the Handler Scholarship impacted your life?
The Handler Scholarship absolutely transformed my life. Prior to receiving this scholarship, I had no financial means to pursue a university education. It is hard to imagine where I would be today without Mr. and Mrs. Handler's contribution and investment in me. To me, carrying the Handler name signifies not only personal achievement, but also the assurance that the Campanelli bloodline is secure. All the hardships my family endured, and still do to this day, will begin to diminish as I become a distinguished working professional, leading my family into an era we once believed was impossible. I cannot express my gratitude enough for this extraordinary opportunity. Receiving this scholarship marked the origin of an unbelievable, and still ongoing, professional development journey. Thanks to the support of this scholarship, beyond just funding, I entered university and promptly began to flourish. In just my freshman year I landed multiple competitive internships, eventually choosing to conduct research with Smithsonian Institution, and won a Department of State Scholarship that I had dreamt of since my late years of high school, going on to win another one the following year. I could never have come this far without the opportunity of the Handler Scholarship and the unwavering support of the Handler Scholarship staff, upperclassmen, and alumni. This is the opportunity of a lifetime!

What are your plans after Rochester?
My dream is to one day become a diplomat, my passion lies addressing the world's economic, security, and diplomatic needs in East Asia, specifically regarding China and Taiwan. After graduation there are many ways for me to develop as a professional in this field, consisting of scholarship opportunities like Fulbright, Fellowship opportunities like Rangel and Pickering, and master's degree programs in my field of study. The future looks very bright, and I am excited to see what it holds!
How do you plan to make your community and/or the world ever better?
Experiencing the caliber of people that this campus attracts left a remarkable impression on me in my first semester. This scholarship group is where I have met all of the brightest, most promising, dedicated, and inspiring individuals that I have ever met in my entire life. Being surrounded, motivated, and supported by people as fantastic as the Handler Scholars is one of the greatest parts of my campus life.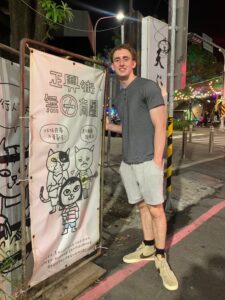 What does Meliora mean to you?
Meliora is the motivation pushing me to keep going. I have enjoyed great success as a student so far, but with Meliora over my head I am reminded that I can expand my potential to an even greater extent if I keep moving forward, and for that I am grateful.