While many are drawn to Rochester for its STEM programs, the Simon Business School, or even the Hajim School of Engineering, the humanities activities and engagement at the University has not let down those who aren't as inclined to the various obstacles of math. 
As a Film and Media Studies student myself, I've gone through the heartbreak of not being able to engage as freely due to COVID-19. Even so, I've found that at UR, there have been many exciting events and programs that have become even more creative within the limitations of social distancing and other safety protocols when it comes to checking out equipment or working in studios. 
While most art studio classes are online this semester, there have been plenty of opportunities to indulge in artistic endeavors. The Sage Art Center has been one of my favorite spaces on campus this semester even throughout COVID. Since classes will be in-person next semester, you'll have many more opportunities to use this space, especially if you're taking a studio art class such as Intro to Painting, Intro to Printmaking, or even Intro to Photography. 
For my photography class, I have access to both the Digital Media Lab (which includes an Inkjet Printer and Photoshop downloaded for free on the Mac computers) and the Blackroom. These spaces have been inspiring during a time where art has become less interactive. However, at the Sage Center, I've been able to engage with the resources, taking advantage of the emptiness of the room to get the creative juices flowing. 
In addition to the many spaces available to you at the Sage Center, including an equipment check-out system, Rettner Hall has been another favorite space on campus, specifically the Video Studio and the Audio Studio. 
While the recording studio is limited to Audio and Music Engineering students who are taking courses that train them specifically for the space, I have had the privilege of assisting a friend of mine experimenting with setting up audio for the drum set in the space. If you're looking for some more creative and hands-on production courses, the Digital Media Studies and AM&E courses have many exciting curriculum options where you can work in the studio.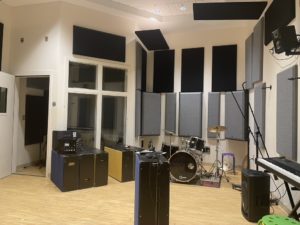 The video studio in Rettner Hall is also available, although you do have to take a workshop for safety and training precautions. Once you've taken the workshop, however, you're free to access the space which includes lights, a green screen, and cameras which you can check out from the Digital Lab Center for your own personal project. 
If you're more interested in how you can find resources and support for research in that History or English course (or any course, even if it's STEM-based), then the Writing, Speaking, and Argument program is the resource for you. At the Writing Center, they provide free writing and speaking tutoring across all disciplines, assisting you in any stage of the writing process. You also have the choice of current graduate and undergraduate students. Undergraduate peer tutors are Writing Fellows from all majors and are trained in a specific course for the program. 
Additionally, the Writing Center also has an online tutoring option where students can submit papers through a platform called Write-On. Within 48 hours, students receive detailed written feedback from undergraduate tutors. This is a great way to get an extra boost if an essay requires multiple drafts; an outside perspective is a great way to engage within any topic, regardless if it's something complicated in the humanities area or a STEM class. 
Another great way to engage within the humanities via research or simply for enjoyment is through the Art and Music Library. Without COVID, the library is a warm, welcoming space filled with various collections of visual arts, photography, music, as well as accessible resources such as large flat-screen monitors, fold-away tables, whiteboards, media players, gaming systems, 3D blue-ray, and more.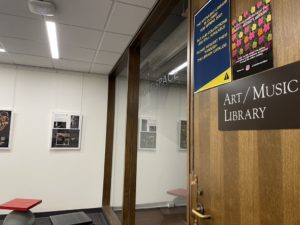 Not only is the Art and Music library and great lounge space, but it's also a home comfort for any humanities student seeking the shelter of anything that doesn't deal with equations or numbers. When the space becomes open again for students to use its space, it is a great location to meet other fellow students interested in similar topics. 
All in all, even during COVID, UR has strived for engagement within the humanities despite the constraints. Virtual lectures series through the humanities program has allowed students either on-campus or remote to interact with fellow UR alumni or guest speakers within the field of film, digital media studies, art history, publishing, and more. There is no obstacle when it comes to creativity, and UR humanities engagement during COVID has only proven it.