Humanities at Meliora Weekend: MEL Talks
by Sara Kowalski, Class of 2017, Humanities Fellow
The humanities imbued the fifth annual MEL Talks at Meliora Weekend this year. The MEL Talks are a series of research presentations by Rochester alumni and faculty, which showcase Rochester's mission to Learn, Discover, Heal, and Create—and of course, to make the world ever better.
This was my first time attending the MEL Talks because, unfortunately, I have not paid Meliora Weekend the attention it deserved these past four years. I have surely missed out on so much knowledge! After all, it was incredible how much I learned and how I was inspired after listening to these five brief presentations!
To my surprise and excitement, four of the five topics were directly connected to the humanities and humanistic social sciences! And I'd love to share them with you. (The fifth, about "Chronic Pain and Oral Health," was certainly fascinating as well, but I will not discuss it here as it did not directly pertain to the humanities.)
---
Experimenting with the Past: Archives as the Laboratory for the Humanities
By Jessica Lacher-Feldman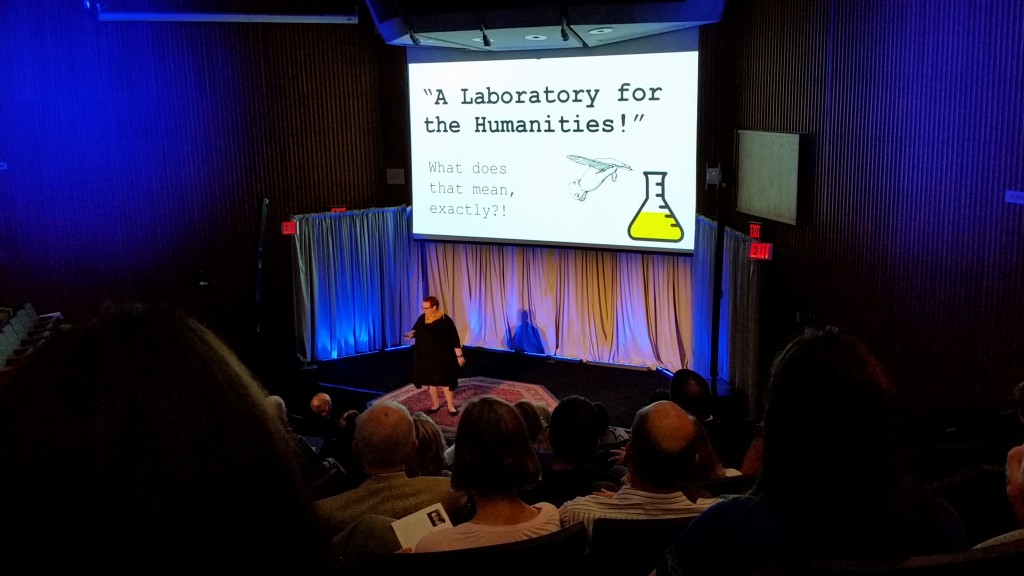 Jessica Lacher-Feldman is the Assistant Dean of the River Campus Libraries and the Director of Rare Books, Special Collections, and Preservation at the River Campus's own Rush Rhees Library. She began her presentations by saying "I'm going to talk about 'stuff,'" in other words, "the things we treasure but things we forget that we have." It is the job of archivists like Lacher-Feldman to collected this "stuff," preserve it, and make it accessible. Many people wrongly think of archivists as "the keepers of history" when they are more like "sharers of history." They are teachers and storytellers.
As we all know, Rochester has a lot of history. In the nineteenth century, it was a "boiling cauldron of civic activism" as Jessica puts it. There is still so much to research and discover about this time and this place, even about major players like our beloved Susan B. Anthony and Fredrick Douglass. New records—new source material—are being discovered each year. And it is the task of historian researchers, humanities researchers, to analyze it, ask questions, and put it all together. As Lacher-Feldman points out in the title of her presentation, an archive is to a humanities researcher as a conventional laboratory is to a chemist or biologist. It's where the magic happens!
Best of all, these archives are open to everyone. To "the most senior scholar" Lacher-Feldman says, as well as to "a regular eighth-grader who just wants to learn." She encouraged everyone in the audience to check out the archives in Rush Rhees library during Meliora Weekend. "If you create. If you learn and think," she says, "check out the archive. You don't need to know what you're looking for; be nosy and ask questions."
---
Can We Fix Our Broken Immigration System?
By Daniel Reichman, PhD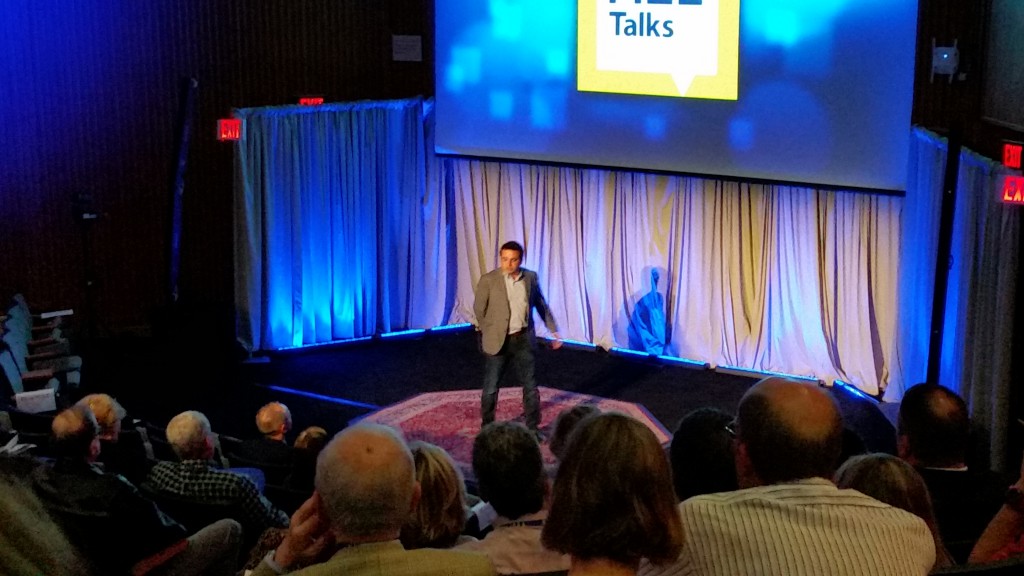 Dr. Daniel Reichman is the Chair of Anthropology here at the River Campus. It was fascinating to hear about the complicated topic of immigration policy from an anthropological point of view rather than the regular perspective of political science. (Anthropology is considered a humanistic social science, whereas political science is considered a regular social science—both are wonderfully worthy fields of study, and they are certainly not without intersection.)
Reichman began his discussion by speaking of his experience with Honduran schoolchildren, many of whom have family working in the US and are sending money back to them. He used these students as the centerpieces of his presentation, to showcase the concept of "transnationalism." You see, these children knew as much about the American cities their family members were located in as they did their hometowns in Honduras. Almost all of them expected to travel to the US sometime in the future, to work, save up money, and return home to Honduras.
"We're living in a transnational world," Reichman explains, "Nowhere is truly isolated or remote." Like these children, many people around the world have dreams of working in America for a few years to earn enough money to return home to "build a new house and buy a new truck." However, the outdated immigration system in the US does not allow easy temporary work visas which would serve the global labor market well.
Reichman went on to discuss the dangers of exploitation and situations similar to "indentured servitude," which exist today when undocumented immigrants work without the protection of the law. He described the family dynamics associated with migration and how they have changed over recent decades. He finished his discussion by saying "Globalization is here to stay," and that this can be a good thing as long as our country reforms our immigration policy. Reichman is hopeful that this is possible, because both Republicans and Democrats agree that the American immigration system is broken and needs fixing.
---
The University as a Model for Community Leadership: The Future of East High School
By Shaun Nelms '04W (MS), '13 (EdD)
Shaun Nelms is an alumnus, an associate clinical professor at the Warner School of Education, and the Superintendent of East High School. His presentation told the inspiring story of the partnership between the University of Rochester and a local high school, and how this partnership brought East back from the brink.
The partnership began two years ago. East High School embraced the principles of the University and made "equity" the center of its works. This equity was defined by the students themselves, and the reform was "by students, for students, of students."
One aspect of the program was the installment of Family Group, daily thirty-minute sessions in which students were able to talk freely about anything and everything. Topics often revolve around current politics and just about life in general.
Another aspect of the program was the installment of mini programs such as the Vision Care Program. In this, students learn about optics and make glasses for people around the city who need glasses but cannot afford them. These students make and give away about nine-hundred pairs of glasses a year! The students are empowered when they see the impact they have on others' lives, and they learn skills and knowledge that can help them enter the job market or a post-secondary school after graduation.
East High School has seen an 82% decrease in suspensions and a 65% decrease in school fights. 58.3% of students have graduated since the partnership began, and it is expected that over 60% of the students will graduate in the Class of 2018. Before the Rochester-East partnership began, the projection had been only 19%.
Education is massively important to making the world and the lives of individuals "ever better." The success of this partnership demonstrates that in a powerful way.
---
Mapping Music During Awake Brain Surgery
By Bradford Z. Mahon, PhD; Elizabeth West Marvin '81E (MA), '89E (PhD); and Webster Pilcher '79D (MS), '83M (MD), '89M (Res)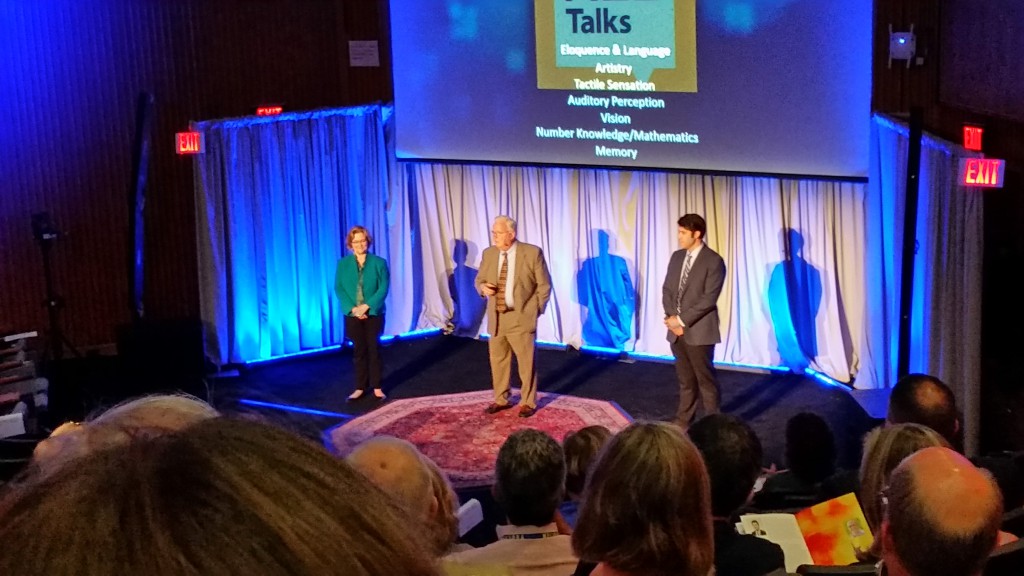 Bradford Mahon, Betsy Marvin, and Webster Pilcher gave a joint presentation in which they discussed the incredible case of a musician with a brain tumor, whom they were able to cure without damaging his musical ability. Dr. Mahon was the cognitive scientist, Dr. Pilcher the neurosurgeon, and Dr. Marvin the musical expert. This interdisciplinary endeavor was only possible with all of their expertise, and this case demonstrates how the humanities can intersect with the natural sciences in critical, often groundbreaking, ways.
Musical theorists like Dr. Betsy Marvin study the underlying structure of music. And she was able to demonstrate the patients' musical ability with tests like the Montreal Battery of Evaluation of Amusia (MBEA) and the Advanced Measure of Music Audiation (AMMA) while he was in an fMRI machine. This allowed Dr. Mahon to make a mental map of the patient's unique musically-minded brain which Dr. Pilcher could then use in surgery as a guide.
Dr. Marvin was also in the operating room on the surgery, testing the patient while he was awake, having him hum back melodies and even play his saxophone! She was the judge of whether things were right or wrong, and she would then tell Dr. Pilcher who would use the feedback to carefully remove the tumor without damaging any of the important neural network.
The surgery was a success and an inspiring victory for the cooperation of arts and sciences!