How to spend the perfect weekend in Rochester
Are you planning to visit Rochester to tour the University but aren't sure what to do off-campus? Look no further than this guide to spending a weekend here from a Rochester native. 
Friday
Arrive in Rochester by mid-day and stop in College Town for lunch. College Town is close to campus and easily accessible by the Blue Line shuttle. It's home to the University of Rochester bookstore, along with a variety of restaurants (mostly chain ones, some local). I would recommend Mamasan's, a (mainly) Vietnamese family-owned and run restaurant that has a nice dining area with large windows overlooking the busy street. 
After a filling lunch, head on over to campus for a tour, which you need to schedule in advance online. There are 45-minute information sessions, followed by 55-minute campus tours.
Schedule your visit with the Office of Admissions
If the weather is nice, stay outdoors and explore the nearby Highland Park which is full of lilacs and other flowers throughout spring and summer. Inside the park is also a large reservoir for city drinking water and the Lamberton Conservatory which is full of tropical plants and home to some quail and tortoises. 
For dinner, try a classic Rochester garbage plate from dogTown on Monroe Avenue. For any vegetarians or vegans – don't worry! They have a selection of plant-based menu items as well.
Saturday
Rochester has a lot of diners to choose from, my favorite being the Highland Park Diner,  a 1950s-era train car diner that is listed as an architectural gem by the Rochester Landmark Society. I always get the Nutella stuffed french toast that comes with sliced bananas and strawberries on top, but you have to really have a sweet tooth to not get overwhelmed. 
After breakfast, if it's before 2 p.m., head over to the Public Market. Saturdays are their busiest days, and it's accessible to students via the Green Line on the weekend. It's technically open until 3 p.m. but it starts to slow down in the afternoon. There are over 300 vending stalls and vendors that sell produce, meats, eggs, other dairy products, prepared food, and other merchandise. My friends recommend the honey from the Grawn Family Farm. Other popular stalls include Duke's Donuts and The Chai Guys. 
How many cities do you know that have a waterfall downtown? A visit to Rochester isn't complete without seeing High Falls by walking on the pedestrian bridge. You can enter the bridge near the Genesee Brew House (home of the ubiquitous Genesee Beer) or on the west side of the river near the Luna Coop, home to some artist studios. 
Rochester is also home to a few different museums, with the University of Rochester owning the Memorial Art Gallery and giving all UR students free admission. There's also the George Eastman Museum, at the estate of the founder of Kodak and a large donor to the University. The Rochester Museum and Science Center and the Strong National Museum of Play would be great choices if you are traveling with any younger children (or just want to unlock your inner child) as there are many interactive elements.
Head over to Park Avenue for dinner, which is filled with local restaurants to choose from. Finally, end the day with dessert at Pittsford Farms Dairy which has a small second location on Park Avenue. 
Sunday
Start your final day in Rochester at another diner (perhaps Jine's on Park Ave. or nerd-themed Pop Roc Cereal Bar) or Java's, a popular coffee shop next to the Eastman School of Music. 
After breakfast, pick another Rochester park to visit near Lake Ontario. I'd recommend Durand Eastman Park with its many ponds and hills along the lake and Turning Point Park with its wide wooden boardwalk along the Genesee River.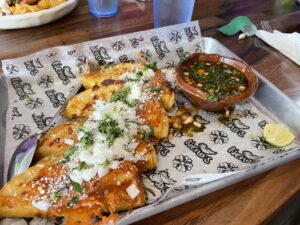 Before you leave Rochester, take the time to stop somewhere for a filling lunch. I'd recommend Neno's Gourmet Mexican Street Food on Monroe Avenue, especially their Birria tacos. 
It's time to say goodbye to Rochester (for now!) but hopefully, you'll be back again in the future!