Health and Epidemiology Advanced Learning (HEAL) is one of the University of Rochester's combined degree programs. It's a five-year BA/BS + master's program for students interested in epidemiology and public health. Here we speak with three HEAL students about their experiences.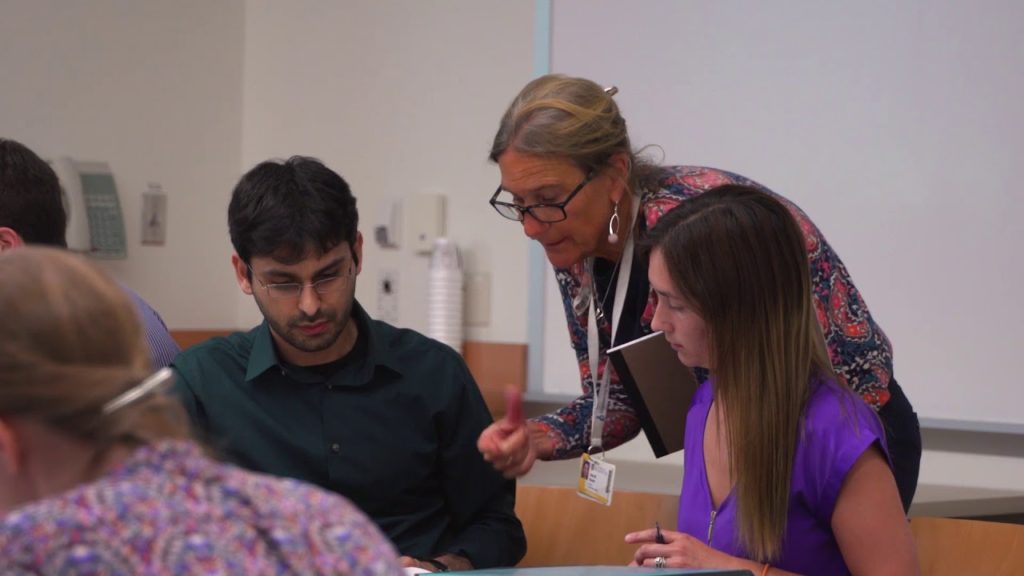 Can you start off by introducing yourself? What interested you in being a HEAL scholar?
Olivia: I originally became interested in pursuing an advanced degree in epidemiology through a class I took in my senior year of high school that exposed me to antibiotic-resistant bacteria. It intrigued me to know that humans have much more to learn about medicine than the current information and new methods to treat diseases constantly must be developed. My desire to learn about the causes and spread of disease as well as ways to prevent these life-threatening, mysterious illnesses lead me to first become interested in the HEAL program. Additionally, hearing about the enhanced advising and access to research opportunities convinced me to apply.
Charlotte: I became interested in epidemiology after reading the Hot Zone in ninth grade. I became fascinated with the programs put in place to deal with the Ebola epidemic. However, as I became more involved with public health programs at my school and community I realized the broad range applications of public health and community activism, especially with regards to border health (I am from southern New Mexico, about 30 minutes from the Mexican border). That was when I knew I wanted to pursue epidemiology and the HEAL program.
Derek: I became interested in the HEAL program when I read about the accelerated master's degree track it offered, alongside the guarantee of a strong mentor and access to research positions. I'm majoring in epidemiology and biology right now, and completing the pre-medical courses. I'm currently the president of our campus's Society of Asian Scientists and Engineers, and am involved with several other of our school's organizations—mostly Outing Club and our Public Health Society. 
In your first year of the program, what have you studied and/or accomplished?
Derek: In my first semester of the program, I leapt right into our PH 103: Introduction to Epidemiology class at the recommendation of my advisor, Dr. Edwin van Wijngaarden, knowing it would be an important prerequisite for both classes and opportunities further down the line. Charlotte and I are entering our second year enrolled in the medical center's PM 415 offering, normally a graduate-level course, and a cornerstone of the program. I also discovered and enrolled in our school's Community Engagement program, and will be completing a capstone project in our local community before I graduate in my senior year.
How have you interacted with other students in the program, and what was it like?
Derek: I've mostly interacted with Charlotte, since we have been and currently are in some of the same classes. She's been great to work with–competent, accountable, friendly, and all the things people hope for from their academic peers. 
How have your studies overall aligned with your interests?
Olivia: I chose to major in environmental health because I sought to learn more about societal health and the way the natural environment played a role in our daily lives and affect aspects as important as health. Through my introductory public health courses, I have learned about the multiple facets of public health—not only biological factors, but also socioeconomic factors affect overall health. This is the basic misunderstanding that encompasses many of the health issues that the population faces. The lessons I learned fulfilled my urge to learn about the complexities of individual health that require solutions beyond medicine.
Derek: I'm majoring in epidemiology and biology right now, and both majors have aligned with my expectations and hopes. One thing to be aware of is how to navigate the open Rochester curriculum. Students must take courses across all three fields of study: natural sciences, social sciences, and humanities. Every major falls into one of those three categories, and then students must take a cluster of their choosing in the areas outside of their major. Engineers only need to take one cluster in either Social Sciences or Humanities. My epidemiology major falls under Social Sciences, and my Biology major falls under Natural Sciences. I therefore have to take a cluster in Humanities. A cluster is a grouping (generally three) of thematically-linked courses. I am very satisfied with my humanities cluster, where I am studying anthropogenic climate change and contemporary media depictions of the apocalypse as wrought by mankind, and it's fascinating stuff. Other cluster offerings range from traditional african drumming to jazz dance, and I don't think I've met a student dissatisfied with their cluster studies.
Why do you think teamwork and/or research is important?
Derek: I believe that teamwork is important because no one can solve the big problems that we face on their own. If you ask a hundred random individuals on the street for what they think to be the biggest issue in our world, the answers will include social injustices, environmental crises, economic time bombs, and any number of similarly complex problems that require redress. However, human lives are short, and no one person will be able to understand a topic, draft a comprehensive plan of remedy, and see its implementation on their own. If we want to make things better, we must work together. Research is important because knowledge is important.
How do you believe this program will prepare you for your future?
Charlotte: One of the main appeals of the HEAL program is that it still allows students to utilize the Rochester curriculum, meaning you can combine interests in a unique way, which can really benefit you. While I am interested in epidemiology and public health, I'm also interested in lab work in the natural sciences. Being at the University of Rochester allows me to pursue some biochemistry interests, as well as epidemiology, which I find personally enriching, in addition to knowing that it will increase my employability in the future.
What advice would you give to students who want to enroll in and/or benefit from this program?
Charlotte: You don't need to know exactly what you want to do yet! Epidemiology is a wide and varied field, and the nature of the Rochester curriculum is that you will likely have the chance to learn and experience a lot of different facets. You don't need to have a favorite yet, and even if you do, it's ok to learn and explore different things. I joined the HEAL program because I was interested in infectious diseases, and while I definitely still am during my first years here I've gotten to learn about environmental health, injury epidemiology and public policy. While I haven't loved everything, I've found a few things I find really fascinating that I never would have thought about otherwise.
What would you want future HEAL students to know about the program now that you've had some experience with it?
Olivia: The HEAL program offers invaluable opportunities beyond a master's degree in five years, which in itself is worthwhile. Most first-year students are assigned a general advisor, oftentimes not within the field that they are looking to pursue, whose role is to guide them in making course decisions. Through the HEAL program, from the beginning, you are assigned to an advisor who understands your goals and has experience making education decisions to work towards a career in epidemiology. This will prevent from mistakenly taking unnecessary courses, prolonging your time at the university, or being required to take summer courses to complete your degree on time. It will also offer you the opportunity to take additional courses that interest you outside of your major as well as studying abroad. Additionally, the access to research opportunities provided by the HEAL program is advantageous. Because Rochester is a well-known research institution, most students on campus are looking to do research some time within their four years. The HEAL program offers faculty and departmental connections that make gaining a desirable research opportunity that much easier.
Lastly, do you have any further thoughts on the University of Rochester as a whole?
Olivia: I would not wish to pursue my higher education anywhere else. The institution truly puts the students first. It provides an abundance of resources to help each student succeed, constantly asks for feedback, and facilitates student innovation. Professors are often involved in research, which creates such an interesting dimension in the classroom. Not only are they teaching at a level of comprehension for the students but they ignite passion for the subject by tying the content into their current pursuits in their research. It allows the students to think beyond the basics, ask questions, and encompass the contagious love for the material that the professor portrays. They also are constantly indicating that they are available for help outside of the classroom and encouraging questions and discussion within the class. However, for me personally, my peers are a key aspect of the love I have for Rochester. Students on campus are supportive of each other's goals and accomplishments as well as passionate for a cause that guides them to constantly be 'ever better.' Whether students are involved in athletics, the arts, or academic extracurriculars, their fellow Yellowjackets are motivating them as they put in the effort to change the world with their passion.