On May 15, 2016, the University of Rochester held its annual Commencement and diploma ceremonies for undergraduate students at both the River Campus and Eastman School of Music. I also stayed after my finals to attend graduation ceremonies and say goodbye to my friends who were graduating. Even though this was my second time attending Commencement at Rochester, this time I was filled by more emotions as I watched some of my dearest friends receive their diplomas and embark on a new journey in life.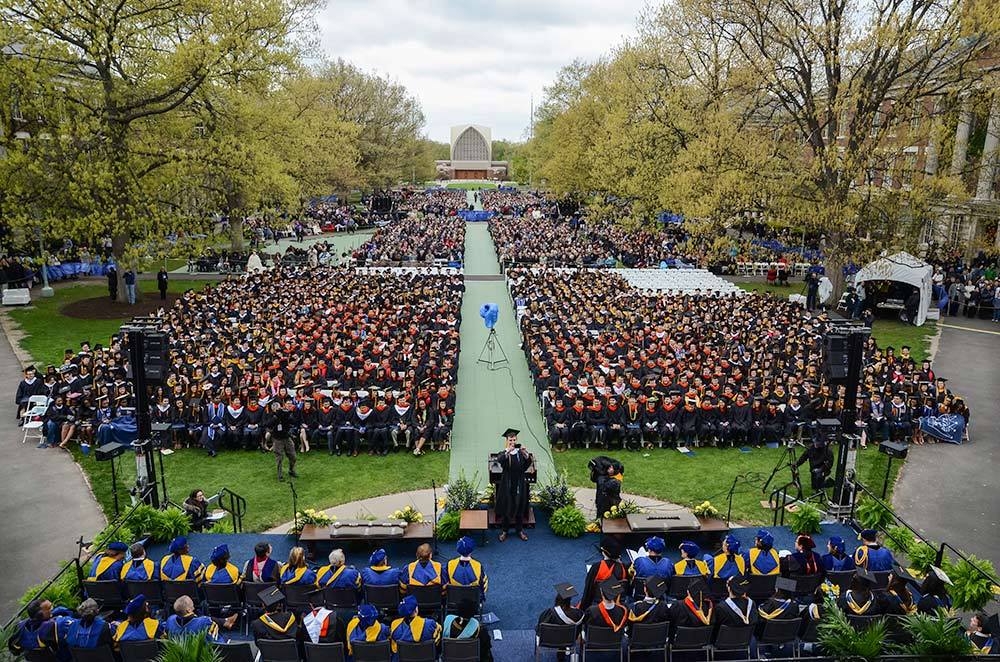 At 9 am on graduation day, Commencement began with graduates marching onto Eastman Quad. I stood on the side and watching many of my friends walk to their seats, smiling and waving at the crowd in their caps and gowns. At that moment, I was hit by mixed feelings of pride, sadness, and a sense of loss as I suddenly realized I won't be seeing some of my dearest friends in life every day, hanging out with them whenever I want on campus. They are all off to do great things in life.
This year's Commencement speaker was Erica Fee, '99, an award-winning theatre and festival producer. She encouraged all of the graduates to pursue their dreams and never be confined by any plans in life. She told her personal story of how she ended up becoming the Fringe festival producer while starting as a pre-law student. I was quite touched by the speech and couldn't help but wonder who I will become in the next ten years.
After Commencement, I also sat through the economics department and Hajim School of Engineering diploma ceremonies. During the economics diploma ceremony, I listened to alumna Gwen Greene, '65, Vice President of JP Morgan Chase & Co., speak about appreciation and giving back. During the Hajim School of Engineering diploma ceremony, I was moved by alumnus Edmund Hajim's motivational speech about his "wall of life":
As life is action and passion, it behooves a person to take part in the action and passion of his time for fear of being judged not to have lived.
A person can reach any height if he or she doesn't mind who gets the credit.
There is not a thing more difficult to take in hand than a change in the order of things.
There is nothing more exciting either. Growth and comfort are rarely found together.
As I heard many of my graduate friends' names called and watched them march onto the stage and receive their diplomas, my eyes started to get watery and I imagined myself receiving my diploma next year while my parents watched. It will be an even more bittersweet and proud moment next year!
(My friends and I posing for pictures after Commencement)
Goodbye, and good luck to all the recent University of Rochester graduates! Thank you to the University of Rochester, for bringing those amazing and inspirational people into my life! My dearest friends, this is not a forever goodbye but a see-you-soon!
Meliora!