Fall in Love with Your Finances
Valentine's Day is here, so there's no better time to fall in love with your finances! Sometimes we open our banking app or our credit card statement and we absolutely hate it. But who wants to spend all their time hating their financial situation? That's not positive or healthy! Follow these three steps to fall in love with your finances in no time: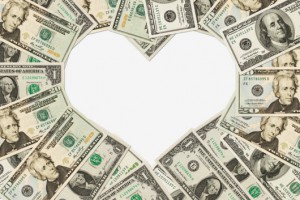 1. Build a strong foundation together: Every relationship needs to be built on solid ground. To start building a sound relationship with your finances, go back to the basics. Make sure you have created a budget and you're making a concerted effort to stick to it. Make conscious moves to pay off some of your debt. Make every attempt to be aware of your finances rather than sticking your head in the sand. Check all your bank and credit card statements and know exactly what's going on with all your accounts. Getting organized and staying alert will help you to lay a strong foundation for you and your finances.
2. Pick a fun short-term goal to work toward: Consider it a first date for you and your finances. Whether it's a trip to California to visit a friend from college or the purchase of a new smart phone, it can be great to set your sights on something achievable and work toward it! Once you've created a budget and have formed the habit of saving a little bit from every paycheck, you'll be on the right track. It'll feel fantastic to achieve a goal with your new love—your fantastic finances!
3. Start thinking about the future: Long-term planning can sound scary, but it's definitely worthwhile. If you're working your very first job after college, saving even the tiniest amount of each paycheck towards retirement can help you plan for the future. You can usually set it up so that a certain percentage of each paycheck automatically goes in retirement savings for you. Once you set this up, you've taken an important first step toward planning for a beautiful, comfortable future together with your lovely finances.
You don't have to hate your financial situation! Think of your finances fondly. Treat your finances right. It will pay off in the long run when your hard work has helped to create a solid financial situation that you can truly rely on.