Exploring Extended Reality in the Libraries with Studio X
By: Ayiana Crabtree '22
What is Studio X? 
Located on the first floor of Carlson Library, as the hub for extended reality at the University of Rochester, Studio X fosters a community of cross-disciplinary collaboration, exploration, and peer-to-peer learning that lowers barriers to entry, inspires experimentation, and drives innovative research and teaching in immersive technologies.
Now you might be wondering what extended reality is! Extended reality (XR) is the umbrella term that describes AR, VR, and MR. AR (augmented reality) is a live view, whether direct or indirect, of a real-world environment whose elements are augmented by computer-generated sensory output. AR uses your existing reality and adds to it by using a device such as a phone. VR (virtual reality), is an immersive experience, also known as a computer-simulated reality. It uses a VR headset to generate sounds and images that can either replicate the real world or create an imaginary one. MR, (Mixed Reality), sometimes called hybrid reality, is the merging of real and virtual worlds to allow physical and digital objects to interact in real time.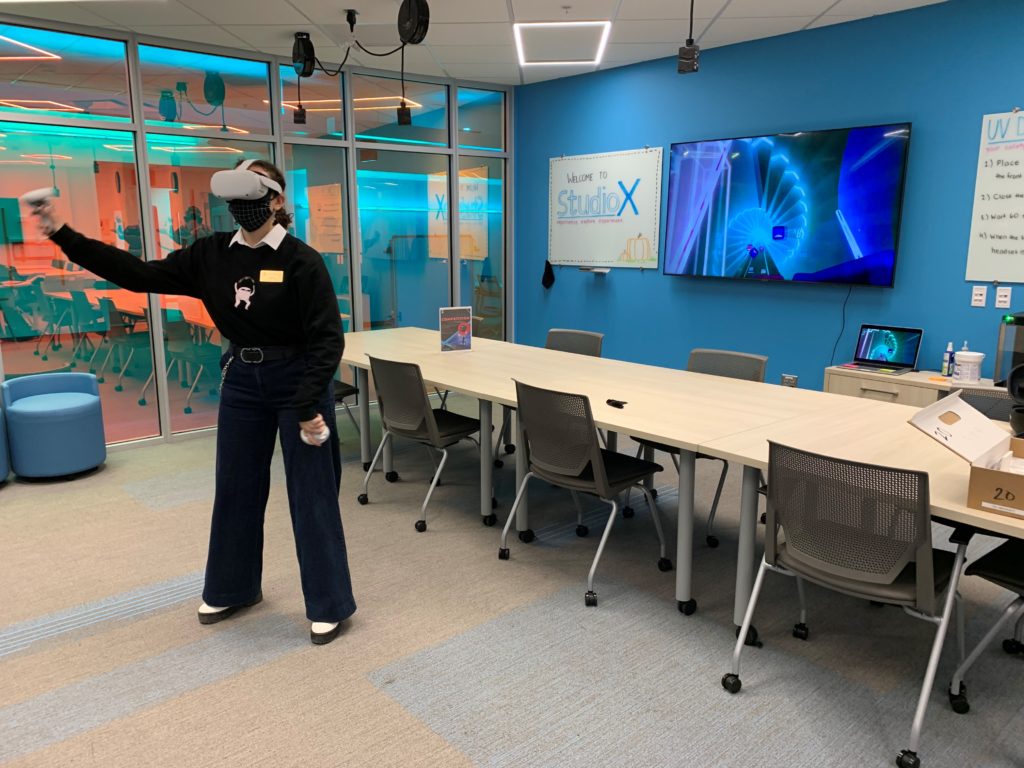 While all of that might sound a little scary, that's where Studio X is here to help. Studio X runs tons of fun workshops and events that aim to make XR fun and easier to understand. For example, I run an Intro to XR workshop every semester that teaches participants, no matter their skill level, all about the basics of XR with a fun hands-on learning experience. There are other workshops too, like Blender and Unity tutorials to teach you the basics of 3D modeling and game development.  If workshops aren't your thing, we also have events like our Beat Saber competition and a speaker series called Voices of XR, where you can learn about XR directly from professionals in the field.
Now, how do I fit into all of this amazing stuff? I'm both a Karp Library Fellow that specializes in XR Research and an XR Specialist for Studio X. As an XR Researcher, I choose a topic to focus my research on each semester, and at the end, give a presentation and make recommendations to share my findings with the library community.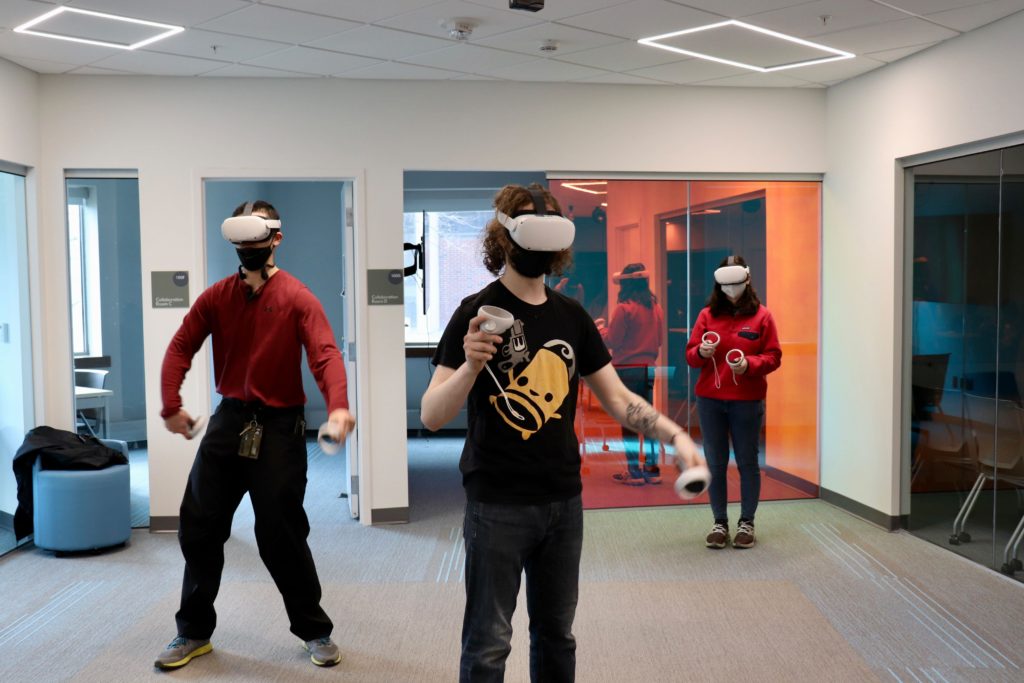 In my first semester as a researcher, I focused on the Humanities and XR. People don't typically associate the humanities with technology, but there are a lot more opportunities for cross-disciplinary collaboration than you might think. I had the opportunity to meet with the humanities liaison librarians, run surveys for my fellow humanities majors, and do a whole lot of cool research.
During the next semester, I got a little carried away with planning and running my Intro to XR workshop, so I didn't have a specific research focus, but I had the opportunity to write some more cool blog posts and set up the Studio X Beat Saber competition!
During my last semester as a researcher, I am working on accessibilities and XR, another big topic. I've realized that technology in general creates many barriers for disabled users. As XR technologies are rapidly growing in popularity, they exacerbate these challenges. When creating an XR product, whether that be a VR headset or an AR game, etc., people tend to think more about their product's aesthetic or its usability for the average user. What people fail to remember is that not every user will be "the average user." The world is a diverse place, with people of all ages, genders, races, and abilities, and when creating XR, it is important to keep in mind this diversity. XR and accessibility is itself a new area that is a moving target. Because of these challenges, I put together a list of resources that I find useful, in the hopes that others while doing their own research might find them helpful too.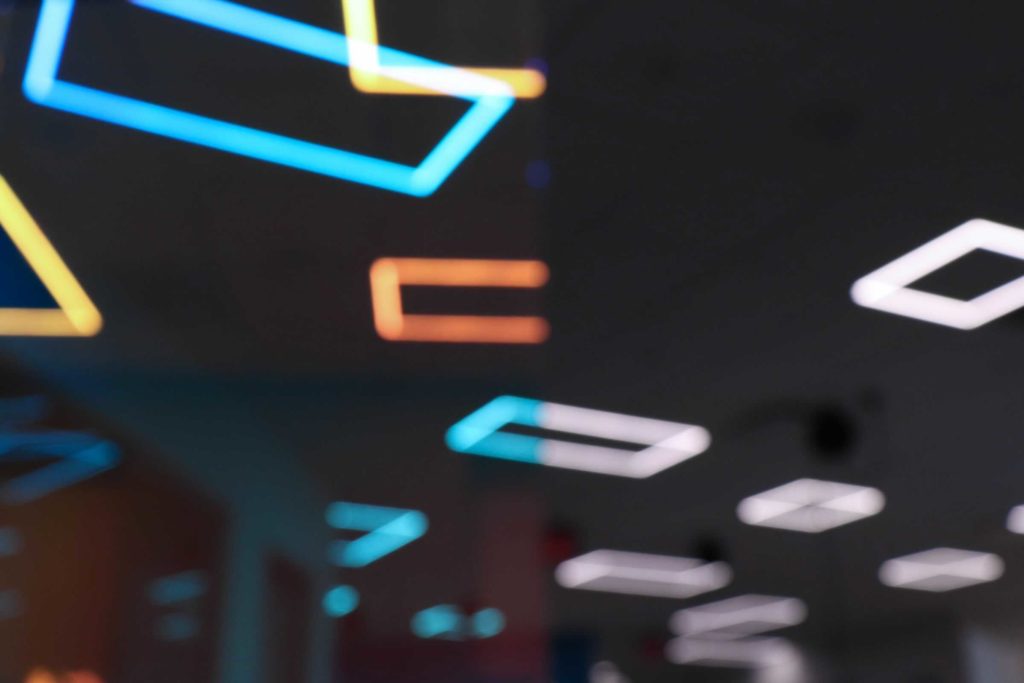 My other position, XR Specialist is the typical library student worker job, only way cooler! XR specialists get to work on building their 3D modeling and coding skills through a collaboration project we're doing with the Robbins Library to create a VR alchemical laboratory. We also help patrons check our materials and monitor the space to ensure everything is running smoothly.
"What materials do you check out?" you might be wondering. Well, that's yet another amazing feature of our space. Studio X has a wide range of XR technologies that students, faculty, and staff have access to using both inside and out of the space. Our most popular attractions are the Meta Quest 2 VR headsets, which can be borrowed and taken back to your dorm for up to three days at a time. On our VR headsets, there are a bunch of fun pre-downloaded games and experiences for you to play, like Beat Saber, Walkabout Minigolf, Job Simulator, and more! In addition to the VR headsets, we have 360 cameras and 360 audio recorders which can also be taken back to your dorm for a three-day period. If you don't mind staying in the space, you can ask to try one of our Microsoft HoloLens 2's (MR headsets) or use one of our high-end workstations for homework. You can also use any of the aforementioned technology in the space if you don't want to take it back to your room.
Studio X's main goal is to break down any barriers that may be preventing students from getting into XR technologies. Whether that be making resources readily available, or giving introductory tutorials, Studio X is here to help!
__________________________________________________________________________
URAdmissions features guest bloggers (both students and staff) who write about specialized programs, events, and opportunities at Rochester.