Education Abroad at Rochester
This month, I had the pleasure of interviewing two students who are currently studying abroad in the spring semester of their junior year. They share wonderful insight into their experiences traveling abroad while balancing academics and express different ways of coping with homesickness, culture shock, and new friends. With two very different locations, their stories will provide you with a unique perspective that hopefully inspires you to try studying abroad while in college.
Beth Duncan (Class of 2024)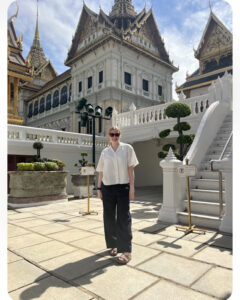 Hometown: Ithaca, New York
Major: Epidemiology
Minor: Math
Study Abroad Program: Semester at Mahidol University, Bangkok Thailand through Study Abroad program CIS (not affiliated with Rochester)
Sanghamitra Subba (Sangs)(Class of 2024)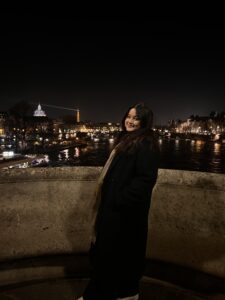 Hometown: Kathmandu, Nepal
Major/ Minor: Double Major in Economics and Political Science
Study Abroad Program: IES Abroad Business and International Affairs in Paris, France
What are you studying abroad? How has it been different or similar to the course studies at U of R?
Beth: I am lucky enough to have some room in my schedule so that I can take some electives abroad. The only class I am taking that is going to my degree is complex variables. I am taking a Thai language class and a Thai history class. I am grateful I am able to take these classes in order to learn about the country I'm studying in. I'm also taking into to psychology. The classes are pretty similar to course studies at UR. There are some cultural differences between students from Thailand and the exchange students. Definitely a different classroom culture. The way classes are taught is similar to Rochester though. We also wear uniforms to class so that makes it feel different as well.
Sangs: I'm taking courses on EU markets, France and the EU, sustainability, art, and architecture in Paris, and French. As I am taking classes for my major, minor, and cluster, the courses were very similar to what I was familiar with at UR. But my economics and political science courses have a more France and European Union focus which has been really interesting.
What has been the most surprising thing about studying abroad? The least surprising?
Beth: The most surprising thing about study abroad is how everyone is super welcoming! They want to get to know about you and where you come from and learn from you as much as you want to learn from them. I was super excited to come to Thailand because I had heard how amazing it is but it has blown me away. Every day I find something more to love.
Least surprising- I had always heard it was super cheap to live in Thailand and that was not wrong!
Sangs: The most surprising thing about studying abroad has definitely been factoring commute into my daily schedule. The apartment that we are in is a 30-minute metro ride away from the center and that's very different from living on campus and going to classes in UR.
The least surprising has been the quality of academics that I have been able to receive. The professors are fantastic, the operations team is incredibly supportive, and the courses are well-developed and the discussions are thought-provoking.
How do you balance exploring your country/region with academics?
Beth: This is one of the hardest things to deal with while studying abroad. I try and work hard during the week so that I can explore on the weekends. I was able to work my schedule so that I don't have classes on Friday which is nice so I can take longer weekend trips! It's important to remember that you can't go to everything! Everyone's schedules are different so sometimes your week might look different than your friends! I am also lucky enough to have planned to have a couple weeks after the semester to just travel when I don't have school.
Sangs: The key is to plan ahead. I keep all my deadlines on my Google Calendar and plan most of my travels in advance so I know what to expect every week. It's also about prioritizing academics more in some weeks and exploring other weeks.
What would u say to incoming University of Rochester students about studying abroad?
Beth: Prepare to feel uncomfortable and say yes to most things! Take advantage of this amazing opportunity and try to really learn about the country you are living in.
Sangs: Do it! It's exciting, fun, and incredibly rewarding. You get to travel, learn, and discover so many things about new places and yourself.
Any tips and tricks that you've learned while abroad?
Beth: Homesickness is real but everyone is going through the same thing! Open up to friends they want to talk about it too! try and learn the language! it might be embarrassing and hard, but the local people really appreciate it!
Sangs: Make sure you don't have classes on Fridays so you can have long weekend to travel.
Learn how to compartmentalize your day for academics, exploring and resting
Buy a travel backpack for weekend trips
Credit/ debit cards with foreign transaction fees can add up so make sure you find one with low fees
Anything else you would like to share!
Beth: STUDY ABROAD IF YOU CAN! IT'S AMAZING!
Sangs: Studying abroad as an international student will be a slightly different experience than traveling abroad as a US citizen. Different passports come with different privileges and hurdles so be prepared when traveling outside of your study abroad country. It's okay if you feel lonely it's all part of moving to a new place. You're not alone in this experience!