College Application Advice From Current Students
The fall of senior year is like riding a roller coaster. You are expected to stay on track with college applications, rigorous classes, extracurricular activities, work, and so much more. Juggling these responsibilities at once can be very overwhelming. This blog post consists of advice from current first-year students which can help you tackle the college application process.
The college application can very intimidating but it's important to get started as soon as possible. You are presenting four years' worth of experience in one application, by starting early you will be giving yourself the time to craft an application you are proud of. Break down the application into small parts and work on them one at a time. Set small goals and reward yourself when you achieve them. This will keep you motivated throughout the process.
Recommendation Letters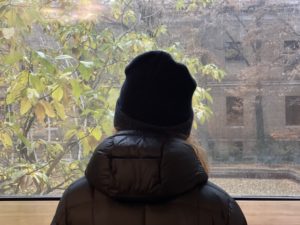 One of the first things you should do is request recommendation letters from your teachers, counselor, and/or mentors. When doing so make sure you are giving them enough time and information to write about you. Create a brag sheet including your strengths, interests, and passions, or have a conversation with them about these topics. Recommendation letters are very important for admission counselors to get a holistic view of who you are. 
Personal Statement
In your statement, you are using your voice to tell your story to admission officers. The essay has the ability to bring your application to life and present you beyond your grades and test scores. Think about what you want admission officers to know that is not represented by your extracurricular activities and recommendation letters.
"Write a story that brings out emotions in you, the essay should represent who you are, what you like doing, and why you want to go to college." – Kanishk '26
Crafting the essay is a process and you will continue to develop it. It is crucial that you have trusted teachers or mentors providing you with constructive feedback. However, limit the amount of feedback to 3-4 people to keep your authentic voice in the essay.
College List
Creating a college list is an ongoing process and it can change as you go through the process. The key factor of a college list is to have schools that fall under the safety, match, and reach categories. By creating a balanced college list you are giving yourself multiple options for when decisions come out.
As you make the list ask yourself what you want your college experience to look like. Research the programs you are interested in, clubs and organizations, financial aid policies, the student body, the faculty, geographical location, and career opportunities.
"Select the colleges you want to go to, it's not always about applying to more schools, choose quality over quantities." – Alice '26
Additional advice
"Throughout the application cycle there are so many due dates; please keep track of them. Keep a journal or a spreadsheet with all your important deadlines so that you don't miss out on any opportunities." – Kevin '26
If you've already written an essay that works for multiple prompts, reuse your essays. You save so much time and energy. – Kevin '26
Turn in your financial aid application ahead of time. Certain documents can take a while to process and you don't want to miss a deadline. – Sabah '26
Conclusion
The key to success during the college application process is to break down the application into pieces and tackle one part at a time. Remember to prioritize your mental health and reward yourself throughout the journey. You have worked hard for four years to get to where you are today. Do your best to craft an application that tells your unique story. College application is often mysterious and unfair so don't let decisions determine your worth. You got this!
"Take care of yourself, and everything will eventually fall into place." – Sherkeem '26