Boar's Head Dinner, A Rochester Tradition
On Thursday, November 30, the University of Rochester held its 83rd annual Boar's Head Dinner. This tradition entails a night of great food, entertainment, and a medieval atmosphere. A ticket costs $22.24 in declining (meal plan money) or $23.89 if you pay with URos, cash, or credit. This gets you three courses of high-quality food, student performances, and a nifty commemorative mug. This year, around 460 students and faculty went to Boar's Head (or 500 if you count performers). Usually the event sells out and there is competition for tickets, but for some reason this year it didn't. I can't complain though, because even as a first year, I got a ticket.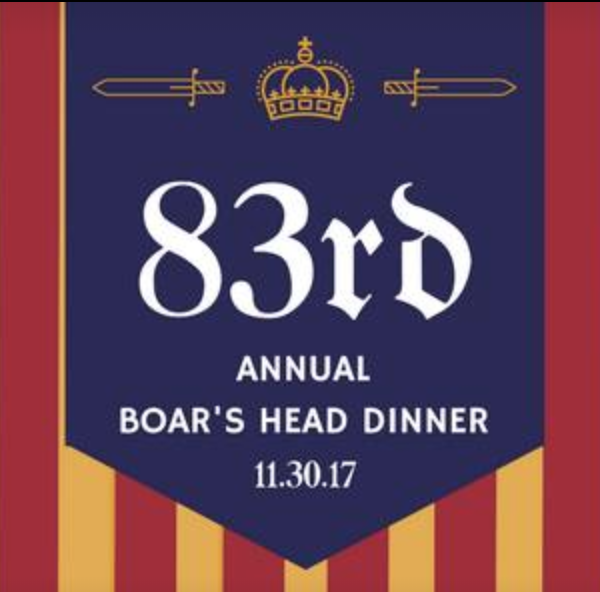 The Boar's Head Dinner originated from an Oxford legend of a scholar being attacked by a wild boar. Luckily, the scholar was rescued by a student who stuffed one of Aristotle's works down the creature's throat, which was effective because it was such "dry stuff." The boar's head was taken back to the college and a dinner was held in honor of the student for saving the scholar's life. Rochester replaced its annual College Night Dinner with Boar's Head in 1934 and it has happened every year since except between 1943 and 1945 due to World War II.
The night began with the procession of members of the High Table, which included people from the Student Association, deans, and members of the Student Programming Board. They were all dressed in medieval robes and gowns, which was really cool.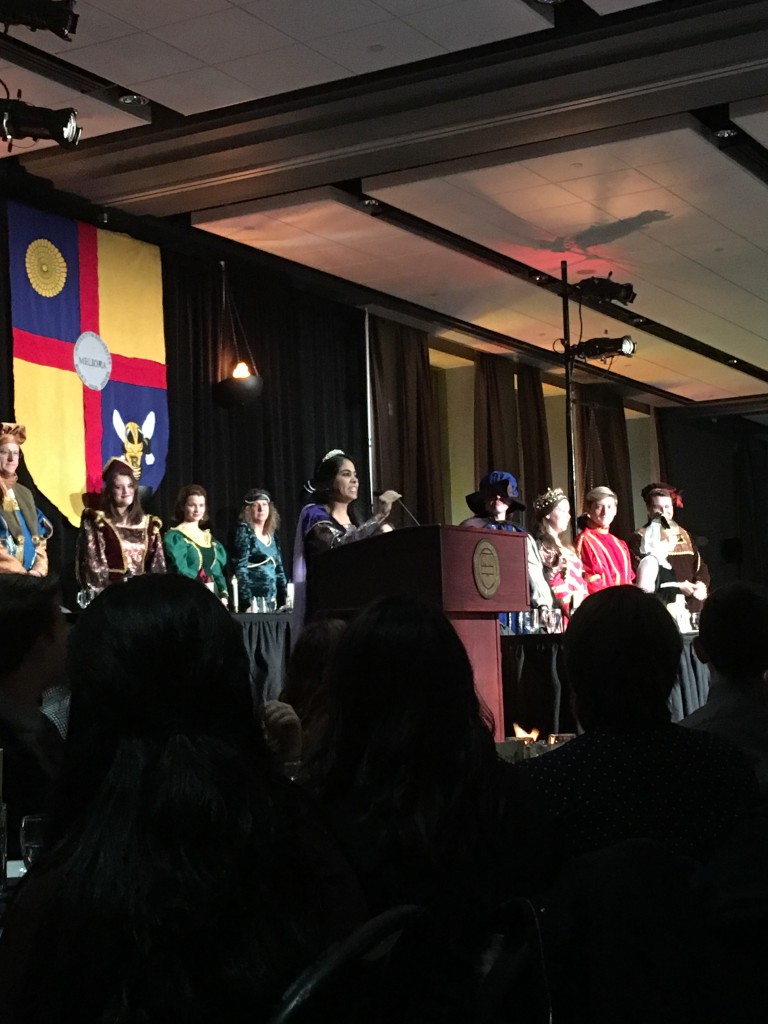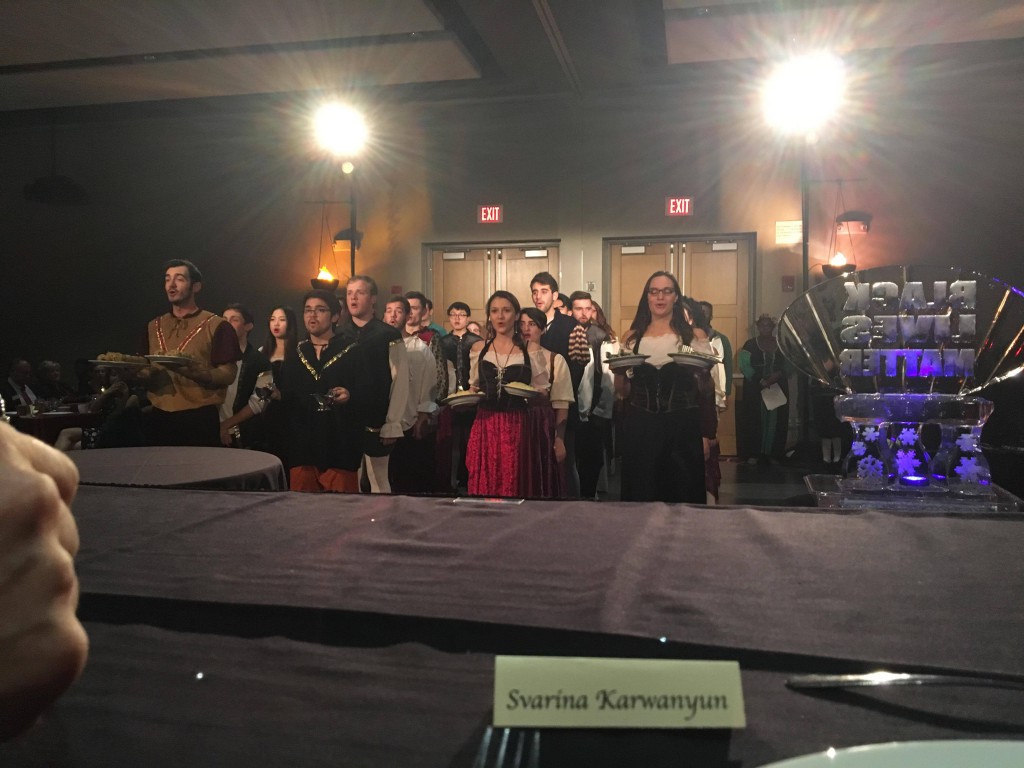 Trumpet fanfare signaled the beginning of each course. The large group of student servers dressed in medieval garb presented the High Table with the food through song. First we were served pumpkin and lemon bisque. The main course consisted of family-style roast pork loin, maple and herb glazed turkey, butternut squash and sage gravy, roasted Brussels sprouts with pomegranate seeds, stuffing, and caramelized shallot and Yukon Gold mashed potatoes.
Dessert was a berry crumb cake topped with whipped cream. For those with dietary restrictions, there were also gluten-free, kosher/halal, vegetarian, and vegan options. If ever food or drink ran out, student hosts and servers were there to ensure more was available if needed. This was undoubtedly the best meal I've had on campus.
Performers and speakers were also introduced with fanfare. This year, the Strong Jugglers performed as court jesters. Members from Vocal Point, the YellowJackets, the Midnight Ramblers, After Hours, Off Broadway On Campus, Trebellious, and PASApella performed as well.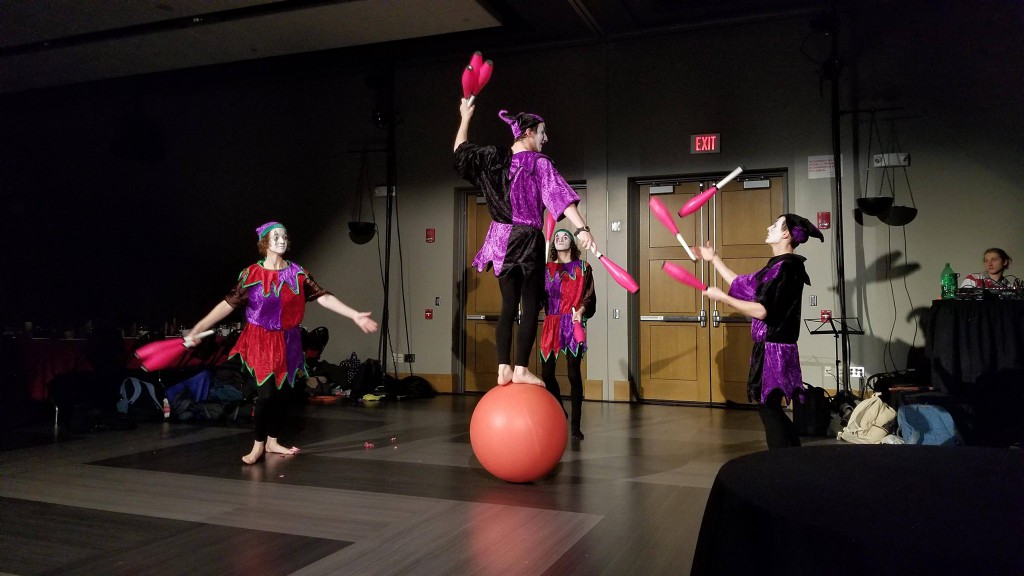 One of the highlights of Boar's Head is a retelling of the Boar's Head tale. Every year, a faculty member is chosen by students to tell the legend with their own twist. This year, Dean Burns told the mostly fictional story of Millie Iora (I think I spelled that correctly), who pushed for Boar's Head against the will of the evil Dean Burns, to whom the real Dean Burns claims no relation.
As described by Svarina Karwanyun, "It was a truly heartwarming tale of a student named Millie who had the idea of holding a dinner, way back in 1934, to integrate both the campuses, but faced a lot of resistance from the administration who did want to encourage an idea that came from a woman." Luckily, it all worked out in the end.
Another major event during Boar's Head is the award for the most excellent SA-recognized student organization. Last year the Douglass Leadership House (DLH) received it from the Black Student Union. This year, The Pact received the Boar's Head Award from DLH for their mentorship work with disadvantaged Rochester students.
As said by Frank Padgett III, "The Pact: A Personal Mentoring Program, is truly humbled, and would like to thank Douglas Leadership House for selecting us to be the recipient of the Boar's Head Award. We assure you that we will continue to reach out and give back to the community, while working toward bridging the gap between the University of Rochester campus community and the greater Rochester community."
I'm eager to see which student group The Pact chooses to give the award to next year. Originally, the Boar's Head award was passed among Greek organizations on campus, but in 1996 the Delta Upsilon fraternity broke this cycle by granting it to the Social Activities Board. Since then, an array of clubs have been recognized, from dance groups to service groups. This ceremony is called the Passing of the Boar.
Boar's Head was a great night and I'm excited to go again next year!