Black Students' Union Campus Events
by Jamal Holtz, Class of 2018
I hope your week is going well! As current students may know, the Black Students' Union (BSU) wrapped up January with our step show, STOMP THE ROC. Once again, we would like to thank everyone who supported the event, including volunteers, departments, and the University of Rochester community.
February is Black History Month, and BSU will host several events and co-sponsorships to promote the positive education of our culture. To kick off the month, our first event was:
---
Mondays Suck
What does Black History Month mean to you? On February 5, BSU welcomed all students to join us for a BBQ lunch and write and/or draw what Black History Month meant to them. We also discussed some of the Black historical figures who receive limited acknowledgment.
---
Environmental Racism
The Douglass Leadership House hosted an event on February 7 on environmental racism, a form of institutional racism that has been perpetuated in American society since its founding. While it is more subliminal than historically blatant racism, there is no denying the fact that minority groups are socially marginalized to be exposed to more harmful pollutants and denied fair access to environmental goods such as clean air and water. Rochester's EcoReps helped facilitate discussion and spread awareness of this injustice.
---
SOCA's Spring Signature Event: Carifesta
Presented by the Student Organization of Caribbean Awareness (SOCA), a committee of BSU, Carifesta fosters inclusiveness in our community, and highlights the legacy, works, and contributions of influential Caribbean artists who have contributed to the betterment of the region and the world. Like its predecessor, The Bob Marley Expo, Carifesta is a social event celebrating Caribbean culture on campus. The event features Caribbean games, food, crafts, and performances from various student groups on campus.
For our first Carifesta on February 10, we have decided to highlight the life of Machel Montano, a SOCA artist from the islands of Trinidad and Tobago, and E.R Braithwaite, a Guyanese novelist, famous for novel turned film, To Sir with Love.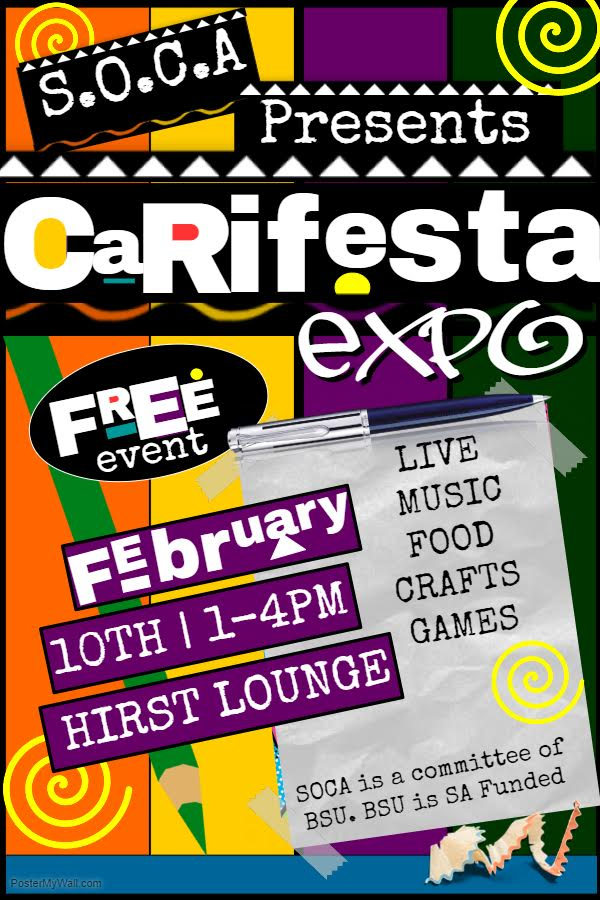 ---
Winter Necessity Drive
Join the Pi Beta Chapter through February 17 in collecting donations of winter necessities for the children of the SWAN after-school program. All donations of hats, gloves, scarves, warm pajamas, undergarments, gently-used coats or other winter accessories would be greatly appreciated! Donations will be collected at all Pi Beta events leading up to the Denise Y. Giles Crimson & Creme Scholarship Ball!
---
24th Annual Denise Yvonne Giles Crimson & Creme Scholarship Ball
At this year's 24th edition of the ball, join us on February 17 from 6:00 to 10:00 pm at the RIT Inn & Conference Center in a celebration of Black excellence as we convene to pick this year's award recipient! Tickets for the ball are now LIVE and priced at $27! Please see any current chapter member or purchase tickets online.
---
Vogue: Through the Ages
The Pride Network, Pan-African Students Association, Black Students' Union, and the Student Organization for Caribbean Awareness present Vogue: Through the Ages. Voguing is a style of dance that is derived from Egyptian hieroglyphs and was introduced by the queer Black community in the 1960s.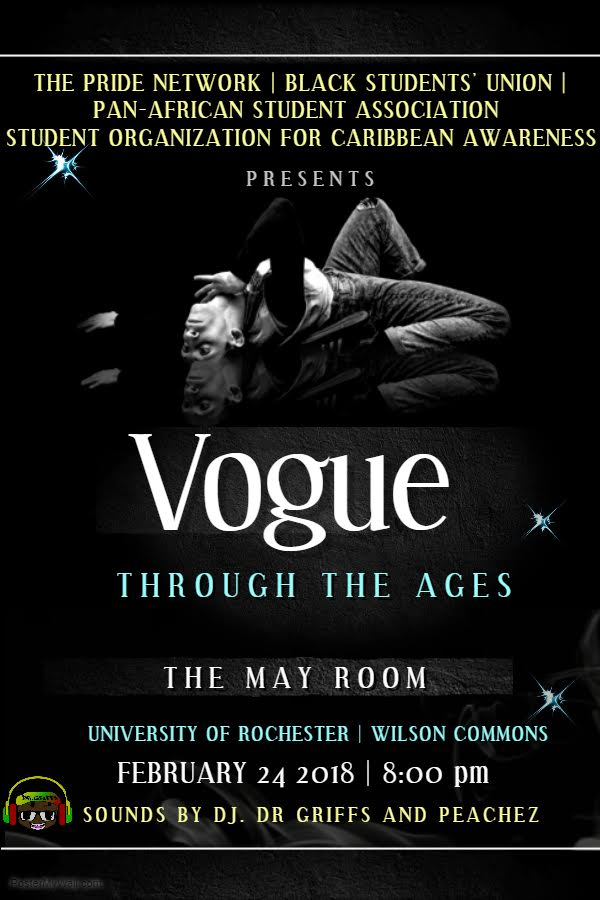 The style of dance is another one of the many contributions that Blacks (in particular, the Black LGBTQ+ community) have made to a global culture. On February 24 at 8:00 pm, we will be transforming Rochester's May Room into La Ballroom Meliora. Come out to witness greatness, and of course some unbelievable shade.
---
This is just a taste of all the campus goings-on at Rochester. When you join us as a student here, get involved! You'll never be bored.