Baja: Building and Racing Cars from Scratch
The University of Rochester Baja Society of Automotive Engineers (SAE) team is a student-run, non-profit organization that designs, fabricates, tests, and competes with a single-seater off-road vehicle. From mechanical and biomedical engineering to optics and business majors, the team's numbers include anyone who is interested in learning design and does not mind getting a tad dirty!
Whether you have built a car from scratch or have never touched a wrench in your life, the team will utilize any of your experience and will teach you designing, manufacturing, and testing methods.
Below, two students share their experiences participating with UR Baja SAE.
---
Dylan Borruso
I joined the UR Baja SAE team in January of my first year. I remember wandering around the winter activities fair looking for something to keep me busy outside of classes. I was approached by someone wearing a racing helmet, handing out flyers, and asking people to attend a general interest meeting. I don't really remember why I decided to take them up on their offer, but looking back I am incredibly glad I did. Baja has been an extremely beneficial experience for me, and I believe that Rochester's Baja team offers a unique experience that could likely not be found at other universities.
For those who don't know, Baja is a collegiate design group that sets out to design and manufacture an ATV that is raced against more than 100 other teams at competitions across the country. I am currently the chief mechanic on the team and I am responsible for coordinating the manufacturing of the vehicle and maintaining our shop space. I have participated in Baja for three years now, and I believe that it is one of the most important experiences of my time at Rochester.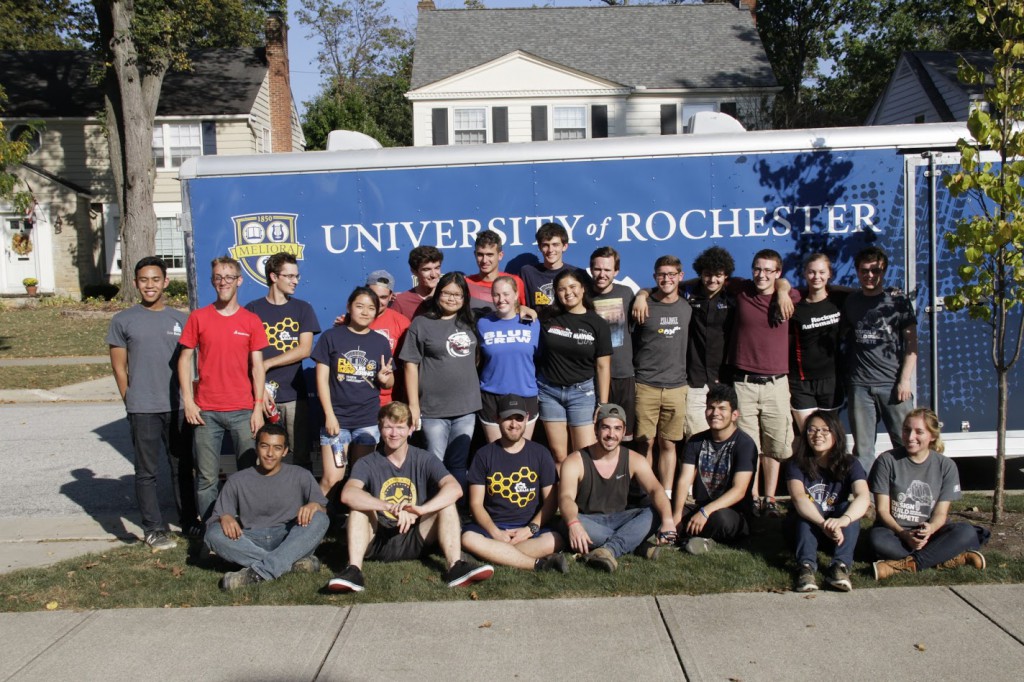 I think the main reason Baja has such a strong impact on people is due to the sheer amount of time you end up spending with your teammates. Compared to other teams, our team is fairly small. This simply means that every team member ends up being incredibly dedicated to designing and manufacturing our vehicle. During peak manufacturing times it's not uncommon for members to spend all-nighters working on the car to get it ready for competition. During the long shop hours, you become very close to your teammates and form friendships which will be maintained long after graduation.
Baja has also been an amazing asset professionally. Although my degree is in optical engineering and the design experience I have gained with Baja is not directly relevant to the work I hope to do someday, I inevitably end up speaking about Baja at length during interviews. For one, regardless of your field, taking a product from concept, through design, production, testing, and marketing is a useful experience to anyone, and something employers will be impressed with.
Baja has given me a unique professional experience that I can use to my advantage when looking for internships, jobs, research, or graduate school. In nearly every interview I have been in, the interviewer has commented on how unique and varied my experiences are. I can also speak about my time as chief mechanic to point towards my leadership and project management skills.
Additionally, Baja has given me access to a vast professional network of alumni and sponsors. Just this year, I have had the opportunity to tour the sites of three of our local sponsors, all accomplished manufacturing businesses and when we head to competition there will be companies there recruiting for entry-level positions. I have also been able to use my relationships with former team members to find out about opportunities for internships and jobs.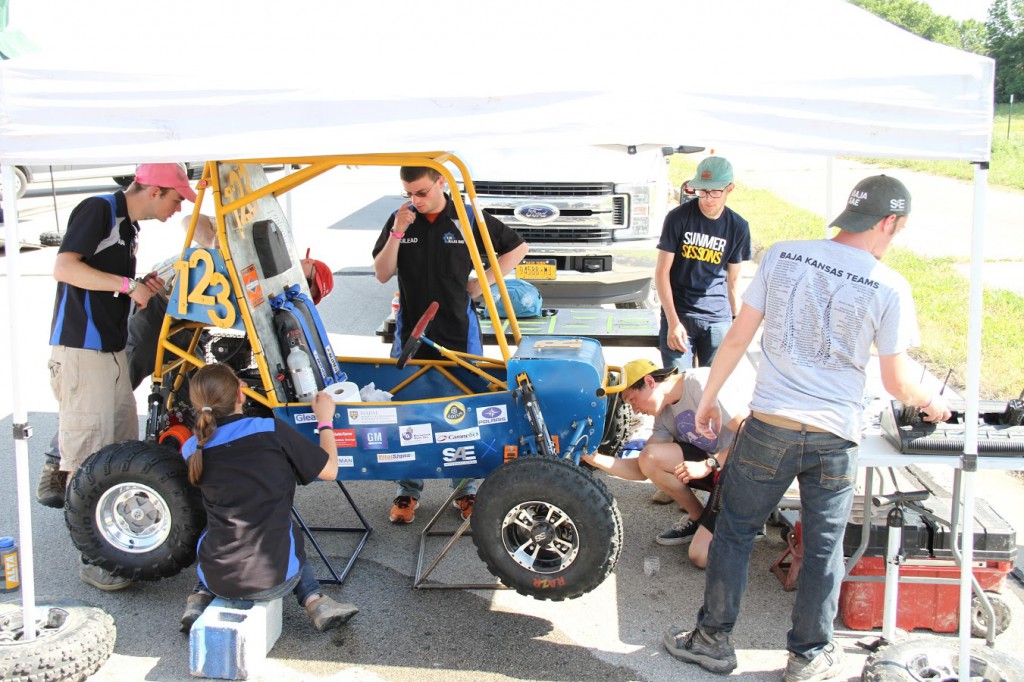 Baja is an incredible learning experience. We are willing to teach any topic to anyone who wants to learn. These induce topics like computer-aided design, welding, machining, driving, and project management. Nearly everyone comes into this team knowing nothing; most people have never even heard of Baja before. By the time they graduate they are inevitably experts in a few subjects and are teaching them to new members. Personally, I never had any exposure to metal working in shop classes in high school. Since joining the team, I have become an accomplished machinist and for our 2017—2018 season I have worked on complicated projects like the transmission and suspension of the vehicle.
So far, I have spoken a lot about the professional and educational benefits of Baja, but there are many organizations on campus that those types of experiences. The reason I devote my time to Baja instead of other organizations is the sheer amount of fun there is to be had at competition. Competitions take place internationally, though we only attend the three competitions held in the US. We compete in events like the endurance race, suspension and traction, maneuverability, acceleration, hill climb against more than 100 other teams.
Although I am sometimes registered as a back-up driver, my favorite thing to do at competition is run the pits. Maintenance done at competition is a stark contrast to maintained done in the shop. Being organized and prepped for any broken systems at competitions helps you avoid missing events due to repairs and can get you back on the track quickly during the endurance race when time matters the most. I love working on the car at competitions since it is a high-stress environment where quick thinking and calm minds are the most important. The competitions are where we see all our hard work come together and have a great time racing our vehicle in some amazing environments.
Honestly, the competitions are a highlight of my college experience.
---
Madeline Bedrock
I first joined Baja during September of my first year. At the fall activities fair, I was intrigued by the look of the car and surprised when I learned students had designed and built it. At first I was intimidated by it all because I knew absolutely nothing about cars or how we could possibly engineer one, but a kind, smiling member of the team assured me that she hadn't known anything when she first joined and now she was the project team leader in charge of designing the frame of the car. With that, I decided to go to the first meeting, and looking back, it was one of the best decisions I have made at Rochester.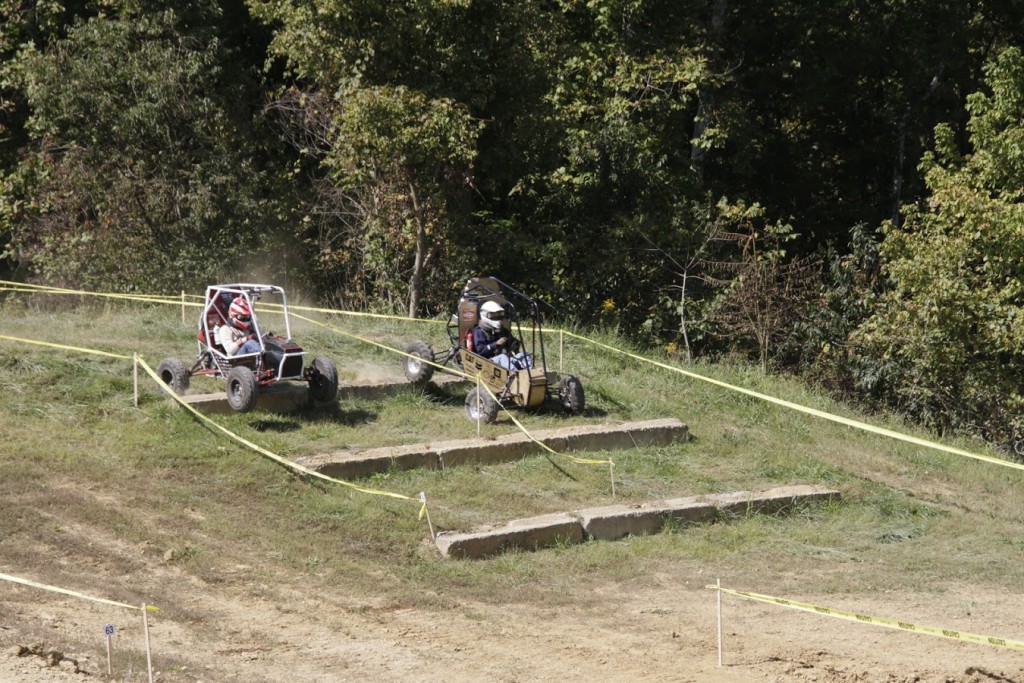 During the first weekend of shop hours, I quickly learned about all the teamwork that was needed for the car to be successful. As the first practice competition, Midnight Mayhem, was nearing, I worked with the same member who had inspired me to go to the general meeting on attaching the body panels to the car and finalizing them so they were ready for the six-hour endurance race happening in the coming weeks.
Finally, when Midnight Mayhem came, it was time to spend ten hours in a car with people whom I had barely met. I was so nervous and I had no idea what to expect for this competition. The car ride, which mostly consisted of hearing funny stories from past competitions and listening to CDs that ranged from hard rock to Gregorian chants, was one of the most interesting experiences I had ever had, and we hadn't even gotten to the competition yet.
Once we got to Kentucky where the competition was being held, I had no idea what was to come. I spent the whole race on the sidelines of the track working Carnage Crew, which meant that we had to help any car that had flipped over or stopped in the middle of the track. Though I was covered in dirt from head to toe by the end of the night, it was a great learning and bonding experience that I will never forget.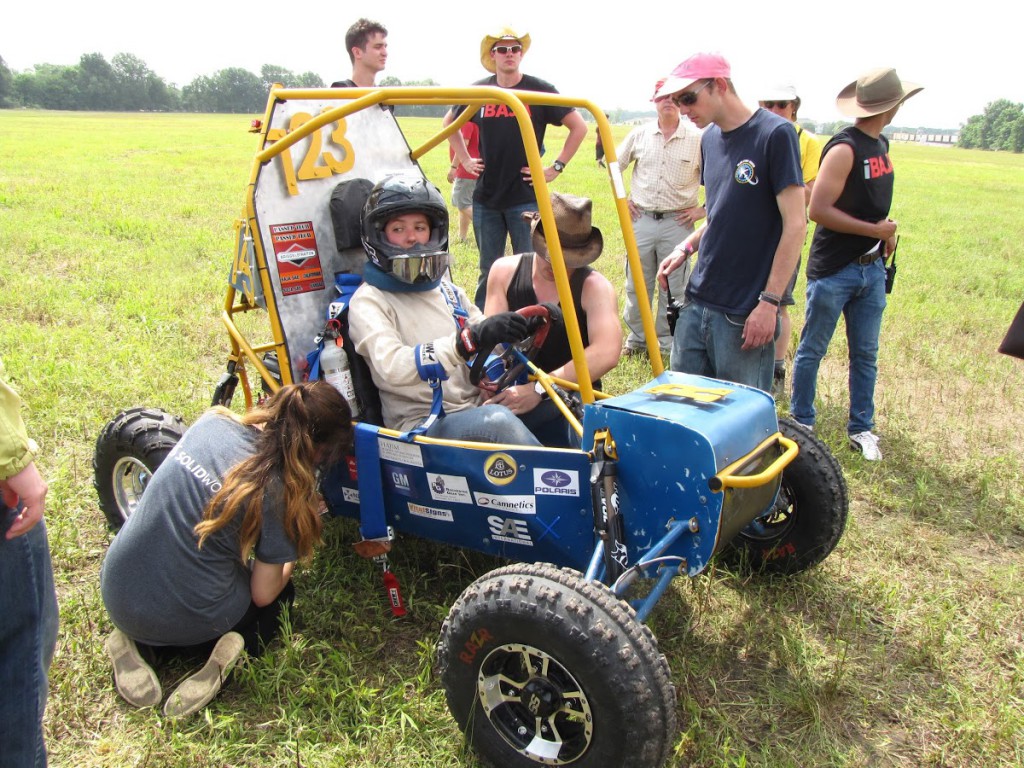 Since then, I have learned how to use SolidWorks, a 3D design software that we use to design the car, as well as use tools and manufacture parts that I never thought I would be able to make. As a first-year mechanical engineering major, being a part of Baja is a great way to see how what we learn is applied in real life, as well as make close new friends and be a part of a great team.
Had I not taken the chance and gone to the first meeting, I would have missed out on these great learning experiences and friendships that I have made such a positive impact on my life.