Photo of Wilson Quad taken by my roommate, Lucy Lin '22, on our first day back on campus!
---
After studying remotely since March 2020, when I returned as a senior this August, I almost felt like a first-year again! Since the start of the school year is always an exciting time at UR, I decided to chronicle my long-awaited return to campus.
Side note: as an upperclassman, my experience doesn't capture orientation, but I recommend this blog post if you're looking for tips to make the most of orientation week.
Without further ado, here's what my first month back looked like!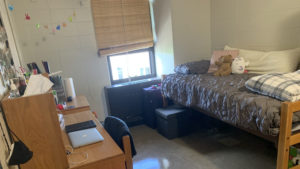 1. Move-in
Unlike first-years, who have the orientation team to help with moving in, upperclassmen are responsible for their own move-in process. Nonetheless, after making a few trips and enlisting one of my roommates, I managed to finally settle into my dorm! I live in a Jackson Court suite, which I've found to be relatively spacious and conveniently located on campus.
All in all, I'd say my suite has a pretty sweet setup!
2. Dining
Currently, the two main dining options on campus are The Pit (nested inside Wilson Commons) and Douglass Dining Center. The stations at The Pit all have a standard menu, so I like grabbing meals there when I'm looking for reliable comfort food. The menu at Douglass varies every day, but generally each station follows a certain theme like desserts, pasta, or Kosher, to name a few.
The dining workers who have helped with my meals have stepped up to handle the post-pandemic adjustments gracefully, so I'm appreciative of their efforts to put food on our plates this year.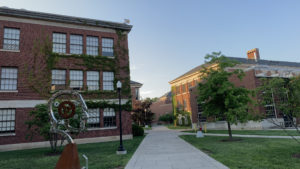 3. Classes
This fall, I'm taking five classes and have the pleasure of being a TA for a marketing class.
Classrooms: Initially it took some time to figure out which routes to class worked best for me, but eventually I fell into a solid routine. If you're new to campus and struggle with directions like me, I suggest walking to your classrooms before the first day of classes just so you aren't stressed the first week!
Academics: This semester I just started my legal studies minor, so most of the classes I'm taking are totally new to me. However, since there are tons of resources available, fortunately I've felt capable of finding academic support. One resource that I feel not enough people know about on campus is the Center for Excellence in Teaching and Learning (CETL), which offers free one-on-one peer tutoring for many classes, among several other services. CETL has helped a lot for a couple classes I've taken, so I can't recommend it enough!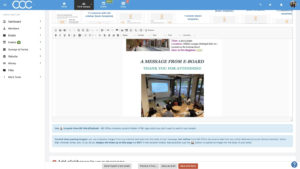 4. Clubs
Outside of class, I'm primarily involved in two clubs: the Campus Times, our student newspaper, and Forté Campus, a club aimed at supporting the professional development of women. I'm serving as an officer for both organizations, which has been a great way to get to know people in those clubs better.
Clubs are a great way to gain leadership experience and befriend people with similar interests. Especially if you're new to campus, I highly suggest taking advantage of the annual Fall Activities Fair to find the right clubs for you!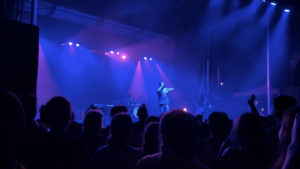 5. Student Activities
During my first month back, I loved getting to take part in student activities again. Some of my favorite events so far have been candlelight yoga, a mocktail mixer, and Yellowjacket Weekend. Normally students receive a weekly newsletter called "Weekend Highlights" that promotes events happening from Thursday through Sunday, so those emails can be an easy way to find things to do on campus.
So far, I'd say my favorite activity was when I attended my first concert ever, which was when Jesse McCartney swung by for an amazing live performance!
---
Hopefully this can help you picture what your experiences arriving at UR could look like. Although it can be hectic getting adjusted to campus, there are so many fun opportunities available at the start of the semester. I hope any incoming first-years reading this can find time to make the most of them!